Main content
Public Interest
EPIC Recognizes 2019 Inspiration Award Winners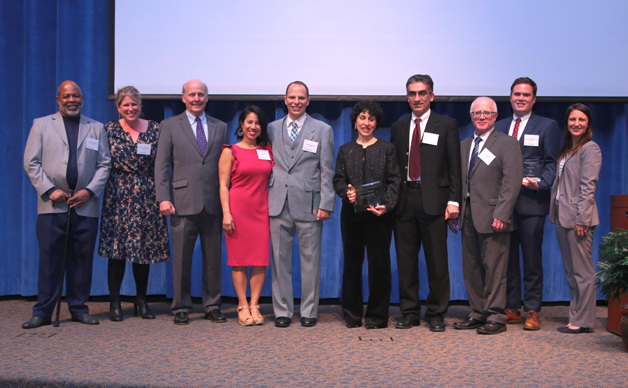 On Tuesday, February 5, 2019, Emory University School of Law hosted the 23rd annual Emory Public Interest Committee's (EPIC) Inspiration Awards, which honored two community members and an Emory Law graduate for exceptional public service.
Lifetime Commitment to Public Service Award
This year's Lifetime Commitment to Public Service Award was presented to Frank S. Alexander, founding director of the Center for the Study of Law & Religion and Sam Nunn Professor of Law Emeritus. Alexander's distinguished career spans more than four decades of exceptional achievements in law, education and scholarship.
Alexander's commitment to Emory and his support of EPIC's efforts to raise the profile of public interest law have helped public service remain accessible to students. As interim dean of Emory Law School (2005-06), he matched donations raised by EPIC – donating $80,000 in funds from the Dean's Discretionary Account – and, since 2015, he has facilitated a $200,000 increase in EPIC's permanent endowment. "It has been a great privilege and honor to be a part of this community for these many years," Alexander reflected. 
Outstanding Leadership in the Public Interest Award
Legal & Advocacy Director for Project South, Azadeh Shahshahani, is the 2018 Outstanding Leadership in the Public Interest Awardee. Shahshahani's exceptional leadership in the public interest arena – working primarily to advocate for and defend the human rights and civil liberties of Muslim, Middle Eastern, and South Asian communities – is an expression of her long-time passion for justice for all. 
Shashahani's work has a profound impact on the communities she serves and that impact has been recognized on numerous occasions, including the U.S. Human Rights Network's Human Rights Movement Builder Award (2017), the American Immigration Lawyers' Association Advocacy Award (2012) and the UGA Law School's Equal Justice Foundation Public Interest Practitioner Award (2009).
"What I find to be the most rewarding is working with directly-impacted community members and organizers," said Shahshahani. "Knowing that our legal work helps support the movement for social justice is greatly satisfying."
Unsung Devotion to Those Most in Need Award
Jason Costa 06L was recognized as the 2018 Unsung Devotion to Those Most in Need Awardee for his tireless efforts in advising and advocating for indigent clients on behalf of the DeKalb County Public Defender's Office, providing not only expert legal representation, but compassion for the men and women counting on his aid.
"For most people, being charged with a criminal offense is among the most stressful and challenging experiences of their life," Costa explained. "I try to focus my efforts on helping them through this incredibly difficult experience by listening to them, giving them the best advice I can, and being a zealous and passionate advocate on their behalf."
Costa's experiences at Emory Law and his relationship with EPIC further confirmed his calling into public interest law – including being part of the Georgia Innocence Project team that uncovered evidence exonerating Clarence Harrison, who served 17 years in prison for a crime he didn't commit. 
In addition to his role as supervising attorney for the DeKalb County Public Defender's Office (2006-  ), Costa shares his expertise and knowledge in the classroom as adjunct professor at Emory Law (2012-  ). "The most rewarding aspect of public interest law, for me, is seeing the impact that my work has on real people every day," Costa reflected. "The legal process can be so intimidating, but when I see my client's excitement when I get a case dismissed, or if I negotiate a good plea or verdict at their trial…just knowing I've affected the direction of their life in a substantial way, that's a great feeling."
---
Tags