Main content
Symposia, Colloquia, and Special Events
Franklin to Emory Law: Truth is a force
Emory University School of Law |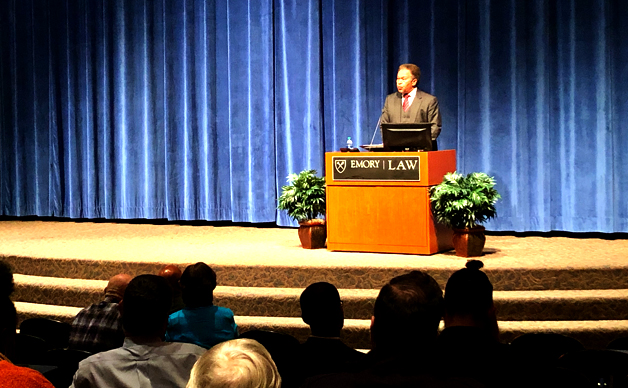 Faculty, students, and community members recently gathered to celebrate Emory Law's annual Martin Luther King Jr. lecture.  Robert M. Franklin Jr., James T. and Berta R. Laney Professor in Moral Leadership, led the celebration with a lecture titled "Revisiting Dr. King's Theory of Power, Love, and Justice."
In a talk that resembled a master's-level class on Dr. King's intellectual motivations, Franklin said, "MLK's understanding of the interrelation of love, power, and justice was rooted in his personal and group experience of American discrepancies between democratic rhetoric and Jim Crow reality."
He added, "I would imagine that few people who sat in audiences when young Martin King spoke on these topics, were particularly aware that Dr. King was intellectually fusing Hindu and Eastern thought into his social gospel: Christianity. But King regarded this as a deeper understanding of truth. … Truth is a force that manifests itself everywhere."
Franklin explained that King knew power is fundamentally the focus of politics and that excluded people need political and economic "goods" to effectively work in democracy. He noted that the beloved community King espoused could only come to pass when that power meets almost-divine love, the eradication of violence, the economic changes required to end poverty, and the legal reforms necessary to eliminate discrimination.
In his position as the inaugural James T. and Berta R. Laney Chair in Moral Leadership at Candler, The Rev. Dr. Robert M. Franklin Jr., challenges students to explore the concept of moral leadership in the 21st century in different cultures and contexts in the United States and around the world. Now in his second term at Emory, Franklin is a former Presidential Distinguished Professor of Social Ethics and a senior fellow at the Center for the Study of Law and Religion, both at Emory, and was also the founding director of Candler's Black Church Studies program from 1989 to 1995.
In addition to his role at Candler, which he began in 2014, Franklin is a senior advisor to the Emory University president, as well as for Community and Diversity at Emory.
Audio from Emory Law 2019 MLK Day Lecture featuring Robert M. Franklin Jr.
---
Tags