Main content
South African law degree, Emory LLM, and a versatile career ahead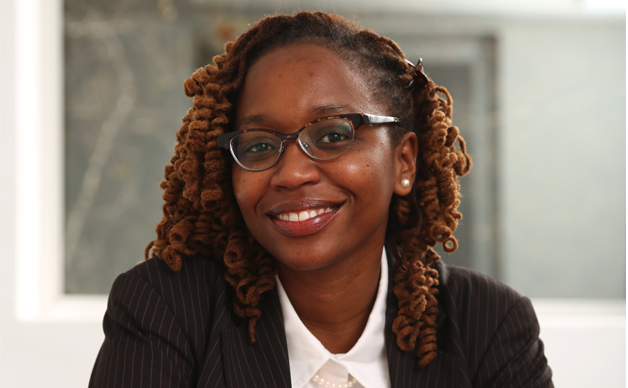 From an early age, Lerato Oguntoye 19L showed she had the makings of a good lawyer. Although her love of art initially drew her to consider creative careers from fashion designer to painter to architect, Lerato's impressive skills on her debate team attracted attention. Lerato recalls, "My high school teachers, and particularly my debate coach, all encouraged me to pursue a career in law. They all felt I had the right characteristics for the profession."
As all master of law candidates do, Lerato holds a law degree from her home country, South Africa. She is a practicing attorney, who focuses on consumer financial regulatory law. In her career, Lerato has gained experience both in-house and in private practice, advising financial institutions on their regulatory obligations before regulators and in a lobbying capacity, advising on proposed legislation. She has continued that focus at Emory Law, noting, "I have a keen interest in teaching law, consulting in regulatory advocacy, as well as practice. The possibilities are endless."
Lerato cites a number of reasons for choosing Emory Law for her LLM degree. She says, "I chose Emory Law because it is an internationally recognized institution of higher learning, known for its academic excellence and prominent faculty members. The postgraduate programs at Emory Law are what you make them, and there are so many interesting and topical courses, clinics and externships a student can pick from." In particular, Lerato enjoyed her Introduction to Financial Compliance class, which gives an overview of the complicated regulatory scheme that makes up the United States financial consumer protection law. 
She also emphasizes the diversity of the community, which gave her the opportunity to make friends from all around the world.
While at Emory Law, Lerato developed her leadership skills, serving as the Student Bar Association LLM representative and secretary of the LLM Society, a student organization designed to promote academic performance, assist with career development,  and strengthen social bonds. "It has been an eventful academic year, but with each challenge I was able to engage with students across Emory Law and given the opportunity to collaborate, engage, and grow."
One of Lerato's major accomplishments – and something she'll remember for a lifetime – is her participation in the 8th annual LLM International Commercial Arbitration Moot Competition hosted by the American University College of Law in Washington, DC. This is an annual competition specifically designed for LLM students, and Emory Law had never before participated. Most moot court competitions exclude master's-level students, so Lerato advocated for the 2019 LLM class to participate and worked to gain approval from school administration for entry. Fittingly, Lerato also competed on the team that represented Emory. She recalls, "It was an awesome experience working with my fellow LLM teammates and Emory faculty to prepare for the competition. I loved being able to network with other LLM students from prominent colleges across the country."
During the rigor of law school, Lerato counts the Emory community as a significant part of her success. "I understand that no one is an island," she says. "I took advantage of the many resources and services available to students." After completing her LLM with a concentration in public law and regulation, Lerato plans to take the bar exam and remain in the US, where she hopes to continue a career in law, focused on consumer financial regulation.
With drive and determination, Lerato is ready for her next steps – and she has a great deal of support. "My family is proud of my success and are excited to see what comes next. My mom is my biggest fan." Lerato emphasizes, "She's always rooting for me and encouraging me to go for the next big thing."
---
Tags