Main content
Students
Captain of his own destiny: Eric Johnson 20L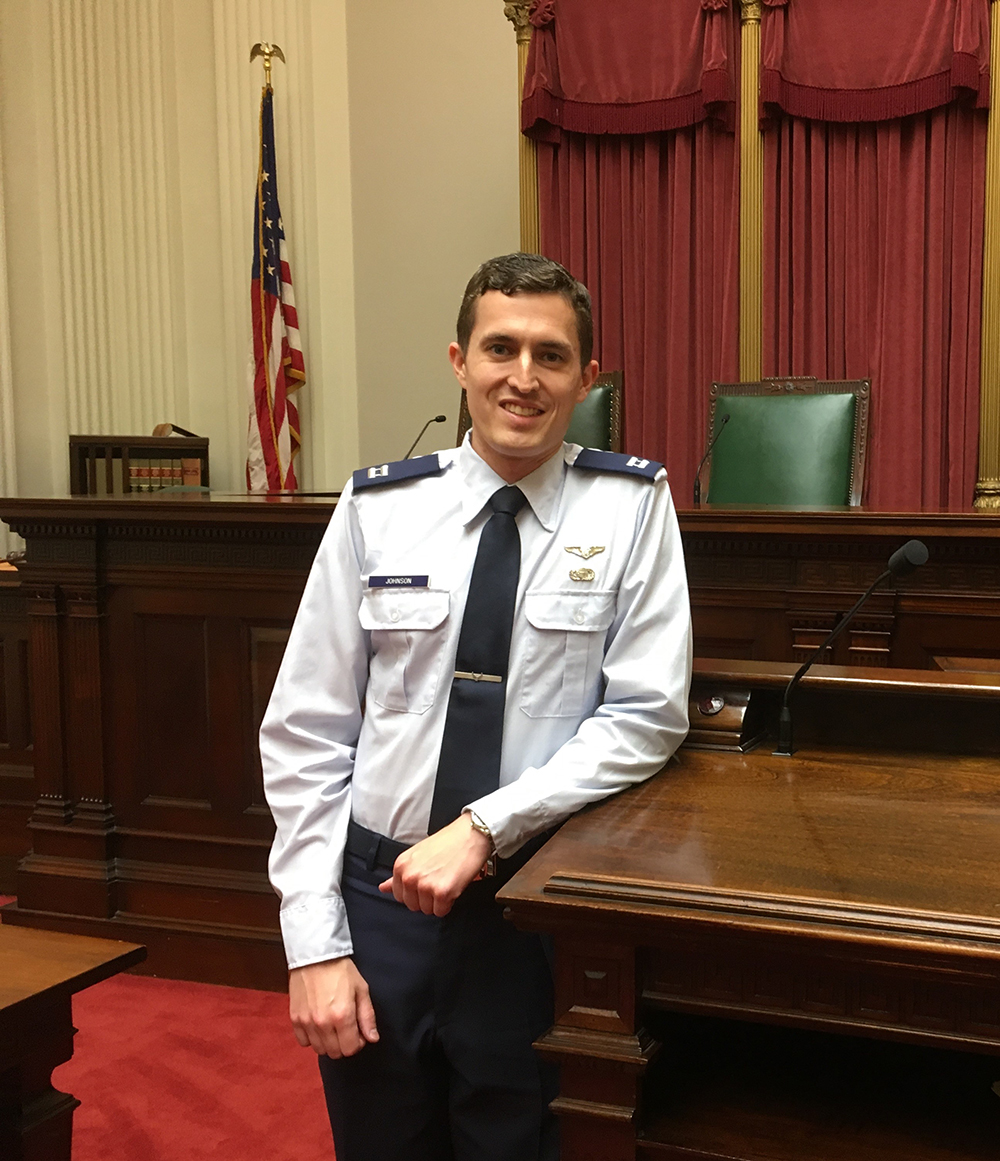 Frederick Johnson, Captain, United States Air Force – or Eric Johnson 20L, as his Emory family knows him – will walk out of Emory Law with his juris doctor with high honors and march into a unique career as a judge advocate. His first assignment is at the legal office at Kirtland Air Force Base in Albuquerque, New Mexico. There, he will join the ranks of the Judge Advocate General's (JAG) Corps, where every skill he's learned in law school will be put to the test. 
As a JAG, Johnson's legal career will span skillsets, giving him the opportunity to prosecute cases under the Uniform Code of Military Justice, provide legal assistance for Airmen, advise leaders on legal matters, and more.  "The Air Force emphasizes that they want their attorneys to be generalists. They want us to get a wide range of experiences," he says. "The possibilities are almost endless for the different types of law I'll have a chance to touch." 
After earning his undergraduate degree in political science from the University of Georgia, and participating in the ROTC, Johnson decided to explore the world: "Join the Air Force," his Army Reservist dad recommended. "They take good care of their people." He readily admits that his dad was right.
After entering active duty, Johnson trained in Texas and Nebraska before spending the next three years stationed at Royal Air Force Mildenhall in the United Kingdom. While overseas, he deployed to other locations in the European theater and the Middle East. After returning to the states, he served about eight months at Maxwell Air Force Base in Montgomery, Alabama, before he was accepted to the law school as a Robert W. Woodruff Fellow.
A Woodruff Fellowship is an honor that Johnson took to heart. Rhani Lott, assistant director of student engagement and adjunct professor, says of Johnson, "Eric has served as a conduct court justice for two years and has demonstrated integrity, perseverance, and honesty in that role and all of his other roles at Emory Law.  He is the first to volunteer when assistance is needed, and he can be trusted to carry through despite any obstacles he may face."
Laurie Blank, the director of the International Humanitarian Law Clinic (IHLC) and the Center for International and Comparative Law, had this to say about Johnson: "Eric is an absolutely outstanding young man and it has truly been a pleasure to get to know him over the past three years.  I thoroughly enjoyed working with Eric when he was a student in the International Humanitarian Law Clinic — in addition to his dedication and enthusiasm for his work, what really struck me was how he always thinks at least two or three issues ahead in his research and analysis, a key trait for excellent lawyering."
Johnson feels likewise. He says, "Professor Blank's program is, I think, one of the best in the world if you want to study law of armed conflict and similar issues of international law. I was in her Clinic. I also took her class on National Security Law. I've heard the judge advocates general of two different services speak on multiple occasions. I've gone to work with people from the military and the government, from nongovernmental organizations, and from academia. Through the IHLC exchange program, I got to meet students studying the same subjects but with different approaches … from the Netherlands to Italy to Israel."
His most unforgettable moment at Emory Law, though, was during his first year, when Supreme Court Associate Justice Sonia Sotomayor visited. "The opportunity to hear a Supreme Court Justice in person is, in itself, an amazing opportunity, but the way she came out in the audience ... listened to people, and answered their questions about the diversity of ideas and legal approaches was insightful," he recalls.
He counts winning the Best Brief Award with his partner at The American Bar Association moot court regional competition and moving on to the national championships as his best practical experience, though being dubbed a "Pinder Kid" by Assistant Professor of Practice Kamina A. Pinder ranks a close second. "Everyone has a special connection with writing professors, because we have them all year, and we're in smaller classes and get to know them better," he explains. "But Kamina Pinder takes it to a different level. The whole time you're in law school she supports you. My girlfriend and I both had her, and any time something good happens for one of us, we say, 'We've gotta go tell Professor Pinder!' We know she's going to be so happy for us."
That kind of support propels Johnson, as does the support of his parents – especially his father, who is also an attorney. He also leans on his girlfriend, who he met at law school, and his longtime friends from the Atlanta area, especially now, as he closes out his time at Emory in an unconventional way.
Johnson says, "In the midst of this difficulty, everything I already thought our community had to offer, I've seen manifest tenfold as we've transitioned to virtual classes. It's not ideal, and the transition has been difficult, but the professors have been really accommodating and supportive of the students as they adapt – and the students have been accommodating to the professors as they learn to teach in this new environment. Everyone seems to recognize that we're in this together. We're going to get through this, do the best we can, and come out of it with a high-quality education."
For Johnson, that education will likely take him around the world again – this time with a whole new point of view.
---
Tags