Main content
Students
Virtual ceremonies seek to make distanced graduation more personal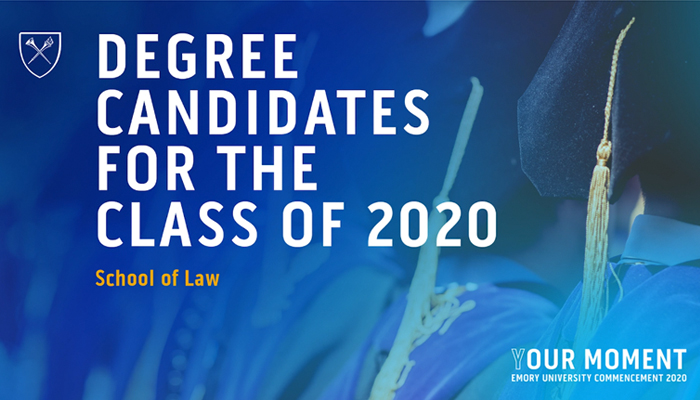 The virtual version of this year's Emory University School of Law graduation ceremonies occurred May 11, following the university's online Commencement program. The event honored the law school's more than 360 graduates in programs including master of laws, Juris Master, and Juris Doctor.
Mary Anne Bobinski, dean and Asa Griggs Candler Professor of Law, reminded students, "Our entire community is saddened by our inability to join together, in person, at this difficult time. We recognize that online activities can never replace our traditional May Commencement festivities, but we are committed to honoring your graduation in the most memorable way possible, now and in the future." 
Toward that end, Emory University presented a range of online events for all graduates, including the official university conferral of degrees and an 11 a.m. address by Bryan Stevenson (lawyer and author of the best-selling book Just Mercy, which was recently adapted for a movie of the same name).
Through a series of coordinated videos and posts, the more than 360 law graduates had an opportunity to participate in real time with the more law school-specific messages, as well. The graduation website, emory2020.com/law, includes a dedicated page where students, their families, and their friends could upload messages of support, videos, and images. The site also includes a video of well-wishes from members of the Emory Law community to the graduates and a special pop-up shop offering a special complimentary gift (along with an opportunity to acquire additional Emory Law mementos). In a collection of well-wishes videos posted on the page, faculty and staff of the law school sent personal messages to the class of 2020, reminiscing on important moments and offering support and gratitude. Judge Glenda Hatchett 77L also sent a special greeting to graduating law students. 
The following special awards were recognized as part of the celebration and are posted on the site with descriptions of each:
Most Outstanding Professor
Richard D. Freer, Charles Howard Candler Professor of Law 
Provost's Distinguished Teaching Award for Excellence in Graduate and Professional Education
Robert Parrish, associate professor of practice
Most Outstanding Third-Year Student Award
Amneh Minkara 20L
First Honor Graduate and Student Marshall
Elijah O'Kelley Sr. 20L
Minister Gloria Jean Fowler Angel Award
Sealtiel Ortega-Rodriguez 20L
The Marion Luther Brittain Award
Cody Micheal Long 20L
Professor Freer, selected as Most Outstanding Professor for the tenth time, encouraged students in a recorded video message, saying, "When the world threw change and uncertainty your way, you could've panicked. You could've wallowed in self-pity. This semester could've ended in calamity – in mass surrender and despair, but you did not let that happen. Instead, you chose not to dwell on what you did not have. You embraced what you do have. You got back to work, and you got the job done. One day at a time, one class at a time, one hour at a time, you set goals and you achieved them – no lamenting, no quitting; and you have done it together." 
Offer your well-wishes to the Emory Law Class of 2020 by visiting emory2020.com/law.
---
Tags