Main content
Faculty and Scholarship
Emory Law hosts Conversations About 21st Century Racism series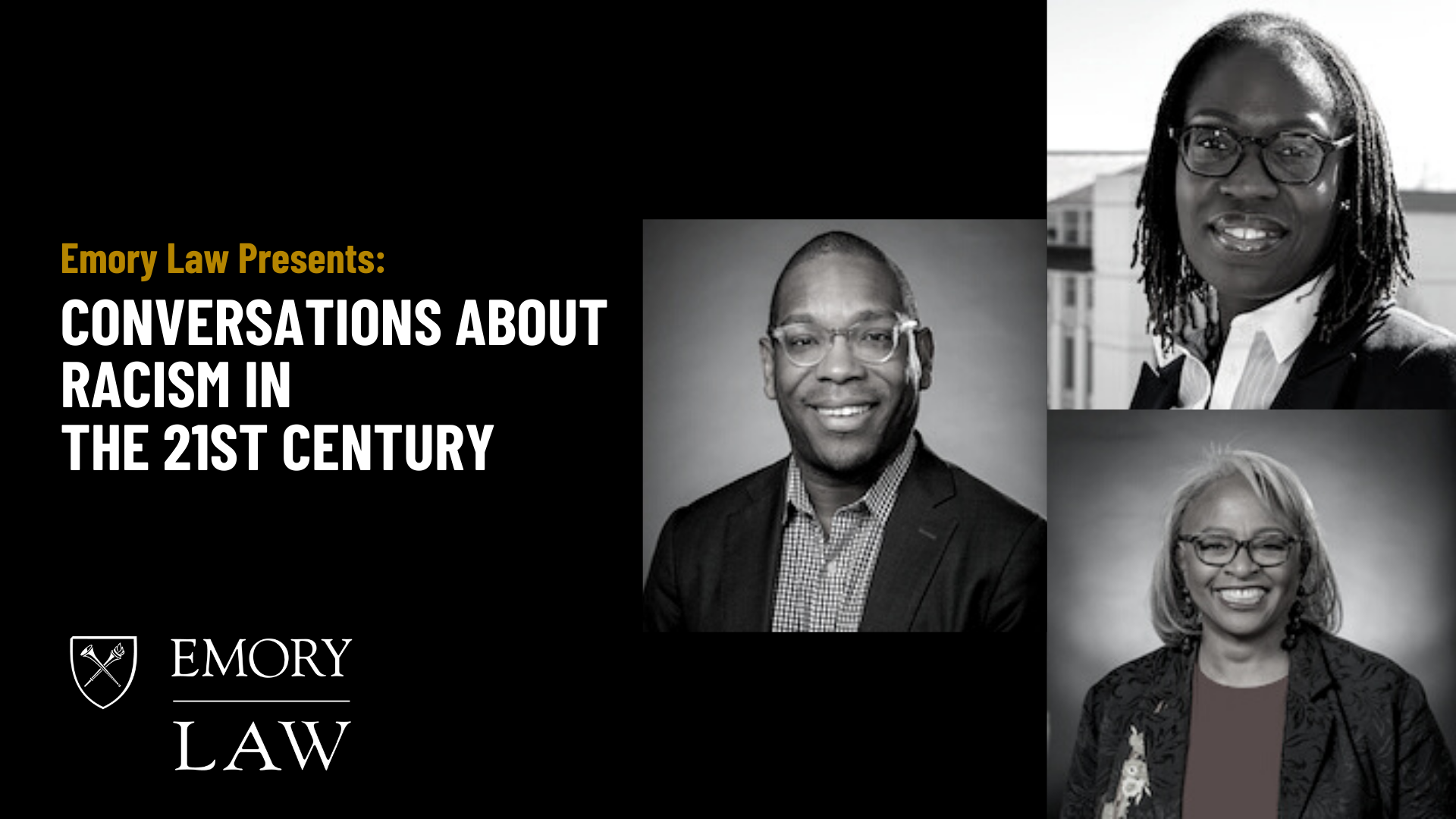 Emory University School of Law hosts an important new lecture series, "Emory Law Presents: Conversations about Racism in the 21st Century," focusing on the role of law in creating and enforcing modern-day anti-Black racism. The lectures will be held over Zoom in three sessions between September and November with several others during the spring semester. They will be open to Emory University faculty, staff, students, and alumni. The series features distinguished Emory Law and Emory University scholars who will share their expertise on race in relation to the law, healthcare, economy, and human behavior.
Emory Law seeks to promote discussion and understanding through the dissemination of research on race in our society. After their lectures, the scholars will entertain audience questions pre-submitted through the registration link. 
Thursday, September 3, Associate Professor of Law Fred Smith, Jr., discussed policing and qualified immunity. Professor Smith, a native Georgian, received his BA from Harvard College, JD from Stanford Law School, clerked for Justice Sotomayor of the U.S. Supreme Court, is on the Board of Invest Atlanta, has published in the Harvard, Stanford, and Columbia Law Reviews, among others, and was named the law school's Outstanding Professor of the Year in 2019.
Thursday, October 1, Charles Howard Candler Professor of Behavioral, Social, and Health Education Sciences Kimberly Jacob Arriola will discuss racial disparities in healthcare. Professor Arriola received her BA from Spelman College, her PhD from Northeastern University, her MPH from Emory, has published over 75 peer-reviewed articles, and currently serves as the Executive Associate Dean for Academic Affairs at Emory's Rollins School of Public Health.
Thursday, November 5, Charles Howard Candler Professor of African American Studies Carol Anderson will discuss voting and race. Professor Anderson received her BA from Miami University, her PhD from Ohio State University, is on the Advisory Board of the National Economic and Social Rights Initiative, and is the author of five award-winning books including the New York Times bestseller and National Book Critics Circle Award winner White Rage: The Unspoken Truth of our Racial Divide and, most recently, One Person, No Vote: How Voter Suppression is Destroying our Democracy, which was a PEN/Galbraith Award finalist and National Book Award Longlist finalist.
Register and submit questions here
. Some questions will be taken after the lecture from those pre-submitted, and a select few will be taken live via the webinar Q&A function. All lectures will be held from 12-1:15 p.m. Registration was limited to Emory Law students, faculty, staff, and alumni until August 19, when it will was opened to the wider law community.
Also, Emory Law will soon formally announce the launch of our search for the inaugural John Lewis Chair in Civil Rights and Social Justice. Fittingly, on 
Thursday, August 20, 5-6 p.m.
, the law school hosted an exclusive, virtual screening of the newly released documentary 
John Lewis: Good Trouble
. The film was available for download beginning August 13 and closed with a live panel discussion on Thursday, August 20, for the entire Emory University community. The documentary was coproduced by Emory alumnus 
Ben Arnon 98C
, cofounder of Color Farm Media. 
The law school's new Committee on Diversity, Equity, and Inclusion, led by Associate Dean for Academic Programs and Students and Chief Diversity Officer Derrick Howard, will soon begin its work. The committee will include representatives from faculty, staff and students. Associate Dean Howard will work with the Committee to develop and implement new initiatives designed to address systemic racism and to promote diversity and inclusion.
The law school is joining with our university and broader society in taking up the challenge of addressing racism in all of its forms.
---
Tags