Main content
Students
BLSA alumni, students, create new first-year scholarship to increase diversity at Emory Law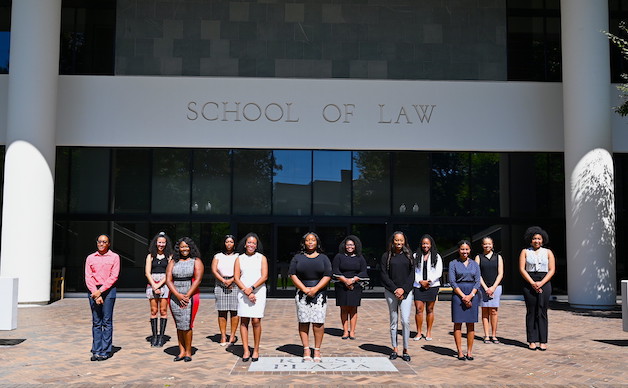 In just nine months, an effort spearheaded by the Black Law Students Association Advisory Board has created an endowment that will allow more Black students to choose Emory Law.
Many factors influence how diversity declines at the highest levels of leadership in law firms and corporate legal departments, but it is important to trace how lack of access to an excellent legal education contributes to it. An exploration of the student pipeline—from pre-law admissions, law school acceptance, graduation, and bar passage—reveals not enough students are able to start that path to create true diversity within the profession.
Black Law Students Association (BLSA) alumni and the student chapter have partnered to raise more than $500,000 in the past 20 years to create an endowed scholarship that supports second-year Emory Law students with demonstrated financial need. However, BLSA was eager to offer more opportunities to increase diversity at Emory Law by creating an opportunity specifically for first-year students.
 "It all started when I was having a conversation with Dean [Ethan] Rosenzweig 02L about the complexities of recruiting more Black students to Emory Law," said Ruth McMullin 00L, an executive member of the BLSA Alumni Advisory Board. "Just $1,500 for relocation fees or living expenses can cause Emory Law to lose a student to our competitors."
Over the last 44 years, BLSA has championed and supported the recruitment and success of Black students at Emory Law. Through advice, mentorship, hiring, and financial support, the advisory board has helped make law school a reality for hundreds of students.
In the past nine months, the advisory board intensified its efforts to create a new endowment. Through peer-to-peer outreach, awareness campaigns, and the annual BLSA Banquet, the group raised more than $120,000 to meet their goal and begin bridging this gap in financial need.
That success means there is more than $4 million in endowed scholarship funds available for diverse students to study at Emory Law.
 "The impact of this scholarship is significant as it signals to applicants that Emory Law views diversity as an asset," Rosenzweig said. "Having a scholarship designed to recruit incoming BLSA and other minority students will provide the Admission Office additional tools to support Emory Law's mission to champion open and equitable access to a legal education.       
"In addition to the immediate impact of this scholarship, I am confident that Judge McMullin's and other donors' gifts to this initiative will motivate additional contributions from alumni and friends of Emory Law to continue to support the community's tradition of empowering new generations of Black Lawyers."
In today's current climate, the Board is even more committed to make Emory Law accessible to qualified students.  Planning for phase II of the initiative is already underway. To get involved, email Jennifer Crabb Kyles at jcrabb@emory.edu.
---
Tags