Main content
Alumni
Emory's American Inn of Court renamed in honor of Judge Clarence Cooper 67L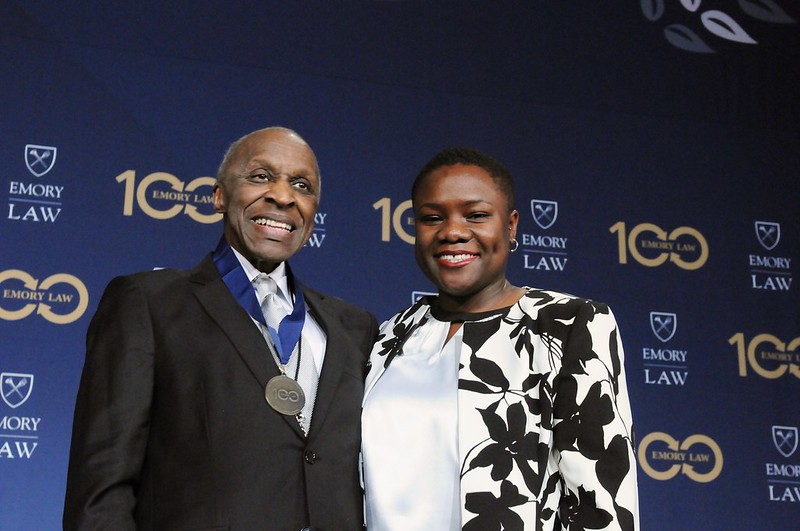 The membership of Emory's American Inn of Court has voted to rename itself as The Judge Clarence Cooper American Inn of Court, after a 1967 Emory Law graduate and history maker within the judiciary. The change comes after the Inn decided to retire its former name and appoint a committee to study possible new names for the Inn. After research and consultation during the fall of 2020, a renaming committee put forth a name that was overwhelmingly ratified.
In 1965, Clarence Cooper transferred to Emory University School of Law from Howard University School of Law to become one of Emory's first full-time African American law students. He graduated in 1967. Cooper, who earned an undergraduate degree at Clark College, later earned a master's degree in public administration from Harvard and a diploma from MIT.
Currently a Senior Judge on the US District Court for the Northern District of Georgia, Cooper was the first African American assistant district attorney hired to a state prosecutor's office in Georgia. He later became the first African American judge on the Fulton County Superior Court and presided over the trial of Wayne Williams in the Atlanta child murders case, among other high-profile trials. In 1990 he was appointed to fill a vacancy on the Georgia Court of Appeals, a position he retained after a subsequent statewide election.
President Bill Clinton appointed Cooper to serve as a judge for the Northern District Court of Georgia in 1994. Cooper has since presided over many significant cases, including the 2006 case, Selman v. Cobb County School District, in which he ordered a Georgia school district to remove stickers from textbooks that called evolution "a theory, not a fact," ruling that these stickers were an endorsement of religion and a violation of the Establishment Clause of the US Constitution.
"We are thrilled to honor a true trailblazer like Judge Cooper," said Inn President Joey Burby of Alston & Bird. "He shares our Inn's values and epitomizes excellence in professionalism, ethics, civility, and legal skills, which our members strive to achieve in their practice of law." 
The Judge Clarence Cooper American Inn of Court, associated with Emory University School of Law and the American Inns of Court, is an association of judges, lawyers, law students and other legal professionals from all levels and backgrounds who share a passion for professional excellence. While some American Inns of Court focus on different areas of practice, the Cooper Inn focuses on litigation. Through regular meetings, members are able to build and strengthen professional relationships; discuss fundamental concerns about professionalism and pressing legal issues of the day; share experiences and advice and hone their litigation knowledge and skills; provide mentoring opportunities; and advance the highest levels of integrity, ethics, and civility.
---
Tags