Main content
Q & A with Anthony Spatola, Director of Graduate Programs Admission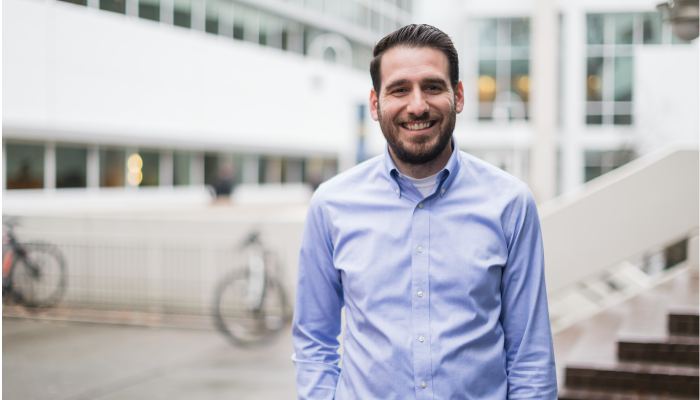 Anthony Spatola serves as Emory Law's Director of Graduate Programs Admission. In this role, he works closely with his team to ensure that prospective students and applicants like you receive the information you need in order to make an informed decision about pursuing a JM at Emory Law, and to make your application process as easy as possible.
Our Admission Team is the first step for all of your questions and can provide help with application documentation – and make sure students receive all the information necessary to ensure a smooth transition to becoming a part of the Emory Law community.  
Applicants often have similar questions. Here are some of the most common things our team answers:    
How can I present the best application possible? 
The best applications that we read are the ones that are the most genuine. By this, I mean those applications that best reflect a student's personal motivation, skillset, and desire to learn. The most successful applications are those where our admission committee can get a clear sense of who a student is and how well you match with the mission and values of Emory Law.   
What should I include in my personal statement? 
Your personal statement should be more than a summary of your resume or CV. The best statements capture three things.  
A sense of who you are as an individual – what motivates you and what will make you most successful in the program.  
What is it about the JM program at Emory Law that you believe will help you in your career and in your professional and personal growth?  
How do you hope to use your JM degree after you graduate?   
What are you looking for in my recommendations? / Who would provide the best recommendations? 
Letters of recommendation can come from either an academic or a professional source. The main thing that we look for in letters is a recommender's estimation of your ability to think critically and succeed academically in the program. Your recommendation is not restricted to evaluating your abilities solely in a classroom setting; we value the professional career skills and practical application insights that students bring to the JM program just as much as classroom learning.   
What kinds of skills will I learn in the program that my employer might find valuable? 
This will largely depend on you and your field of employment. In general, the JM is a great way for students who do not have a law degree to learn to "think like a lawyer." This involves learning to critically think through legal issues, understand where legal and regulatory boundaries are, and how you can help your team or organization manage policy-based problem sets. Our admission team can help you think about how these skills might practically fit into your profession.    
Can I switch between on-campus and online courses if my needs change? 
Absolutely! With the proper notice to your academic advisor, you can move between the online and on campus formats, or take a combination of both throughout your study. Our goal is to be as flexible as possible, especially for students with full-time jobs and outside obligations, to ensure their success in the program.   
How rigorous is the program? 
Juris Master students are taught by Emory Law faculty in topics that most law students are expected to master. Our faculty are among the best in the profession, and that is reflected in the classroom experience. Additionally, students who join us in the on-campus format will take classes alongside our JD and other masters and doctoral students.   
What do graduates say they find most valuable about their experience and degree? 
The most valuable aspect I hear about from our alumni is the opportunity for skill-building and networking. JM students learn more about legal writing and frameworks, which helps them to converse substantively with the attorneys they may work with about issues of risk and regulation. Students will come away with a foundation of legal knowledge that will help them solve problems at work. Additionally, JM students have the opportunity to take classes with other accomplished professionals, join societies in which they will meet new colleagues, and connect with faculty who do some pretty awesome things in their "9 to 5".   
How will Emory Law help me find the most effective path for my coursework? 
One of the first things we do is to connect admitted students with an academic advisor. After you are admitted, you will schedule a time to speak with your advisor prior to registering for coursework, and during this conversation, you'll talk more about your goals during the program, your interests, and what you hope to do after graduation in order to plan a course schedule that will best meet your needs. Your advisor will be with you throughout the program and can help you adjust your plan of study as needed.   
What sets Emory Law apart from other legal masters degrees? 
I strongly believe that our place in Atlanta sets the school apart from others. Atlanta has one of the strongest and most diverse business communities in the US, is the leader in healthcare and public health, the "Hollywood of the South", the birthplace of the civil rights movement, and so much more. This all translates to a faculty and student population who are leaders both in their field and in their community. It's a pleasure to be a part of and JM students can certainly benefit from the knowledge and connections that are available at Emory.
---
Tags