Main content
Honors and Awards
An email reply put Ricardo Horne 21L on his life's path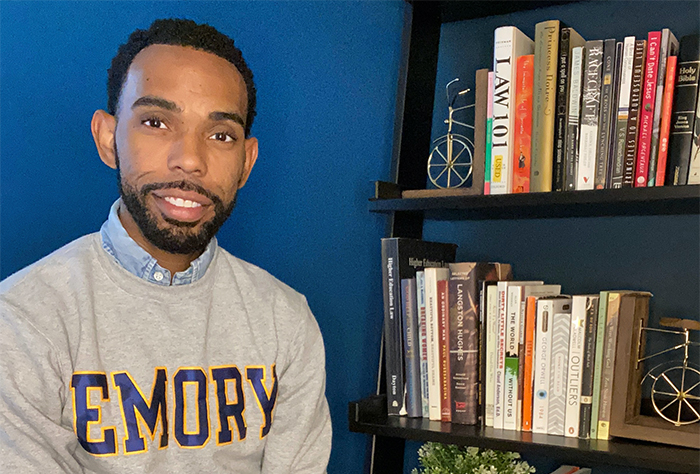 The email notification chimed, and Ricardo Horne 21L clicked the icon, prepared to answer a question about student involvement and leadership at Oxford College of Emory University. As assistant director, he oversees community engagement efforts for the two-year campus. But the email was not a question. It was an opportunity. Emory University was offering its employees a chance to take a higher-education law course at the law school. 
His interest was piqued, and with the support of his supervisor and team, Horne responded to that email. His decision weeks later brought him in front of a mock jury of mostly juris master students and surrounded by his team members—mostly juris doctor students—delivering an opening argument. "I remember having to defend a position that I disagreed with wholeheartedly, and it was really a test of setting aside my own values and recognizing that the legal system even protects people that I disagree with."
"I remember … members of that jury telling me that the opening statement was one of the most powerful things," he adds. "And that really meant a lot to me because I think that it affirmed that I could do this if I wanted to." 
So, he did. Horne graduates this May with a juris master degree and with big plans for how to use it in his work. He already holds a BA in marketing and an M.Ed. in higher education administration. And, in addition to his career at Oxford, he is heavily involved in community endeavors. Horne currently sits on the Friends of Newton Parks board and is a previous member of the Asbury Park Advisory Committee – both in Newton County. In town, he volunteers with Open Hand Atlanta to deliver meals to people living with chronic illnesses and serves as a steering committee member of the Emory Votes Initiative. He sees his current work and volunteerism as a pathway to policy work and believes his juris master degree will help. He says, "I think [this degree] gives government agencies reasons to look at my resume and take me seriously. They can say, 'This is a person has been doing community service work, but they also have this training, this legal training, and from a very highly regarded law school.' I would be coming with years of experience in my current role, but also with a degree from a place like Emory.
He credits his success in the program to the support and encouragement from his colleagues and family and to two professors who influenced him the most: "I know Professor Rebecca Purdum has a particular interest in this. She really validates the JM and makes us feel like we belong here and that there is an emerging part of the legal field that we will be able to fill, and that we will be uniquely qualified for that work. She is a gem," he says. He also explains his adoration for Dorothy Brown, Asa Griggs Candler Professor of Law and this year's Most Outstanding Professor, saying, "I think the thing about Professor Brown is that I saw students challenge her in ways that they didn't challenge other professors, and she handled it with such dignity and grace. She had a really large class, and she was still very engaged. I mean, I was never bored in her class. Neither of them differentiated between JMs and JDs within the teaching. They took an approach that if you're coming to do the work, you're going to do the reading, and you're going to be engaged in the same way."
Horne admits that law school was just as tough as he expected it to be—and that the Socratic Method and Constitutional Law class were the biggest challenges of all—but notes that every interaction with the news, his role as an active citizen, and his approach to his job have changed because of what he's learned at Emory Law.
He says, "What I was surprised about was that even though it was tough, my law professors were incredibly caring, and there were conversations about mental health that I was not expecting. I guess I thought of law school, especially at a rigorous place like Emory, to inherently contain a lot of grief. I thought they'd tell us that they weren't going to hold our hands—and they didn't. But they also recognize that you're a human being. You have a life outside of this classroom, and they care about the whole you."
Emory Law is glad you hit reply on that email, Ricardo. Congratulations on your accomplishment and all of those to come.
---
Tags