Main content
Students
Brown to graduates: Following your heart leads to joy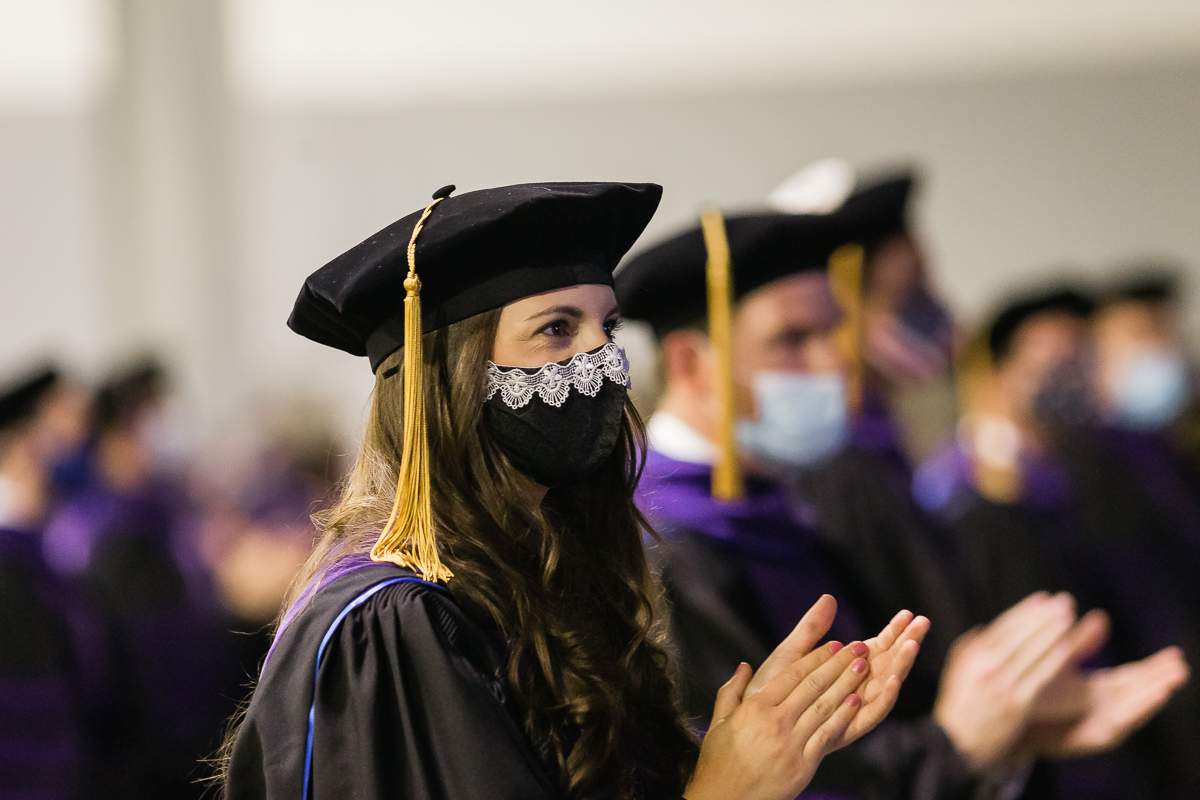 In a welcome return to in-person celebrations, Emory University School of Law graduates either donned masks to cross a socially distancedstage or watched the ceremony live from their devices and home computers as more than 360 students earned master of laws, juris master, doctor of juridical science, or juris doctor degrees. The ceremony was held May 14, 2021, at the Georgia World Congress Center, a space chosen by the university for its vast space, enabling participants to sit at safe distances. 
The changes in ceremony were plenty this year, with a new venue, a hybrid experience, and the conferral of degrees by the university president within the Emory Law event, but the important tradition of honoring each graduate, as well as some of the most accomplished among the community stood. That began, quite literally, with the carrying of the gonfalon by this year's student marshal—the student with the highest grade-point average—Jesse M. Hevia 21L. 
The Provost's Distinguished Teaching Award for Excellence in Graduate and Professional Education went to Associate Professor of Practice Paul Koster. This award honors a member of the faculty whose teaching has contributed in significant ways to the law school and university's educational mission and who has fostered participation, inquiry, and creative expression both in and beyond formal education settings. Koster returned to the Emory Law faculty in 2016 after previously serving on the faculty from 2000 to 2001. He teaches Introduction to Legal Analysis, Research, and Communications; Introduction to Legal Advocacy; Introduction to the American Legal System; and Legal Profession. He also serves as the faculty advisor to the Emory Law School Supreme Court Advocacy Program and is a member of the Diversity, Equity, and Inclusion Committee.  
This year, the school also presented its inaugural Adjunct Professor Teaching Award, which recognizes an adjunct professor who fosters participation, inquiry, and creative expression; who contributes within and beyond formal educational settings through mentoring and advising relationships with students; who engages diverse students in ambitious learning; and who is dedicated to advancing the art and science of teaching and learning. The first recipient of this honor is an adjunct professor who has taught at Emory Law since 2004, Professor Michael Athans. Athans teaches Negotiations and Alternative Dispute Resolution to third-year law students, and trial techniques to second-year law students. Athans has judged mock trials through NITA-sponsored programs and the Frederick Douglas Moot Court Program. He also gives in-house training classes for clients, including negotiation skills training. 
Suman Malempati 21L accepted the Most Outstanding Third-Year Student recognition. Malempati left his career as a pediatric oncologist, researcher, and associate professor of pediatrics to train as a social justice lawyer. In a frank and emotional speech, he said, "My family was hit hard by the pandemic. I ended the fall semester last December with a healthy father who was active and working and who I saw every weekend, when he would often play and dance with my three-year old daughter. And I started the spring semester in January with my father in the ICU struggling to breathe, not sure if he was going to make it to the next day.  My dad fought for his life for the next three months. And I was at his bedside on April 7 when he took his last breath.  
 Of course, I wish my dad could be here to see me graduate from law school and to give this speech. But he didn't have to see me do these things to be proud of me. I know he was already proud of the person I am—the person he taught me to be." 
Dorothy Brown, Asa Griggs Candler Professor of Law, tax law scholar, and author of recently published The Whiteness of Wealth, was named Most Outstanding Professor. In her address, Brown acknowledged the obstacles that make this graduating class unique among all others and reminded the students that they are stronger, now, because of all they've been through. "Your three years here have taught you skills that will enable you to be a better human and a better lawyer. ...The pandemic taught you lessons that are still unfolding in your lives. Going forward, you can use that knowledge to determine how you do life. ...I am living proof that following your heart leads to joy."
Mary Anne Bobinski, dean and Asa Griggs Candler Professor of Law, reminded the students of the significance of the moment, saying, "Today, we will recognize and celebrate each of you.  In doing so, it is important to acknowledge the special nature of your accomplishments.  You have attended law school during a global pandemic, during a time that will be written into the world's history textbooks and studied by future generations." She added, "Be proud. Be grateful. And be confident that you can change the world for the better with all that you've learned. … And when you hit the next rough patch on your life journey, remember that you did THIS. … I have no doubt in the capabilities of each and every member of the Emory Law Class of 2021. We expect great things of you." 
---
Tags