Main content
Alumni
Law school hosts first in-person swearing-in ceremony since 2019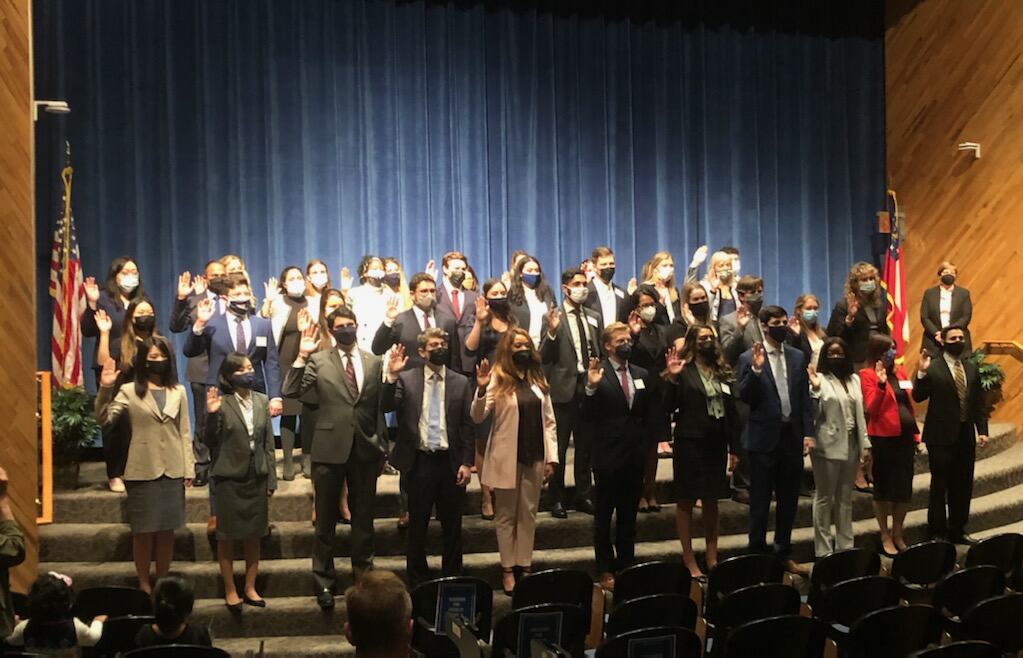 Wednesday, November 17, Dean Mary Anne Bobinski welcomed members of the class of 2021 back to Tull Auditorium for the first in-person swearing-in ceremony held in Tull Auditorium since 2019. 
Bobinski acknowledged the many challenges faced by the class as the pandemic swept across the globe and as Emory Law, like almost every other law school in the country, transitioned to an online format.  Despite these and other difficulties, the class of 2021 achieved our highest bar passage rate among first-time takers of the Georgia Bar since 2014. 
The dean commented, "We hope that as you go out into the world you will have in mind those ethics of civility and professionalism, and that you'll have in mind the ways in which you can give back to the next generation of law school students."
After welcoming each of them as alumni members of the Emory Law family, she introduced Judge Courtney Johnson and presented the candidates for admission to the bar. Judge Johnson serves on the Superior Court of DeKalb County and is a graduate of the Emory Law Class of 2000. 
Judge Johnson administered the oath to the 40 graduates before graduates and guests were invited to the Student Commons where our graduates stopped by tables staffed by the Clerk's Office to add their signatures on their Attorney's Oath for the Court's official records. 
Damon Elmore, Emory Law class of 1996 and executive director of the State Bar Association, was in the Student Commons, along with members of the Georgia Young Lawyer's Division, to congratulate our graduates and tell them more about the State Bar Association. 
---
Tags