Main content
Nearly 50 Emory Law students at work in summer public interest jobs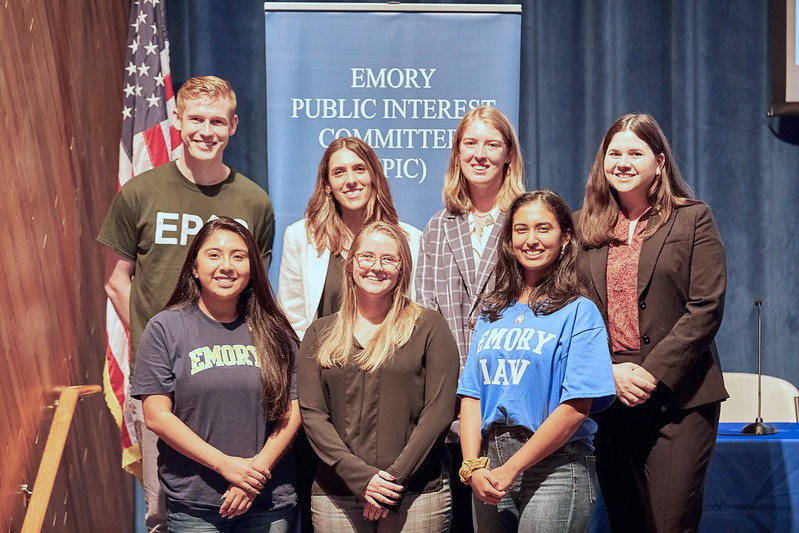 This summer, 49 Emory Law rising 2Ls and 3Ls are at work in government offices and nonprofits across the country. Most internships are in Georgia, but organizations from Los Angeles to Miami are also providing students with a firsthand view of what it's like to practice in the public interest.  
Their summer internships are funded with Emory Public Interest Committee (EPIC) grants, which provide up to $5,000 toward living expenses. All students work at internships that would otherwise be unpaid.  
Prosecutors and public defenders across Georgia benefit from extra sets of legs and fresh minds. Students see the day-to-day of criminal practice—from visiting jailed clients, negotiating pleas, making court appearances, to sentencing. Emory Law students also work for U.S. District Court judges in Georgia, Florida, and California; the Supreme Court of Georgia; and a handful of federal prosecutor's offices. Others are at federal government agencies, either in Washington, DC, or regional offices. 
"EPIC Grants provide our students with the choice to accept unpaid summer positions with non-profit and government organizations that serve the public interest," said Associate Director of Career Services Georgette Thinn. "Without these grants, many of our students would not be able to have summer experiences working with underserved populations and promoting access to justice." 
This year's nonprofit and advocacy host organizations include the ACLU, Animal Partisan, Atlanta Legal Aid Society, Catholic Charities, Georgia Innocence Project, Justice 360, Kids in Need of Defense, and the Southern Center for Civil Rights. 
Six students received Justice John Paul Stevens Foundation Public Interest Fellowships, which are nationally competitive—applications are accepted only from select law schools chosen by the Foundation. This year, 159 fellowships were awarded.  
The six Stevens fellows (and their host organizations) are: Martin Berg 24L, Georgia Public Defender Council; Niamh Creedon-Carey 24L, Southern Center for Human Rights; Jacob DeFazio 21C 24L, Georgia Public Defender Council; Carolyn Paul 25L, Georgia Innocence Project; Kendall Schutzer 23PH 23L, U.S. Department of Justice, Civil Rights Division, Disability Rights Section; and Daniel Xu 24L, American Civil Liberties Union of the District of Columbia. 
Emory Law's EPIC grants are also competitive. Students must document at least 20 hours in public service, community outreach, pro bono legal work, or volunteering to apply, and must have already secured a public interest internship. 
EPIC grants are created through the organization's year-round fundraising, including its annual event, the Inspiration Awards. Ticket sales and gifts raised $247,500 this year, Thinn said. 
When applying, Xu outlined why he wanted to work for the ACLU.  
"Collective action—where all communities are engaged and represented—is needed to bring about real change," he wrote. "By advocating for reform, fighting for underrepresented communities, and combatting systemic imbalances, I will prove that Asian Americans can—and should—be leaders in the legal field. By pursuing civil rights work, I am not only helping communities in need, but also actively creating a future where leadership is more diverse." 
Last year, EPIC won the Georgia State Bar's Law School Excellence in Access to Justice Award, largely based on its success in creating summer grants that benefit both public interest organizations and law students. 
See the full list of 2023 grant recipients here. You may contribute to next year's grants here. 
---
Tags