TI:GER® Program

Technological Innovation: Generating Economic Results, or TI:GER®, is a collaboration between Emory Law and Georgia Institute of Technology.
The TI:GER program combines classroom instruction, team-based activities, externships, and networking opportunities into a total educational experience.
TI:GER is an innovative partnership between two world-class institutions—Emory and Georgia Institute of Technology—that brings together graduate students in law, business, science, and engineering to work on start-up projects. The goal: transform highly promising research into economically viable products.
It's not a typical law school experience. Electronic medical records, cardiovascular drugs, prosthetic legs, water-testing devices . . . Emory Law students have worked on all of these through TI:GER. Emory Law students provide a crucial legal perspective to their TI:GER teams, helping bring to the forefront ideas and inventions that can change the world and save lives.
Courses for JD Students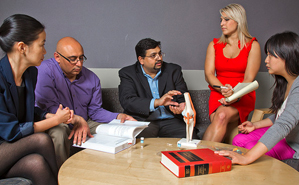 TI:GER®participants attend courses as a "community of students," with course assignments driving the TI:GER®team activities. Courses expose students to leading thinkers and practitioners in the areas of technology commercialization and include guest speakers, a business lab, retreats, and workshops. Students also have access to an enhanced library of business and worldwide intellectual property databases and to campus-based high-tech research labs.  
Students must complete all required courses plus at least 8 elective credit hours to qualify for the Emory TI:GER

®

 Certificate.
Students choose either the Patent Law Track or the Technology Law Track.
Students may obtain permission from Nicole Morris to further personalize their elective package. Email Professor Morris »
See the Emory Law Academic Catalog for course descriptions.
Required Courses
Fundamentals of Innovation I (first year, fall)   
Fundamentals of Innovation II (first year, spring)
Special Topics in Technology Commercialization (second year, fall)
Business Associations (either a 3- or 4-credit hour course)
Required Tracks (choose one of three below)
Patent Track, Option 1

Intellectual Property
Patent Law

Patent Track, Option 2

Patent Law
Copyright Law
Trademark Law
(One of these courses will count toward the IP elective requirement)

Technology Track

Intellectual Property
Securities Regulation
Elective Courses
Accounting for Lawyers
Administrative Law
Analytical Methods for Lawyers
Antitrust Law
Commercial Law: Sales
Computer Law
Copyright Law
Corporate Finance
Doing Deals: Accounting in Action
Doing Deals: Commercial Real Estate Transactions and Workshop
Doing Deals: Corporate Practice Workshop
Doing Deals: Contract Drafting
Doing Deals: Deal Skills
Doing Deals: General Counsel—The Multifaceted Representation of the Corporate Client
Doing Deals: IP Practice
Doing Deals: Mergers and Acquisitions Workshop
Doing Deals: Negotiated Corporate Transactions
Doing Deals: Private Equity 
Doing Deals: Venture Capital
Entertainment Law
Federal Income Taxation: Corporations
Food and Drug Law
Intellectual Property
Intellectual Property or Technology Law Externship
Mergers and Acquisitions
Introduction to Law and Economics
Licensing Courses
Negotiations 
Patent Law
Patent Prosecution Workshop
Secured Credit
Securities Regulation
Special Topics in Technology Commercialization II
Statistics for Lawyers
Taxation of Pass-Thru Entities
Trademark Law
Faculty Affiliated with Emory Law
Nicole Morris
Director of TI:GER and Professor in Practice
Areas of Expertise: Intellectual Property Licensing, Intellectual Property Strategy, Patent Law, Patent Litigation & Prosecution
Profile »   E-mail »
Tim Holbrook
Professor of Law 
Areas of Expertise: Patent Law, International Patent Law, Patent Litigation, Trademark Law and Policy, Property Law
Profile »   E-mail »
Tina W. McKeon
Attorney, Kilpatrick Townsend & Stockton LLP
Areas of Expertise: Patents, Trademarks, Biotechnology
E-mail »
Administrators and Faculty Affiliated with Georgia Tech
Spring Asher
Business Communication
E-mail »
Marco Ceccagnoli
Assistant Professor
Area of Expertise: Strategy
Profile »   E-mail »
Robert Gemmell
Executive Director
Profile »   E-mail »
Lecturers
Philip Cooper
Partner, Locke Lord Bissell
Profile »   E-mail »
Kathleen Kurre
CEO, TechBridge
Profile »   E-mail »
Michael Lasky
Altera Law Group
Profile »  
Applying to the TI:GER Program
Emory Law students apply in the spring semester of their first year. The competitive process includes submitting a statement of interest, a resume, your academic records, and an overview of your undergraduate experience. A group of Emory Law faculty members reviews the applications using a rigorous selection process. Approximately 12 to 18 students are selected to participate each year. 
2018 Deadlines
The deadline for submitting all information has passed. Acceptance decisions will be made on April 7, 2018.
Questions? Contact jeannette.livingston@emory.edu »