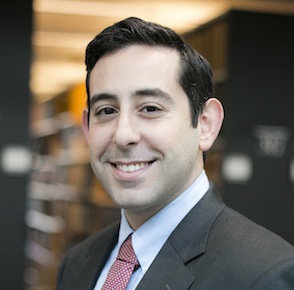 Mark Goldfeder
Senior Lecturer, Spruill Family Fellow in Law and Religion
Areas of Expertise
Family Law, Jewish Law, Law and Religion
Mark Goldfeder is senior lecturer at Emory University School of Law, Spruill Family Senior Fellow at the Center for the Study of Law and Religion, and director of the Restoring Religious Freedom Project. He is also editor of the Cambridge University Press Series on Law and Judaism, and has served as an adviser to the Permanent Mission of Israel to the United Nations. 
Goldfeder holds two rabbinic ordinations (yoreh yoreh; Yeshiva University and Rivavot Ephraim) and two judicial ordinations (yadin yadin; Rav Gedaliah Dov Schwartz, Av Beth Din, Rabbinical Council of America and Chicago Rabbinical Council, and Rav Dovid Schochet, President, Toronto Rabbinical Council). Goldfeder's work focuses on law and religion, international law, Jewish law, family law, and law and technology, and he publishes widely in those areas. He co-authored the newest edition of the five-volume treatise Religious Organizations and the Law (Westlaw, 2017). He is the author of Legalizing Plural Marriage: the Next Frontier in Family Law (Brandeis, 2017). A frequent speaker at national and international conferences, Goldfeder has also taught courses at Georgia State University School of Law and Florida Southern College (USA), University of Padua and Scuola Galileana (Italy), and the Interdisciplinary Center in Herzliyah's Radzyner Law School (Israel).
Education: SJD, LLM, Emory University School of Law; JD, New York University School of Law; BA, Yeshiva University
Books
Polygamy After DOMA (forthcoming; under review by major university press)
Journal Articles
"The Adoption of Children in Judaism and in Israel; a Conceptual and Practical Review," 22-1 Cardozo Journal of International & Comparative Law Volume (Fall 2013).
 "''Legislating Love; Neighboring as the Essence of the Israeli Legal System." 24-1 Indiana International & Comparative Law Review (Fall 2013).
"Not All Dogs Go to Heaven; Judaism's Lessons in Beastly Morality," 20.1 Animal Law Review (Fall 2013).
Book Chapters
"Adoption in Jewish Law," in Bert Ballard, Naomi Goodno, Robert Cochran, and Jay Milbrandt (eds.), Intercountry Adoption, Newcastle upon Tyne: Cambridge Scholars Publishing (2013).
"Who is a Jew; The Timely Application of Timeless Principles," in Leonard J. Greenspoon, ed., Who is a Jew?, Indiana: Purdue University Press, (2013).
Goldfeder, Mark, "Review Essay; Reuven Firestone's 'Holy War in Judaism: The Fall and Rise of a
Controversial Idea,'" Journal of Church and State (2013, forthcoming). Co-authored with Michael J.
Broyde.
Presentations
"Changing Marriages in the 21st Century: After the Recent US Supreme Court Rulings," Jean Beer  Blumenfeld Center for Ethics, Georgia State University (upcoming).

"Just and Legal Wars; A Model for Israel," Dilemmas of Israeli Democracy Conference, Center for Israeli Studies at the National University for Political Science and Public Administration, Bucharest, Romania.
October 2, 2013 (upcoming).

"Law, Religion, and Women; A New Approach For Modern Times," The Jewish Federation of Omaha, Nebraska, October 19, 2013 (upcoming).

"Negotiating Religion," Young Israel of Century City 'Issues and Answers Series', Los Angeles, California, October 12, 2013 (upcoming). 

"Family Law of the Future; Robots as Family Members," Limmud Southeast, September 2, 2013 (upcoming).