Main content
Emory Law hosts panel discussion on diversity in the legal profession Tuesday, April 12
Emory University School of Law |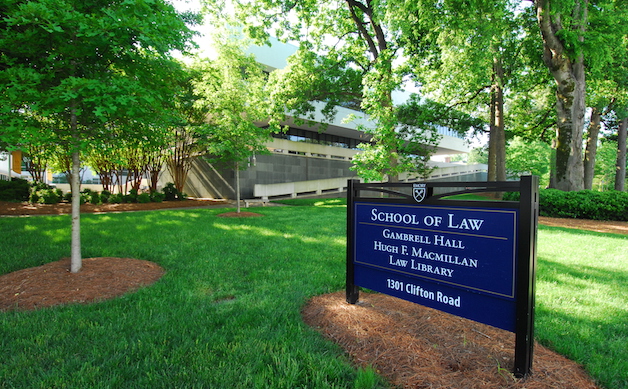 On Tuesday, April 12 at 6:30 p.m., Emory Law will present, in partnership with Major, Lindsey & Africa, the third Diversity Speakers Series panel discussion on diversity in the legal profession. It will feature the chief legal officers from a range of major corporations, and will take place in Gambrell Hall's Tull Auditorium.
This year's discussion will be moderated by Michael Wu, Senior Vice President of Legal and Corporate Affairs, General Counsel and Secretary for Carter's Inc. and a graduate of Emory University.  Other panelists include:
Raquel daFonseca, General Counsel for GE Industrial Solutions
Reginald Hedgebeth, General Counsel and Chief Ethics and Compliance Officer for Spectra Energy
Craig Silliman, Executive Vice President, Public Policy and General Counsel for Verizon
Lawrence Tu, Senior Executive Vice President and Chief Legal Officer for The CBS Corporation.
 The event will take place in Tull Auditorium of Gambrell Hall at 1301 Clifton Road. The evening will begin with a reception at 6:30 p.m., followed by a panel discussion at 7 p.m. A dessert reception will follow in Hunter Atrium.
The Diversity Speakers Series panel discussion was created to bring practitioners together to discuss strategies for improving diversity and inclusion in the legal profession. 
Sponsors for the evening include Kilpatrick Townsend, King & Spalding, Sutherland Asbill and Brennan, Taylor English Duma, and Troutman Sanders. Proceeds from the evening support diversity scholarships at Emory Law.
Emory Law hosts the Diversity Speakers Series as part of its own ongoing commitment to fostering diversity and inclusion among the Emory Law community. By building an inclusive community, the law school seeks to create a student body that reflects better the world outside the campus, and to prepare all Emory Law graduates to meet the challenge of a complicated society.
The event is free and open to the public, but registration is requested. RSVP here.

---
Tags