Main content
Students
The Class of 2025: exceptional and international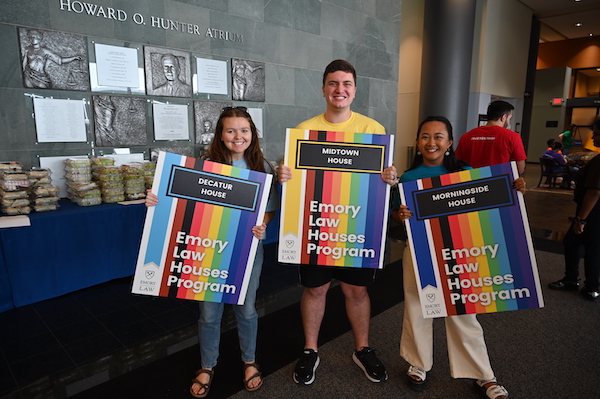 This fall term, 236 new JDs started their 1L year at Emory Law, joined by 13 transfer students, 22 LLMs, 33 students pursuing juris master degrees, and three SJDs. As a whole, they represent 19 countries, 33 states, and the District of Columbia. The newest JD class is 63 percent female and 44 percent people of color. 
"This is the most highly credentialled class that we have admitted in at least a decade," said Dean Mary Anne Bobinski, noting that the median class LSAT score has increased three points (to 168) in the past four years. "Emory Law's top-20 reputation among academics, lawyers, and judges no doubt rests in part on the strength of our student body, as well as the quality of our faculty and the accomplishments of our alumni." 
"The Class of 2025 will have access to Emory Law's outstanding faculty, who offer nationally- and internationally-recognized expertise in fields ranging from business law and IP to civil rights and social justice," Bobinski said. "Attending law school is a life-changing experience for students, and Emory Law supports student growth both inside and outside the classroom, thanks to the strength of the Emory Law community, the depth of the university's resources, and opportunities provided to students here in Atlanta and across the country."
The incoming JD class will also have new curricular opportunities. The law school recently adopted new concentrations in civil litigation and dispute resolution, criminal litigation, and law and religion, on top of the existing health law concentration and certificate programs in Transactional Law and the TI:GER® Innovation Program. 
Welcome Week reflected the diversity of the student body, including "fireside chats" with officers and alumni of the Asian Pacific American Law Students Association, the Black Law Students Association, the Christian Legal Society, the newly established Disabled Law Students Association, the Georgia Association for Women Lawyers, the Jewish Law Students Association, OUTLaw, and the South Asian Law Students Association.  
Bobinski urged students to take advantage of the social and intellectual opportunities offered at an elite university set in a thriving and diverse city, and to begin building connections with Emory Law's worldwide network of 13,000+ alumni. In a nod to Atlanta's history, first-year students are grouped into "Houses" named for the city's historic neighborhoods: Decatur, Druid Hills, Inman Park, Kirkwood, Midtown, Morningside, Old Fourth Ward, Sweet Auburn, and Virginia Highland. The Dean hosted receptions for each House with other academic leaders, faculty, and staff during the first weeks of school. The House program helps build community and offers additional programming and events throughout the year. 
Emory Law is continuing to recruit outstanding students from across the United States. This year, about one in five of the JD class are from Georgia and roughly 28 percent are from other parts of the Southeast, while 17 percent are from the Northeast and 9 percent arrived from the West Coast. International students make up about 8.9 percent of the incoming class. Their median LSAT score was 168 and median GPA is 3.8. While their average age is 25, some JDs are pivoting to second careers, said Director of Admission Anthony Spatola. They include a former military intelligence officer, a brain science researcher, a PGA tennis pro, a banker, and a CPA. The Class of 2025 also includes a first-class national chess player and a 2021 "Jeopardy" contestant. Megan Rohn 25L was one of 10 finalists in Barbri's 2022 national essay contest, "One Lawyer Can Change the World," and wrote a compelling argument on why our military service men and women deserve better protection under the rule of law.  
The LLM program admitted its first student from the Democratic Republic of Congo, Eriq Tshhims Wa Tshimbombu, who went skydiving to celebrate. (See that here.) 
The law school awarded four Robert W. Woodruff Fellowships this fall, to students with an array of post-law school ambitions. The fellowships are a university-level honor that enables Emory to recruit and reward students with exceptional character, scholastic abilities, and leadership qualities. It is the highest accolade an incoming student can receive. 
Amaya Booker 25L earned a BA in political science at Hampton University. She plans to focus on civil rights and health advocacy and has spent more than 650 hours volunteering for medical, educational, and social organizations that advocate against inequity in health and justice. 
Clisha D'Souza 25L earned her neuroscience and psychology degree at the University of Texas at Dallas. After graduation, she returned to Austin, where she unionized low-income renters, prevented pandemic evictions, and worked to increase the number of health insured in rural Texas. She wants to study zoning, land use, and tenant-landlord law "to strengthen tenant protections and build equitable cities in the American South." 
Madeline Muhlherr 25L holds a BA in philosophy from the University of Tulsa and minored in law, psychology, and Chinese. She's interested in international law, and plans to study abroad, based on her two semesters doing so as an undergraduate. She's from Houston and has worked as a legal clerk at a civil law firm there since she graduated. 
Taylor Reilley 25L holds a BS in psychology from Florida State University. She double majored in English, with an emphasis on creative writing and also earned a Certificate of Developmental Disabilities. She's an active and longtime proponent of disability advocacy and inclusion and has worked with organizations including Special Olympics and Best Buddies. 
---
Tags