Main content
Students
Class of 2026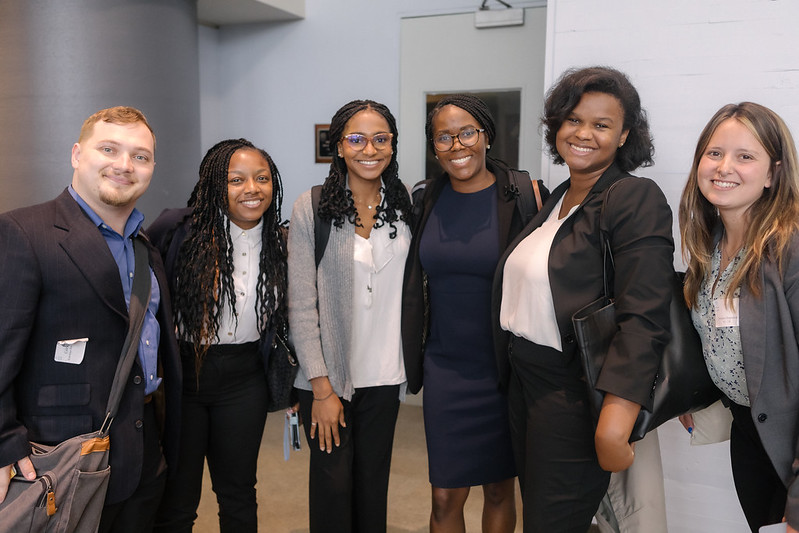 Emory Law welcomes a talented and promising Class of 2026 to the student body. The Office of Admission is committed to enrolling students with excellent credentials from a wide range of backgrounds. That commitment to eminence and diversity is reflected in the people who make up the Emory community. 
This fall term, 281 Juris Doctor students started their 1L year at Emory Law. They were joined by 4 transfer students, 9 Master of Laws students, 12 students pursuing Juris Master degrees, and 3 Doctor of Juridical Science students. The newest JD class is 54 percent female and 42 percent people of color. Together, they represent 10 countries, 37 states, and the District of Columbia. This incoming class, including all programs, comprises 54 percent of female students and 57 percent students of color. 
The incoming class includes students from a myriad of regions, undergraduate institutions, and ages. The class represents all regions, with the most common areas being Georgia representing 21 percent and the Southeast region (non-Georgia) representing 18 percent, and Mid-Atlantic representing 20 percent. Students come to Emory from the University of Georgia, Emory University, and Georgia State University most of all. The average age of the incoming class is 24, while the youngest student is 20 and the oldest, 50. 
During Welcome Week—the new student orientation event—students participated in mixers, introductory classes, and informational sessions. They were also placed into Houses. These learning communities support student learning and wellbeing inside and outside the classroom. 
The eventful week culminated in a swearing in ceremony, led by Glenda Hatchett 77L, Juvenile Court of Fulton County (retired). She said, "With all the lessons I've had, I will tell you I'm most proud to be able to try to change lives." She added, "Be clear about who you are and your internal moral compass. Be authentic."  
In a reception that followed, Hatchett announced that she has claimed the Class of 2026 as "her class." Emory Law's newest students responded with rousing applause.
---
Tags