Pro Bono Program

An Essential Part of Every Lawyer's Professional Identity
Pro bono service is more than a requirement of many state bars: it's a foundational underpinning of the legal profession. Lawyers can uniquely serve their communities by sharing their time and talent with people of limited means as well as the charitable and nonprofit organizations that serve them. As you use your skills to help people in need, you gain the satisfaction of knowing you've contributed meaningful, quantifiable service to society at large.
Requirements
Pro bono service must meet the following requirements:
Unpaid, law-related work
Service during the school year (not summer)
Supervision by a judge or attorney
Work that assists in the provision of legal services without charge for

persons of limited means;
not-for-profit, nonpartisan (501(c)(3)) organizations; or
other individuals, groups, or organizations seeking to promote or secure access to justice.
Opportunities
These campus organizations offer pro bono hours to Emory Law students:
Nonprofit, prosecution, and public defender externships (after exceeding course hour requirements)
Iraqi Refugee Assistance Project
Street Law
Student Legal Services
Emory Law School Supreme Court Advocacy Program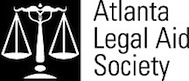 Pro Bono Intake Project
Emory Law students work 2–3 hour shifts at Atlanta Legal Aid in Decatur to assist with the intake of domestic relations cases. Trainings are once a semester; shift sign-up is on Symplicity.  
Help Legal Aid service its clients
Receive both preliminary and on-the-job training and guidance
Develop client interviewing skills
Build relationships with attorneys who can act as references
Public Interest
Emory Law's location in a metropolitan area offers abundant opportunities to study and practice law in the public interest. Emory is associated with The Carter Center, founded to promote democracy and human rights around the world. Atlanta is at the heart of criminal justice reform in the South, with leading organizations such as the Southern Center for Human Rights. The city is also home to the South's largest environmental organization, the Southern Environmental Law Center. Learn more »