The sneakerhead lawyer
When Josh Luber 99B 06B 06L tells people what he does, their reactions usually fall under one of two distinct categories: They're either clueless about the existence of StockX and what it does, or they're ecstatic sneakerheads who've just met the face and co-founder of the world's largest (and first) stock market of things, especially sneakers and streetwear.
---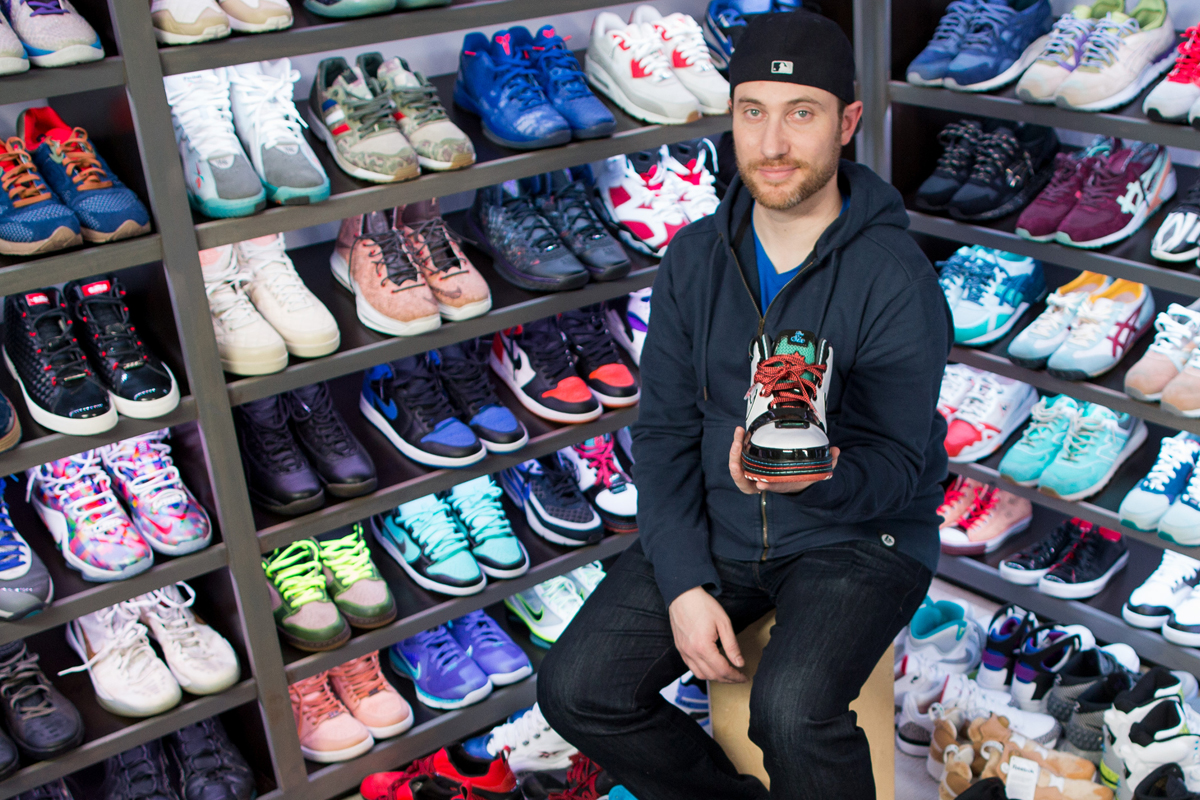 "I'm a start-up guy," Luber explains, and the way StockX came to life is a quite telling insight into his logical, entrepreneurial mind. Between the three other start-ups that Luber created before StockX, he always held a corporate job. He started at Alston & Bird after finishing law school, and he was working at IBM as a strategy consultant when he started tinkering with another idea. Around 2011, the sneaker industry started to become "a lot more mainstream," says Luber, which led him to brainstorm possible sneaker-related businesses.
"I've collected sneakers since I was a kid. I probably have shoes from when I was, like, 8 years old," says Luber. "I've always loved sneakers."
And those who know Luber the best can confirm this love affair. "Josh has been most passionate about two things: his family and sneakers," says long-time law school friend, Marion Wilson 06L. "Some may assume he bought most of the sneakers relatively recently, perhaps through StockX. But those who've known him for a while will remember the humble beginnings of his collection, which dates back to at least the early 2000s, and how they were lovingly displayed in law school in the closet of his apartment."
Luber's collection has only grown since then. He now has a room in his house that showcases his collection of over 400 pairs. (Although he admits that picking a favorite pair is hard — and equates the decision to picking a favorite child — he has to go with Air Jordan 1s, if only because he has more of these than any other.)
Combine this love of sneakers with their rising mainstream status and add in the data work that Luber was doing for IBM, and he started wondering, "What if I could get ahold of some sneaker data just to play with for my own amusement?" Thus, his start-up Campless was born, and this sneaker price guide or a "Kelley Blue Book" for sneakers, explains Luber, led to StockX.
Through Campless, "… we could tell you the value of a pair of shoes," says Luber. "It's a really easy thought to say, 'Well, now I can look at someone's entire sneaker collection and tell you the value of your entire collection.' And you can look at that collection the same way you look at a stock portfolio — just track its value over time. And if you have a stock portfolio, and you're tracking the value of the portfolio, it's only one additional step to think, 'Well, what if we create an actual stock market for sneakers?' And that's what StockX is. StockX is an actual stock market for sneakers. We're a marketplace. We're an evolution of eBay: We connect buyers to sellers. But we operate in exactly the same way that the world stock market does, and that's the real business here."
And this very real business has grown to 1,100 employees, an entire legal team, and a handful of external attorneys they consult with, as well. "All we've done, every step of the way, is just copy how the stock market works, and the stock market has been the most efficient form of commerce for hundreds of years and worked really well at a really big scale," explains Luber. "We didn't make this up. We just copied the most proven business model in history."
The co-founder now spends his days focused on innovation, working with new ideas and products (such as a trading card category, which was launched late last year). "I spend a lot of my time doing all the start-up-within-a-startup stuff," says Luber. "I work within the larger organization, but do all the fun stuff."
Despite his new role, Luber still relies quite heavily on his law degree (as he has for all of his start-ups). "It is immensely helpful, being an entrepreneur, to have a very wide, broad skill set, and with one of those being a foundation in law is obviously invaluable," he says.
Luber, who went to Emory for his undergraduate degree, had intended to go back to get his graduate business degree, admitting he was only "secondarily interested in law." But, the combination of strict competition and "super intellectually challenging" material meant that Luber "actually loved law school" and did fairly well.
"Josh was an exceptional student. He possesses a quiet brilliance," says Dr. B. Kembrel Jones 00B, former associate dean of the Goizueta MBA Program. "Josh's legal training taught him to lead with logic and gave him the skills to be quite persuasive. He was and is forward-thinking, goal-oriented and, most importantly, extremely passionate."
During his early days in the start-up world, when he didn't have an entire legal team on staff, Luber used the contracts skills he developed while earning his degree quite often. It gave him a basic understanding for "start-up law" as well as the ability to interpret the contracts he had to sign. Now he uses his degree to understand what's going on with the company and its growth.
"All that said, you could say the biggest thing that came out of law school was I actually met my wife there, and she still practices," says Luber. When numbering his life's priorities, he joked, "I'll put her as 1A, StockX as 1B, and all the other companies 2."
Email the Editor
Share This Story