New capital campaign prioritizes student success
The future starts here
---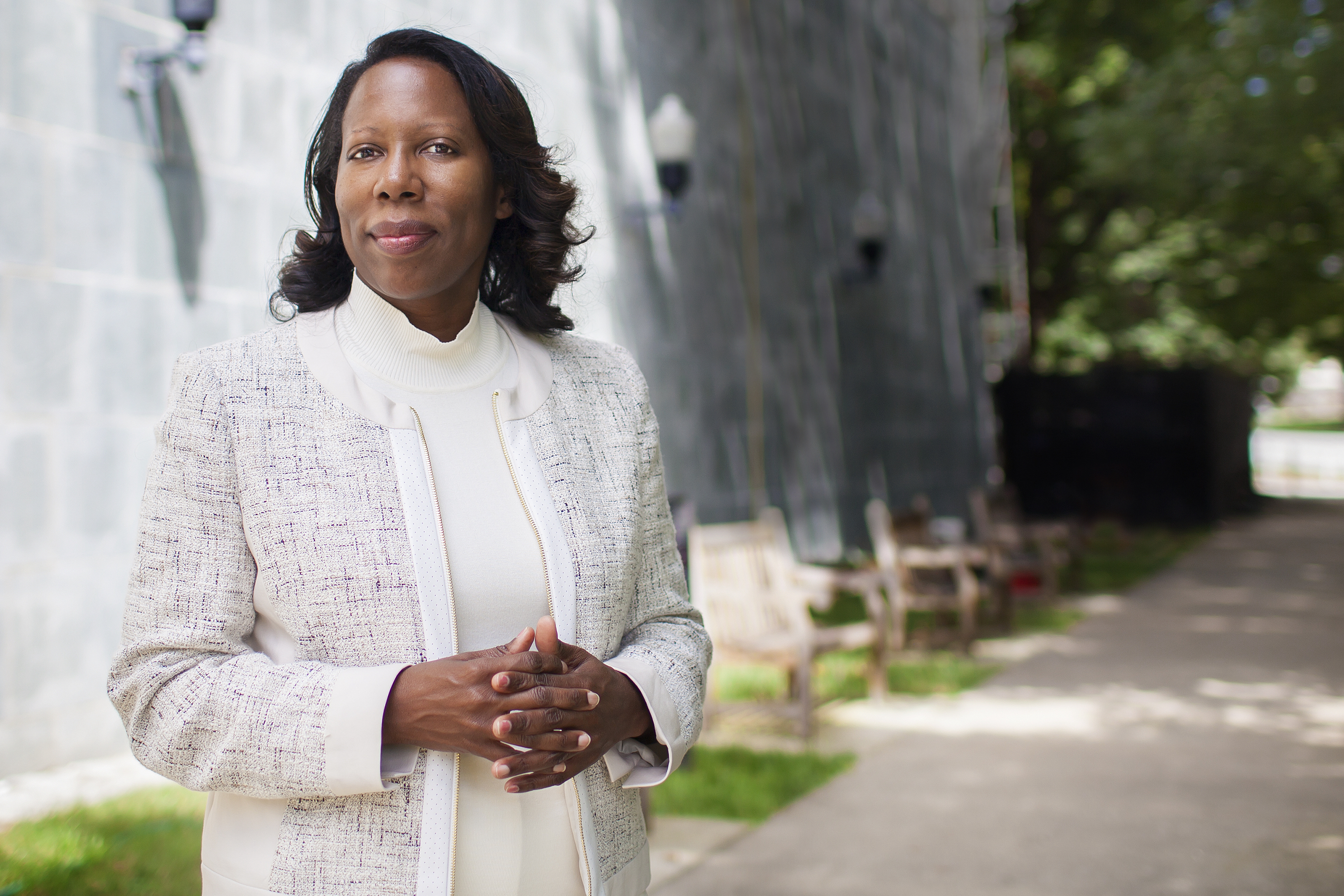 In the early 1990s, Margo A. Bagley 96L was a chemical engineer and researcher for Proctor & Gamble (P&G) and later the Coca-Cola Company. As a co-inventor of a patent on reduced fat peanut butter, she interacted with P&G's intellectual property lawyers, who also had to sign off on some of her experiments.
She was intrigued by "the level of impact these attorneys had on my work as an engineer." These interactions contributed to her decision to become a patent attorney. 
Bagley considered attending law school at night and continuing to work during the day. But Emory Law awarded her the Robert W. Woodruff Fellowship, which provided full tuition and a stipend. "Law school became my full-time job," Bagley says. She graduated third in her class. 
Bagley says the fact that she did not have to worry about student debt enabled her to work part-time in a law firm while her child was a toddler during a period when flexible work schedules were uncommon. It also freed her to eventually enter academia. 
Today, Bagley is Asa Griggs Candler Professor of Law at Emory Law. At the end of each semester, she gives her students advice she calls Prof. Bagley's Words of Wisdom. Among other tips, she encourages students to "eliminate debt, because it's not your friend." 
During its upcoming capital campaign — 2036, The Future Starts Here — Emory Law will seek to help students like Bagley once was to do exactly what she recommends.  
1. Triple student support
In October 2021, as part of an ongoing university-wide campaign, Courtney Stombock, associate dean of Advancement and Alumni Engagement, says the law school will be launching the public phase of its fundraising effort, with goals to double its endowment overall and triple the amount of student support. 
According to Dean Mary Anne Bobinski, the focus on student support "helps to ensure Emory's continued leadership as a law school in the United States." The upcoming fundraising effort builds upon record fundraising of $10.7 million in the 2021 fiscal year, more than doubling the school's goal of $5 million, according to Stombock. 
2. Educate students about law school costs
"When you're admitted to Emory, you're automatically considered for scholarships," says Jenna Otokawa 10L, senior director of Admission and Financial Aid. All incoming students are eligible for scholarships, and Otokawa estimates that the majority of Emory Law students receive some type of funding. Otokawa emphasizes the importance of educating students about the financial aspects of legal education and says her office distributes resources such as a Cost-of-Living Guide with information about planning and budgeting legal education at Emory. 
Otokawa's own experience has fueled her desire to help current students make educated financial decisions. She came to Emory Law as a 1L in 2007. 
"In 2008, everything changed a lot," Otokawa says, when the recession forced her and her peers to re-think job prospects and student debt. Her experience in the 2008 recession has helped her to empathize with law students facing the challenges of 2021 and the prospect of paying for law school. "It's more of a conversation than it ever has been before," she notes.  
3. Add need-based aid
Currently, most Emory Law scholarships are merit-based. The school seeks to change that by funding need-based aid through endowment funds. Dean Bobinski says the school wants to continue to recruit the strongest students and that career choices should not by shaped by student debt. 
Bobinski notes that teaching tools such as clinical and experiential learning have increased the cost of law school over the past decade but also have brought about a "much more diverse and resource-intensive approach" to legal education. 
"We're making sure students are practice-ready," Bobinski says, calling need-based financial aid a "great potential area for a fundraising campaign" to address the changing nature of law school. 
Rita Sheffey 21T, assistant dean for public service, agrees that Emory Law has embraced the practice preparation approach. She says Emory Law provides everything from the staple externships and pro bono opportunities to more specialized information about the emotional challenges of working with clients in challenging circumstances. "There's a focus on how you can develop real, useful, practical skills," she notes.  
4. Expand support for public service careers
For those students considering public interest and government careers, cost can be an even greater consideration. Emory Law's Loan Repayment Assistance Program (LRAP) provides funds for student loan repayment for lawyers in their first 10 years of careers in government and public interest. Bobinski says the campaign plans to expand LRAP and provide other assistance to students pursuing public interest careers. 
For those students, Emory Law currently offers a multipronged approach to assistance with tuition and other expenses. In addition to LRAP, the Emory Public Interest Committee (EPIC) helps fund stipends for students working in unpaid summer internships in public interest and government positions, as well as judicial internships. In the summer of 2021, the law school provided grants of up to $5,000 to 43 students. Sheffey says Emory Law is always looking for other ways to defray student costs, such as working with bar exam preparation providers to provide discounts for public interest students. 
"It's doable," Sheffey wants students interested in public service careers to know. "They don't have to sacrifice what they want to do."  
5. Engage alumni
Stombock credits the record $10.7 million fundraising year in part to the increase in virtual engagement with alumni during the pandemic. While the law school previously hosted in-person networking events in urban areas like New York and Washington, DC, on a regular basis, the rise in virtual networking has engaged alumni who might not have been as active in the Emory Law alumni community. 
According to Stombock, one of the most valuable ways to engage alumni is to connect them with current students and recent graduates. These initiatives include a bar mentorship program that pairs graduates studying for the bar with alumni who have taken it in the past five years, as well as panel discussions and networking events that allow students to explore different paths to career success. "We want our diverse student body to see themselves in these alumni," she notes. 
Noting that a majority of graduates who enter private legal practice work for law firms with fewer than 500 attorneys, Stombock emphasizes the importance of engaging students with a wide range of alumni and faculty in order to identify career opportunities. 
6. Support faculty in key subjects
In addition to initiatives to provide direct financial benefits for students, Dean Bobinski notes that the campaign also will focus on faculty support. 
Stombock says potential students often make law school decisions based upon faculty in their areas of interest, and the quality of faculty is a crucial part of the student experience once they get to Emory Law. 
Stombock cites the recent hiring of Darren Lenard Hutchinson as the inaugural John Lewis Chair for Civil Rights and Social Justice and establishment of the new Center for Civil Rights and Social Justice as examples of how philanthropic investments can build programs of strategic importance to the school. These initiatives grew from years of conversation within the school and across the university and engagement with key donors that culminated with the landmark gift from Southern Company Foundation, other donors, and alumni. 
With the upcoming capital campaign, Emory Law hopes to raise funds for professorships and chairs in subjects including health law, biomedical innovation, and corporate law as well as corporate law with a focus on innovation, litigation, intellectual property, and constitutional law. According to Bobinski, the proposed new professorships will draw upon Emory Law's leadership and reputation in these areas. For example, she notes that programs in health care and biomedical innovation "tak[e] advantage of Emory University's national and global profile in health" to focus on issues that are very important both from a legal standpoint and economically.  
7. Invest in the future
"My vision overall would be that we would have sufficient endowment to be able to sustain and grow" new and current programs, says Sheffey of the fundraising effort. For example, Emory Law has volunteer clinics serving veterans and immigrants. "I would love to institutionalize them and expand the services they offer through converting them to academic credit clinics," Sheffey says. 
"The quality of educational experience here is unparalleled," remarks Dean Bobinski. For alumni who saw their experience at Emory Law as pivotal both professionally and personally, she says the capital campaign is about "giving back and making these things possible for current and future students." 
"Now is the time to invest in the future of the school," Stombock says. 
Email the Editor
Share This Story