The Thrower Symposium explores law, policy, and social movements
Guns in modern America
---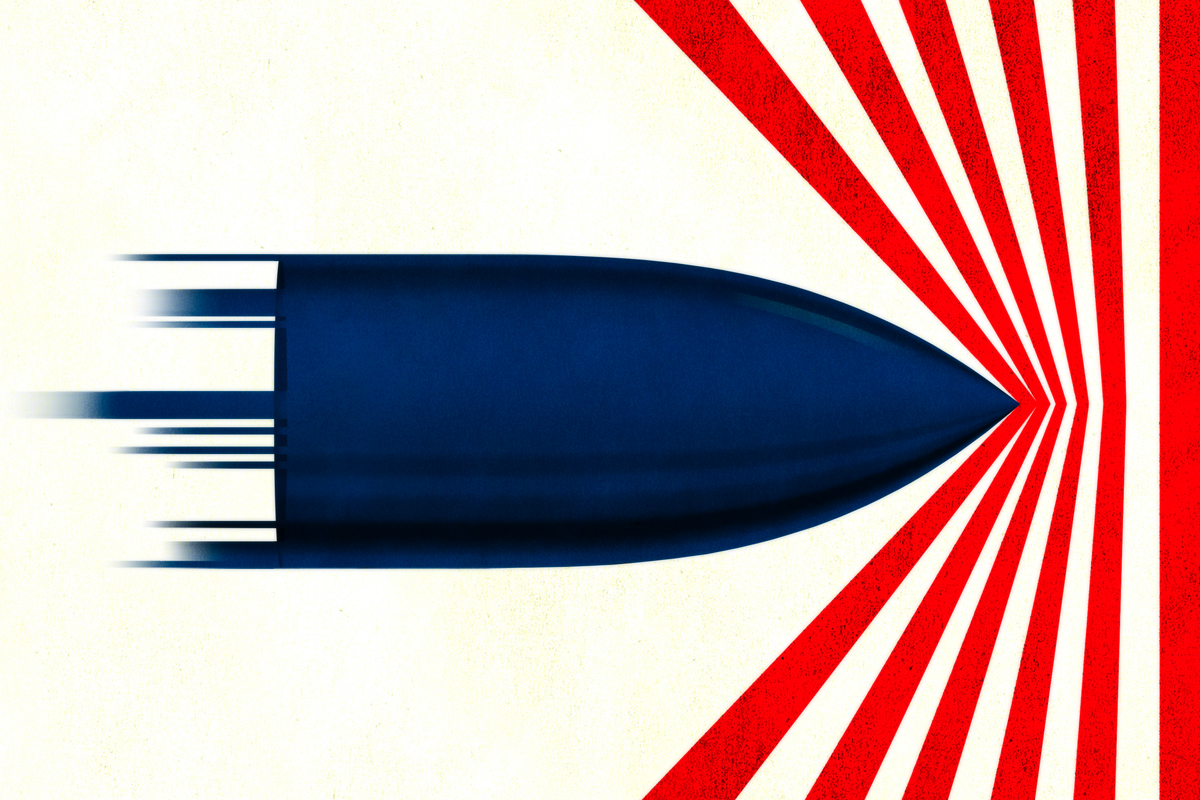 During his 23-year career as a trial attorney,
Jeremy Stein 94L
has done it all. He was a criminal defense attorney in Atlanta. He worked in civil practice and family court. He was a prosecutor with the attorney general's oce in Washington, DC. And from 2014 to 2017, he was the managing partner for a major northeastern firm. Stein's was a career that would be the envy of any newly minted law school graduate.
Yet, despite all of his success, something was missing.
"The reason I became a lawyer in the first place is because I wanted to help people," Stein said. "I thought what I did as a lawyer would have a greater impact on people's lives, but I was really just a cog in a broken system."
Stein said that while he had a positive, even life-changing impact on an individual level with clients, he wanted to do something on a larger scale: He wanted to work on gun violence prevention. For Stein, this was more than a public policy interest. It was personal.
Stein lost a close family member to suicide by firearm. He lived through the 2002 DC sniper attacks that killed 10 people in the Washington area. "I remember pumping gas and being afraid for my life," he said. And in 2012, Stein, who had by then moved to Connecticut, was a first responder to the Sandy Hook Elementary School shooting in Newtown. By 2017, he'd had enough. He bested 49 other candidates and took a job as executive director of the nonprofit Connecticut Against Gun Violence (CAGV).
"A lot of the skills I learned as a trial lawyer, I use as an advocate," he said. According to its website, CAGV's mission is to reduce gun violence in Connecticut and the way the organization does that is by enacting and protecting the state's gun safety laws, ensuring their effective administration and supporting nonlegislative means to reduce gun violence.
As a measure of success, Stein points to the Gffords Law Center to Prevent Gun Violence (named for former Arizona Rep. Gabby Giffords), which ranks Connecticut's gun laws third strongest in the nation. Giffords also ranks Connecticut's death rate from gun violence as the fifth lowest among the 50 states.
In the 2018 election, CAGV revamped its process of endorsing candidates. They looked at gun-related votes going back 10 years and even included amendment and committee voting, endorsing only those candidates Stein called "true leaders" on the issue. More than 80 percent of CAGV-endorsed candidates won.
"We hear the argument a lot," Stein said. "It's gun owners vs. non-gun owners. That's not even the debate anymore. Most gun owners, and I have a permit, support background checks and safe storage. The debate really is between zealots and people who want to be safe in their communities."
NO MATTER WHO'S INVOLVED, the debate over gun policy in the U.S. hasn't been a measured one for some time now, if it ever was. Gun policy is a complicated, multilayered, nuanced subject that is most often discussed using easy slogans and bloviating.
Emory Law wanted to change that dynamic with its annual Thrower Symposium, and in large part succeeded. The 38th annual Thrower Symposium, "Exploring Gun Violence in Modern America: Law, Policy, and Social Movements," was held on campus February 7. It brought together 14 speakers from across the legal and academic spectrum who approached the subject of gun policy from a variety of perspectives—mental health, research, politics, law enforcement, the courts, and more.
The tone of the day was set by keynote speakers Robert Cottrol, Harold Paul Green Research Professor of Law at the George Washington University School of Law, and Adam Winkler, professor of law at the UCLA School of Law.
Although there was little they agreed on in terms of policy, their fast-paced back and forth bared no signs of animus. Cottrol consistently advocated for the rights of lawful gun owners, stating concerns that laws banning the possession of high-capacity magazines, for instance, could unwittingly turn gun owners into criminals. He gave the example that such a law would require the voluntary turn-in of such magazines. If for whatever reason a person didn't do it, that could leave him or her vulnerable to criminal charges.
Cottrol also talked about how he sees the Second Amendment as a solution—rather than a problem—in America. "The original role was to have the population armed with the ability to play a role in the protection of their own communities, that's the notion of the well-regulated militia, and I think we should take a look at that concept and see how it might work in its modern form." One way is arming school teachers, he said, which requires rejecting the idea that most citizens do not have the ability to protect themselves and must instead rely on "professional arms bearers," such as police officers.
Winkler discussed the implications of the U.S. Supreme Court agreeing to hear a case involving New York City's limits on handgun owners transporting firearms outside the home. "I think the reason why the justices took the case is that they want to clarify the scope of the Second Amendment," he said. "They want to start answering some of the questions the lower courts have had for years that the Heller and McDonald cases le open. This is the first Supreme Court case to raise the question, 'What is your Second Amendment right outside the home?' "
One topic on which Cottrol and Winkler agreed is the Supreme Court's 2008 decision in District of Columbia vs. Heller, which protects an individual's right to possess a firearm. Both speakers noted that while some strong gun laws were struck down by the courts following the decision, many others were upheld. The discussion of the Heller decision, the last major gun case heard by the Supreme Court, did not end there. Emory law professor Frank Vandall, for instance, is not a fan.
"I think it's a very bad decision," said Vandall, who has written extensively on gun violence prevention. He was the final speaker of the day and he was not subtle in expressing his views.
"Remember Plessy vs. Ferguson," he continued. "Separate but equal. That was American law for 60 years. Just because there is initial enthusiasm for a decision, don't stop thinking. Express your views. It's wrong. It's wrong to send our children to school and be afraid that they might be killed. It's wrong to be afraid to go to a rock concert for fear someone in your party might be murdered. Gun violence in America is wrong."
The conversations in between Cottrol and Winkler's measured keynote and Vandall's passionate presentation were thought-provoking and enlightening.
Several speakers noted that suicides by firearm far outnumber homicides, yet they are rarely mentioned as prominently. One idea was posited that would allow people with mental health issues to voluntarily place themselves on gun-waiting lists, so they would be less likely to do themselves harm with a hastily purchased weapon.
ONE OF THE DAY'S
most prominent guests was former deputy attorney general Sally Yates. Her intriguing panel on gun-related crime and enforcement included Matthew Dodge, an appellate attorney at the federal defender program for the Northern District of Georgia (who Yates sometimes faced in court when she was U.S. attorney for the district) and Paul Howard, district attorney for Fulton County (whose jurisdiction often crossed Yates's). Their conversation harkened back to some of their former jockeying.
Mark Rosenberg, the former director of the CDC's National Center for Injury Prevention and Control (NCIPC), was at the forefront of gun violence research in the 1990s when the House passed the Dickey Amendment, which mandated that "none of the funds made available for injury prevention and control at the Centers for Disease Control and Prevention (CDC) may be used to advocate or promote gun control."
Rosenberg, who now heads the Atlanta based Task Force for Global Heath, noted that the amendment didn't strictly prevent gun violence research but it was enough of a threat to eliminate it. "With gun violence we are hearing questions, but we are not searching for the answers," he said, noting that scientific research led to cures for smallpox and polio and could conceivably lead to more informed gun policy.
"Does arming teachers save more lives or does it take more lives? We don't know," he continued. "Armed guards in schools, does that save lives or take lives? We don't know. Does banning semiautomatic rifles prevent mass shootings? We don't know. Our legislators are being asked to approve things without knowing if they are safe and effective."
WITH REGARD TO LEGISLATION and politics, one of the most compelling stories of the day came from Emory's own backyard. In 2018, running on an unabashedly gun violence prevention platform was no longer a third-rail issue. Georgia's historically conservative 6th Congressional District runs across Atlanta's affluent northern suburbs and dips down inside the perimeter to Brookhaven.
In June 2017, Republican Karen Handel defeated Democrat Jon Ossoff in a special election to fill the seat of Tom Price, who had accepted a place in President Donald Trump's cabinet. The two candidates spent more than $50 million between them, making the contest the most expensive U.S. House election in history. Gun violence prevention wasn't a huge factor in the race.
Lucy McBath changed that. When the 2018 House elections rolled around, McBath, who was an underdog going in, bested three other candidates in the Democratic primary. A former flight attendant, McBath entered politics following the shooting death of her son. She made gun violence prevention the core tenet of her campaign, spent a fraction of the money that de¬fined the 2017 runoff, and defeated Handel in the general election by about 3,200 votes.
"Political scientists who looked at the demographics of that district said that shouldn't have happened," said David Meyer, professor of sociology at the University of California, Irvine School of Social Sciences.
McBath hasn't shied away from the issue that de¬fined her campaign. She co-sponsored HR-8, a bill to institute universal background checks that passed the House on February 27, the first such bill to pass the House in two decades, and its companion bill to fund research on gun violence. That one passed the House a day later. Meyer called McBath "the institutional face of a movement."
Stein, for one, believes that the movement has staying power. "There is no question that it is growing. is is a movement, not a moment," said Stein, who did not attend the symposium but is well-versed in its subject matter. "The tide has turned. We are seeing this through elections, we are seeing states that have not passed gun laws ever passing comprehensive gun laws. Passing HR-8 is historic. Whether the president signs it or not, the fact that the House passed universal background checks— that's historic."
Still, historic or not, there are limits. According to Vandall, those limits are systemic. "No meaningful gun control will be adopted at the federal level in the foreseeable future." That remains to be seen.
Email the Editor
Share This Story