Behold the metaverse: NFTs, cryptocurrency, and the future of IP law
---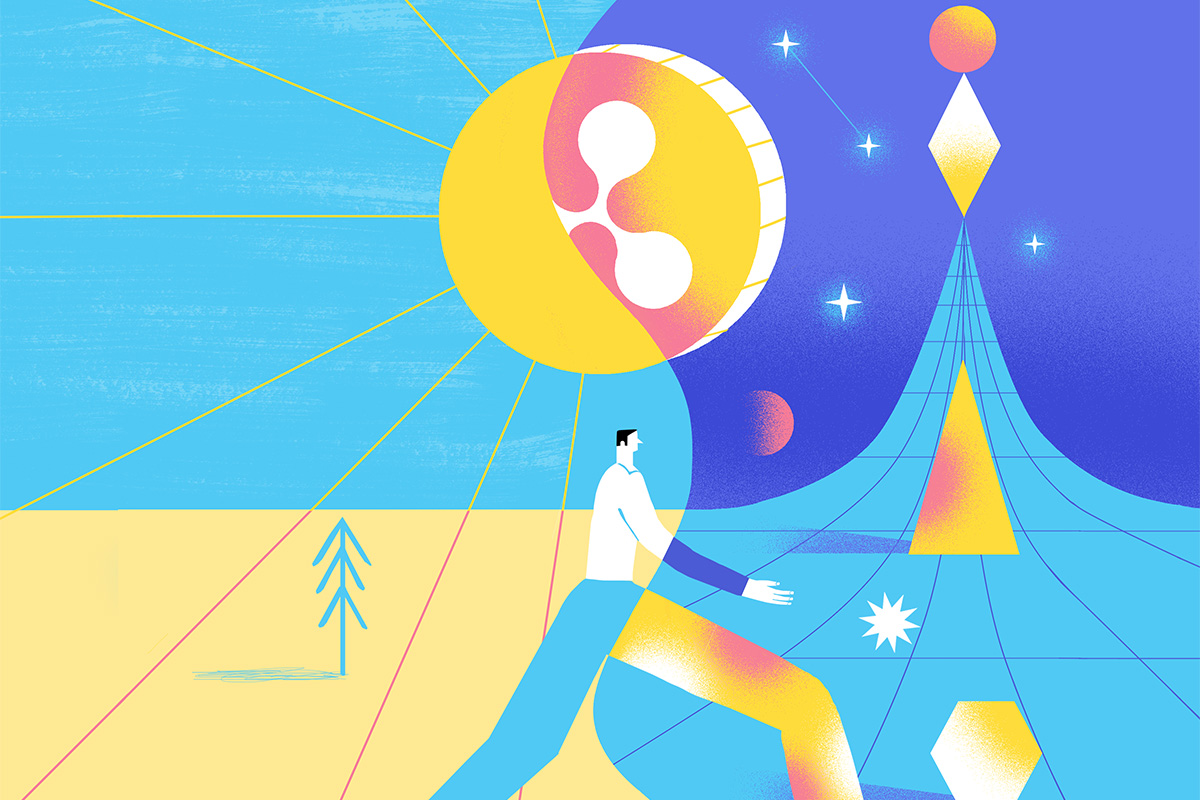 In 2018, cryptocurrency carried more than a whiff of criminality, as the City of Atlanta was brought to its digital knees by hackers who demanded a ransom of roughly $50,000 to be paid in bitcoin.
But things change. By 2021, digital currency was corporate. Super Bowl LVI was awash in cryptocurrency ads, including one for Crypto.com starring Matt Damon. On January 27, TI:GER Program Director and Professor of Practice Nicole Morris addressed the next blockchain frontier with this year's TI:GER Innovation Conference, "What You Need to Know about NFTs, Digital Assets and the Metaverse." Panelists included a licensing and open-source expert from Meta, educators and academics, tech lawyers, and a virtual reality pioneer. More than 250 attendees from nine countries participated in the livecast event.
Philippine artist Luis Buenaventura (CryptoPop) led the program with his story of how NFTs, or non-fungible tokens, changed his life and career. A connection made in a bar during a business trip to California in 2017 led him to become one of seven artists featured in Curio Cards, the first art NFT project on the Ethereum blockchain.
Understanding the terms
What are blockchain, cryptocurrency, and NFTs? In simple terms, blockchain is a foundation for the other two — a chain of electronic data blocks, each linked to the next to create a digital ledger maintained across a worldwide network of peer- to-peer computers that can, among other things, document cryptocurrency transactions, store smart contracts, and create a registry for IP works and their sub-elements. Blockchain could enhance copyright protection because it can't be altered, deleted, or destroyed. It could also reduce the substantial hours of labor required in IP litigation by providing evidence of creatorship, provenance, smart contracts for digital rights, and anti-counterfeiting enforcement, among many other pos- sible uses.
Cryptocurrency is digital money that's not regulated by banks or government entities. It exists on a decentralized blockchain that records transactions and manages how new units, or tokens, are issued. It relies on cryptography to prevent counterfeit and fraud. While bitcoin may be the first crypto- currency you think of, there are thousands of others, including ether, dogecoin, itecoin, ada and ether, a stablecoin whose value is tied to the US dollar.
NFTs are digital assets that represent real-world items, from visual art or a sports video, to custom sneakers or music. Often purchased with cryptocurrency, they contain a digital signature that makes them unique and non-fungible. An example from the TI:GER conference: the first tweet ever sent in 2006 by Twitter cofounder Jack Dorsey, which sold last year for 1,630.58 ether, equivalent to roughly $2.9 million at the time. (It read, "just setting up my twttr.")
A more level playing field
But back to artist Buenaventura: His dog-populated bitcoin cartoons caught the attention of some early Ethereum devotees he met at a 2017 bitcoin meetup held at El Rio, a bar in San Francisco. Based on this connection, his art was included in the 30-piece Curio Cards collection. The digital trading cards were initially offered for sale for $1 each. He said at the time they sold "zero copies." He wrote it off and forgot about it.
But when interest in NFTs rose in 2021, crypto "archeologists" went looking to find the oldest tokens. They found Curio Cards, the first art-related NFTs created on the Ethereum blockchain, and also discovered that no more could be created. Prices jumped and Buenaventura's Twitter DMs blew up. Last year, a 30-card set ended up being sold at Christie's for 393 ether or roughly $1.2 million.
NFTs democratized the art industry "in a way that no other technology has been able to do before," Buenaventura said. "I think that we're at a moment in time, where suddenly artists that are from countries like the Philippines—which is not exactly on the map when it comes to the global traditional art scene—we now have a shot, because no one cares what country you're actually from," he said. "No one really cares what language you speak necessarily, as long as the art is good, and as long as you're able to kind of represent yourself in a in a way that is compelling." Buenaventura has since launched the CryptoPop Art Guild, which represents about 200 underprivileged Filipino artists.
From NFTs to the metaverse
To shift the discussion to virtual worlds, panelist Shayne O'Reilly, Meta's head of licensing and open source, said he gets the "What is the metaverse?" question a lot.
"It's really just a fully immersive environment that's connecting both the augmented and virtual reality, so ultimately it's an environment where you have mixed reality," he said. How to best deliver that experience is driving current research, O'Reilly said, including Meta's Oculus, an untethered system that uses motion-tracking sensors on each hand in addition to a headset. It's known for gaming but also has business applications, such as virtual training.
The tech challenge, he said, is how to get the device down to a size where it's comfortable and you're not constantly aware you're wearing what can feel like a hot helmet. The other challenge is legal: as with any new and profitable technology, the IP issue is how to protect your own innovations but still allow users to travel from one platform to another. "Both Apple and Google are looking at mixed-reality headsets as well," O'Reilly said. "So there should be a lot going on within the space within the next year or two." Beyond entertainment and profit, VR and the metaverse have applications that could improve lives.
Morris introduced Goizueta Business School's George S. Craft Professor of Information Systems and Operations Management Benn Konsynski, who's studied sensory immersion and synthetic worlds since the 1980s. He and others hosted "Second Life and Other Virtual Worlds: A Roadmap For Research," the first international conference on virtual reality held in Montreal, 2007. One aspect of his research in sensory immersion included telepresence and stereoscopic lenses merged with flight simulators so that people with disabilities could experience life without them. "With telepresence you could let people experience things that were beyond their experience," he said. If a short person wanted to see what it was like to be 6'3", it was possible. In Second Life, (a virtual-world platform from the early '00s) users could tailor their avatar's shoe size, eye color, and "the cut of their shirt." One of the people curious about virtual reality during the Second Life era was Jimmy Carter. "I took President Carter into Second Life," Konsynski said. "I built an island in 2007, and it still exists."
Panelist Muhsinah L. Holmes Morris, an assistant professor and academic program director at Morehouse College, launched her Advanced Inorganic Chemistry course in virtual reality in the spring of 2021 (within a digital twin campus). Instead of breakout rooms and group chats in Zoom, VR "allows for the educator to be in this synchronous environment with their students," she said. In VR she can walk around and talk with students "just as if we're in class together." One drawback, though, can be safety issues in a real lab when students first learned in a virtual one.
"Sometimes they will forget about safety … like if you're in the headset you can reach for glassware that is on a Bunsen burner and not burn your hands," she said. But she foresees corrections will be developed, such as a vibration alert, or not being able to handle a beaker before acknowledging the heat. Her biggest soapbox, she said, is to not create a metaverse that increases an already huge economic divide. "You have to think about accessibility; you have to think about humanity; you have to think about how to make access and exposure to this type of technology and this type of knowledge for everybody," she said. That includes not only the marginalized, but also the vulnerable, young, elderly, and those with mental and physical disabilities. "I urge everyone to start thinking about that when they think about the legalities and the real issues that come to play here," she said.
Southwestern Law School's John J. Schumacher Chair and Professor of Law Kevin J. Greene said his NFT concerns remind him of the appropriation that Black musicians since Bessie Smith in the '20s have experienced, which rob the artist but create huge profits for those running the industry. "Are [artists] registering their copyrights? Do they realize that if they don't have a copyright registration, they can't enforce their rights, period?" he asked. Tech attorney Nelson Rosario agreed, saying Green's point "speaks to human nature." "There is a big risk here of replicating the same kind of power structures and disparities."
"I think a lot of folks are getting into this space, particularly people who are new to tech, and they see this as a huge payday," Nicole Morris said. She added that artists entering the NFT marketplace need to observe existing copyright law to protect themselves or be taken advantage of. "As creators you all really need to consult with someone about getting your copyright protected before you tinker around too far and head down a path of no return," she said.
Ready or not
In February, Reuters reported Disney had created a new role — senior vice president of Next Generation Storytelling and Consumer Experiences, "to help define how consumers experience Disney's coming metaverse." The company foresees a virtual, immersive space that uses artificial intelligence, storytelling, computer design, and music. While there, avatars will interact with others, build the virtual environment, and create new experiences. Rather than scrolling through the internet, the metaverse will be like roaming inside it. And if Disney, Apple, Meta and Microsoft are making plans and spending money, the metaverse will probably happen.
The legal world has also awakened to the idea that almost anything of value can be tokenized (where sensitive data is replaced with non-sensitive data, or a token) for blockchain. However, a decentralized system that's still being called the wild, wild West and used for money laundering will likely conflict with existing laws, e.g., the European Union's General Data Protection Regulation (GDPR), which gives individuals the right to have personal data erased. However, some lawyers see the plus side of blockchain — a future where bona fide legal documentation can be accessed at will.
Also, governance and enforcement are developing. In February, the Department of Justice arrested a couple for one of the most notorious thefts of cryptocurrency thus far, the 2016 hack of Bitfinex, worth roughly $4.5 billion. In March, President Joe Biden signed an executive order directing the federal government to come up with a plan to regulate cryptocurrencies, including how to create a digital dollar. On the other side of the world, China's civil legal system has formalized its acceptance of blockchain evidence to document the existence or misappropriation of trademark secrets.
So, while much of the metaverse is still unwritten, it's coming fast.
---
IP at Emory Law
Before joining Emory Law in 2015, Professor of Practice Nicole Morris was managing patent counsel at The Coca-Cola Company. She practiced patent law for over a decade, and worked as an engineer with 3M and Eli Lilly for six years. In addition to her JD, she holds a master's degree in chemistry, and a bachelor of science in chemical engineering.
During Morris's tenure at Emory, TI:GER has increased both its national profile and opportunities for students. In 2021, Morris was named principal advisor for the inaugural HBCU IP Futures Collaborative, a program that will connect leading faculty at HBCUs to foster best practices for teaching IP to non-law students. Last fall, the National Nuclear Security Administration (NNSA) partnered with TI:GER to improve market research on its technology transfer projects, including The Sandia Hand (Sandia National Laboratories) and Atomic Armor (Los Alamos National Laboratory). Morris is part of Emory Law's strong patent and IP law faculty, which also includes:
Margo Bagley 96L is among the world's foremost experts on international patent law issues. A member of the National Academies of Sciences, Engineering and Medicine, she currently serves on the Committee on Advancing Commercialization from the Federal Laboratories. In addition to five years in the practice of IP law, she is also a former chemical engineer and patent-holding inventor. In addition to her JD, she also earned a bachelor's degree in chemical engineering.
Kristin N. Johnson is expert on securities regulation, fintech, and artificial intelligence as it relates to the law. An internationally recognized expert on financial markets regulation and corporate governance, her recent writing has called for the need to regulate cryptocurrency exchanges. Last year she was nominated by President Biden to serve as a commissioner of the Commodity Futures Trading Commission, and in January she was named chair of the Executive Committee of the Association of American Law Schools' Section on Securities Regulation.
Asa Griggs Candler Professor of Law and Vice Provost Timothy Holbrook's recent work has explored the impact of 3D printing on patent law, the extraterritorial reach of US patent law, and the function of patent disclosures. After clerking at the US Court of Appeals for the Federal Circuit, he practiced patent law both here and in Hungary. He has written over fifty publications and given over 100 presentations around the world on patent law. His forthcoming book, Patents, Property, and Possession: A Unifying Approach to Patent Law is scheduled to be published by Cambridge University Press later this year.
Email the Editor
Share This Story