Which will wins?
Trial Techniques 2022
---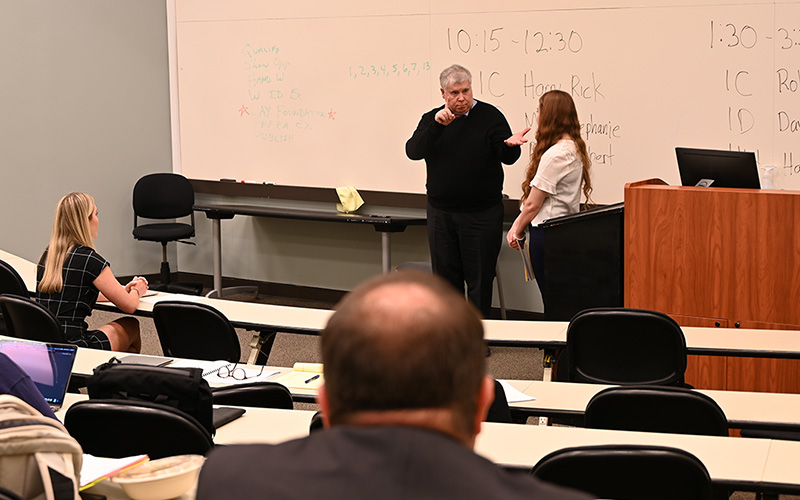 A day before his death from pancreatic cancer, a father handwrites a new will that blocks all his children from inheriting a sizable estate. The new beneficiary? Dad's longtime caretaker. His children are outraged. Attorneys on each side arm themselves for a bruising trial.
For the past week, hundreds of Emory Law students have lived this fictional controversy via the Kessler-Eidson Program for Trial Techniques (KEPTT), a required course for all 2Ls. The program culminates in an intensive seven-day takeover of the law school and MacMillan Library. This year, half of the students represent the aggrieved children, and half, the estate. The children argue a combination of undue influence, illness and medication rendered their father incapable of testamentary capacity.
For seven days, students go through witness prep, voir dire, cross-examination, closing arguments, and Daubert hearings. By the end, every student has gone through both an evidentiary hearing and a jury trial, during which they meet working attorneys and judges who travel to Atlanta from around the country to participate as faculty. "The energy in Gambrell and MacMillan is palpable — exhibited by both the students and the faculty," said Mike Ginsberg, KEPTT's program director. "We are energized to be back on campus after teaching the program on Zoom for the past two academic years."
The mock trial program integrates second-year law students' theoretical knowledge of evidence with practical trial skills. Since its founding in 1982, the program has grown into the nation's largest trial skills program and is among its most respected. Emory Law was an early adopter of the "learning-by-doing" methodology, which was developed by the National Institute for Trial Advocacy's program to teach practicing lawyers.
The program began earlier this spring with intensive workshops (held virtually this year) at Atlanta-area law firms, the U.S. Attorney's Office, and the DeKalb County Law Office of the Public Defender. The week-long May session kicked off April 30, right after final exams. This year's return to an in-person event involved 108 volunteer faculty from Atlanta and around the country, including as far away as Alaska. They include federal and state judges, public defenders, prosecutors, and private practitioners. While all KEPTT faculty help make the program exceptional, we especially thank our 45 alumni faculty:
Al Amado 86L (ABA Rule of Law Initiative); Emily Baker 98C 01L (Jones Day); Lynsey Barron 09L (Miller & Martin); Steven Berne 87L (Law Office of Steven Berne); Natanya Brooks 13L (Brooks Injury Law); Marc Brown 14L (Marc Brown Law Firm); Chelsea Champion 18L (DeKalb County Public Defender); Lawrence Cooper 80L (Cohen, Cooper, Estep & Allen); Amos Davis 10L 10T (Uber Technologies); Letitia Delan 93L(DeKalb County Public Defender); Perisha Dixon 15L (Fincher Denmark); Rick Duarte 10L (The Duarte Firm); Veronica Finkelstein 04L (U.S. Attorney's Office); Christopher Ford 81L (Law Office of Christopher Patrick Ford); Rachel Gordon 12L (DeKalb County Public Defender); Judge Steven Grimberg 98L (U.S. District Court, Northern District of Georgia); Drew Healy 13L (Dekalb County District Attorney's Office); Judge Robert Herzfeld 98L (22nd Judicial District Circuit Court of Arkansas); Christopher Lambden 19L(Pratt Clay); Allyson Lumpkin 15L (Squire Patton Boggs); Judge David Lyles 98L (Superior Court, Paulding Judicial Circuit); Elizabeth Markowitz 90L (Fulton County Public Defender); Marcela Mateo 07C 10L (U.S. Attorney's Office); Michelle McIntyre 18L (U.S. District Court for the Northern District of Georgia); Ruth Rocker McMullin 00L (judge, Gwinett County Courts); Joe Newman 73L (U.S. Attorney's office, retired, pro tem Georgia State Court judge); Shankar Ramamurthy 11L (U.S. Dept. of Justice); Claudia Saari 87L (DeKalb County Public Defender); Kate Sandlin 14L (Smith, Gambrell & Russell); James Scharf 86L (U.S. Attorney's Office, Northern District of California); Jamie Schickler 13L (DeKalb County Public Defender); Abe Sharony 74L (Abraham A. Sharony); James Sheinbaum 79L (James B. Sheinbaum, Esq.); Bradley Solomon 88L (California Department of Justice, deputy attorney general); Erin Spritzer 12L (U.S. Attorney's Office Northern District of Georgia); Judge Cynthia Stephens-Hill 76L (Michigan Court of Appeals, retired); Lauren Thrasher 15L (Thrasher Law); Bruce Udolf 79L (Bruce L. Udolf, P.A.); Justin Victor 10L (Greenberg Traurig); Sandy Wallack 94L (Wallack Law); Robert Webb 78L (Webb & D'Orazio); Harry Winograd 83L (Bodker, Ramsey, Andrews, Winograd & Wildstein.); and Will Wooten 13L (Fulton County District Attorney's Office).
Email the Editor
Share This Story