Robert W. Woodruff Scholars and Fellows Program

In 1980, Emory University established the Robert W. Woodruff Scholars and Fellows Program to recruit and reward students with exceptional character, scholastic abilities, and leadership qualities.
Each year, every college and division names incoming Woodruff Fellows. It is the highest accolade an incoming student can receive.
At Emory Law, Woodruff Fellows receive a scholarship covering all tuition and mandatory fees for their three years of study toward a juris doctor. Those students with external scholarship funding or military benefits will receive the difference between their other benefits and full cost of tuition plus mandatory fees. In addition, fellows receive a $3,000 stipend to assist in defraying the cost of books and living expenses.
Specifically, the fellowships are awarded to students who have demonstrated
qualities of forceful and unselfish character,
intellectual and personal vigor,
outstanding academic achievement,
impressive skills in communication,
significant leadership and creativity in school or community,
clear potential for enriching the lives of their contemporaries at Emory University, and
strong propensity to make a positive impact on the community as an Emory Law alumnus/alumna.
The Woodruff Fellowship is more than a scholarship. Becoming a Woodruff Fellow means joining a rich community of scholars who are leaders among the Emory Law community, the alumni association, and their greater communities. Our fellows are leaders both while they are students and after they graduate and join the practice in courtrooms, businesses, government, public service, and academia. The Woodruff Fellow designation signifies character and leadership.
All incoming three-year JD students are eligible to apply for the Woodruff Fellowship program. 
Robert W. Woodruff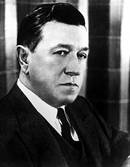 Just 33 years old when he took command of the Coca-Cola Co. in 1923, Robert Winship Woodruff shaped the fledgling soft drink enterprise and its bottler franchise system into a corporate giant with the world's most widely known trademark. A man of enormous stature and personal magnetism, Woodruff's influence over the affairs of Coca-Cola was absolute until his death in 1985.
Woodruff was born in Columbus, Georgia, in 1889 and soon moved to Atlanta, where his father, Ernest, became president of the Trust Co. of Georgia. An indifferent student, young Woodruff wasted no time in making his mark in business. Beginning as a salesman for the White Motor Co. in Cleveland, Ohio, Woodruff quickly became the company's most successful salesman and was soon promoted to vice president and general sales manager.
Meanwhile, Ernest Woodruff had invested along with many other Atlantans in the Coca-Cola Co., which had been acquired and taken public by a syndicate led by the Trust Co. of Georgia. After the acquisition, the company fell on lean times, so Ernest persuaded Robert to return to Atlanta and become its president.
During the next six decades, Woodruff established a remarkable record as a businessman and philanthropist. He gave anonymously to many institutions, a number of which owe their very existence to his generosity. Much of his philanthropy was directed through the Trebor Foundation, established in 1937 (renamed the Robert W. Woodruff Foundation following his death). Woodruff and his brother also presided over the Emily and Ernest Woodruff Fund, a separate charitable foundation whose assets of approximately $105 million were distributed in 1979 to Emory University.
The gift was called the largest single benefaction in American history and increased Woodruff's donations to the university to more than $200 million. Emory, with five million shares of stock, became one of the largest owners of Coca-Cola.
Source: http://college.emory.edu/scholars/about/legacy.html »
Woodruff Fellowship Application and Selection Process
The 2019 Woodruff Scholars nomination period is now closed.
The selection process for the Woodruff Fellowship is rigorous. The selection committee, composed of faculty, staff, and Woodruff alumni, looks for outstanding achievement in academics, leadership, and out-of-school activities as well as the potential to make a significant impact on the Emory Law community.
Two-Step Application Process
First, submit your application for admission to the three-year JD program through www.lsac.org.
Second, have a professor, colleague, employer, or another person who knows you well submit a "Letter of Nomination for the Woodruff Fellowship" starting October 2. We do not recommend using one of your admission recommenders for this letter. 
Scholars Weekend
Each year, up to 15 Woodruff finalists participate in our annual Woodruff Scholars Weekend.
During this interactive, three-day event, finalists meet top Emory Law administrators, faculty, students, and alumni. Finalists participate in a special classroom session with a distinguished faculty member, visit Coca-Cola's world headquarters to learn about Robert W. Woodruff's achievements, and experience the opportunities awaiting them at Emory and beyond. At the conclusion of Scholars Weekend, each finalist interviews with the Woodruff Selection Committee. 
Emory Law will cover all expenses, including travel, for Woodruff Scholars Weekend. (Finalists living abroad will have their airfare reimbursed up to $700.)