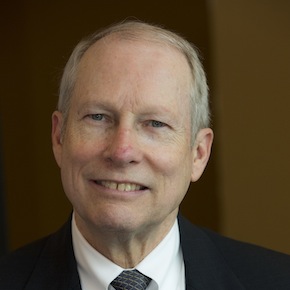 Thomas C. Arthur
L. Q. C. Lamar Professor of Law
Areas of Expertise
Antitrust, Civil Procedure, Administrative Law
Assistant: Marianne D'Souza
Thomas C. Arthur holds degrees from Yale Law School and Duke University, where he was an Angier B. Duke Scholar and a member of Phi Beta Kappa. Before coming to Emory, he practiced law for eleven years with the Washington, DC office of Kirkland & Ellis. In 1982, he left his law firm partnership to join the Emory Law faculty.
Arthur teaches antitrust, civil procedure, and administrative law, and he has been active on the executive committee of the Antitrust Section of the Association of American Law Schools. His articles in the California and Tulane law reviews have been credited with the founding of a new, "statutory" school of antitrust analysis. His 1991 Emory Law Journal article (co-authored with Professor Richard D. Freer) provoked a nationally noted debate over an important new statute governing the jurisdiction of federal courts. A major antitrust article, "The Costly Quest for Perfect Competition: Kodak and Nonstructural Market Power," was published in the New York University Law Review (vol. 69, April 1994).
Education: JD, Yale University, 1971; BA, Duke University, 1968
Journal Articles
"The Core of Antitrust and the Slow Death of Dr. Miles," 62 SMU Law Review (2009).
"The Irrepressible Influence of Byrd," Creighton Law Review (2011).
"Introduction: The Foundations of Law," 54 Emory Law Journal 1 (2005).   
"A Workable Rule of Reason: A Less Ambitious Role for the Federal Courts," 68 Antitrust Law Journal 337 (2000).
"Formalistic Line Drawing: Exclusion of Unauthorized Servicers From Single Brand Aftermarkets Under Kodak and Sylvania," 24 Journal of Corporation Law 603 (1999).