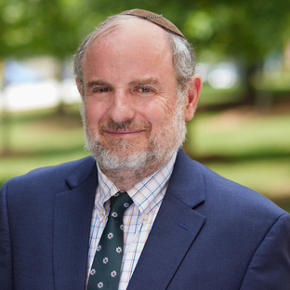 Michael J. Broyde
Professor of Law
Areas of Expertise
Alternative Dispute Resolution, Bankruptcy, Jewish Law, Family Law, Law and Religion
Michael J. Broyde is professor of law at Emory Law and a senior fellow at the Center for the Study of Law Religion at Emory University. His primary areas of interest are law and religion, Jewish law and ethics, and comparative religious law. Besides Jewish law and family law, Professor Broyde has taught Federal Courts, Alternative Dispute Resolution, and Secured Credit and Bankruptcy. He received a juris doctor from New York University and published a note on the law review. He also clerked for Judge Leonard I. Garth of the United States Court of Appeals for the Third Circuit.
Professor Broyde is ordained (yoreh yoreh ve-yadin yadin) as a rabbi by Yeshiva University and was a member (dayan) of the Beth Din of America, the largest Jewish law court in America. He was the director of that court during the 1997–1998 academic year, while on leave from Emory. Outside of Emory, Professor Broyde was the founding rabbi of the Young Israel synagogue in Atlanta, a founder of the Atlanta Torah MiTzion kollel study program and a board member of many organizations in Atlanta.
Professor Broyde has published more than seventy-five articles and book chapters on various aspects of law and religion and Jewish law, including "A Jewish Law View of World Law," Emory Law Journal 54: 79-93 (spec. ed., 2005), about how Jewish law might classify international law, and a series of vigorous exchanges in several publications on military ethics in Jewish law. He also has published a number of articles in the area of federal courts, including an article in the Harvard Journal of Law and Public Policy on the impeachment process.
Education: New York University School of Law, JD 1988; Yeshiva University: Rabbi Isaac Elchanan Theological Seminary, Ordination 1991; Yeshiva University: Yeshiva College, BA, cum laude 1984
Books
The Codification of Jewish Law and an Introduction to the Jurisprudence of the Mishna Berura (Academic Studies Press, 2013) (co-author: Ira Bedzow) (forthcoming).
Innovation in Jewish Law: a Case Study of Chiddush in Havineinu (Urim Publications, 2010).
The Pursuit of Justice and Jewish Law: Halakhic Perspectives on the Legal Profession (Yeshiva University Press, 1996) (Yashar Books, second edition 2007).
Marriage, Sex and Family in Judaism (Rowman & Littlefield, 2005) (with Michael Ausubel).
Book Chapters
"Access to Justice in Jewish Financial Law: The Case of Returning Lost Property," in Radical Responsibility: Celebrating the Thought of Chief Rabbi Lord Jonathan Sacks, Michael J. Harris, Daniel Rynhold & Tamra Wright, eds., New York: The Michael Scharf Publication Trust/YU Press; Jerusalem: Maggid Books, 2013, 111–123.
"Who is a Jew," in Jewish Identity: Who Is A Jew?," Baruch Litvin, Sidney Hoenig & Jeanne Litvin eds. (2d rev. & augmented ed., New York: Ktav, 2012, 29–40) (co-author: Mark Goldfeder).
"Women Receiving Aliyot? A Short Halakhic Analysis", in "Wisdom and Understanding"—Studies in Jewish Law in Honour of Bernard S. Jackson: Jewish Law Association Studies XXII, (Leib Moscovitz and Yosef Rivlin eds., Liverpool: Jewish Law Association, 2012).
"Has Judaism Lost its Sense of Direction? Orientation during Tefillah," in Essays for a Jewish Lifetime: The Burton D. Morris Jubilee Volume (Menachem Butler and Marian E. Frankston eds., New York: Hakirah Press, 2012).
"New York's Regulation of Jewish Marriage: Covenant, Contract, or Statute?" in Marriage and Divorce in a Multicultural Context: Multi-Tiered Marriage and the Boundaries of Civil Law and Religion (Joel A. Nichols ed., Cambridge University Press, 2011).
Journal Articles
"Happiness—and Unhappiness—as Legally Significant Categories in Jewish Law," Journal of Law and Religion 29:1 (forthcoming 2013).
"Jewish Law Courts in America: Lessons Offered to Sharia Courts by the Beth Din of America," New York Law School Law Review 57 287 (2012/2013).
"The Codification of Jewish Law and an Introduction to the Jurisprudence of the Mishna Berura," Hamline Law Review 35 623 (2012) (co-author: Ira Bedzow).
"Custom as a Source of Jewish Law: Some Religious Reflections on David J. Bederman's Custom as a Source of Law," Emory Law Journal 61 1037 (Special ed. 2012)
"Understanding Rights in Context: Freedom of Contract or Freedom From Contract? A Comparison of the Various Jewish and American Traditions," Journal of the Beth Din of America 1 (Spring 2012), 48–65. (co-author: Steven S. Weiner) [Another version of this article has also been accepted for publication in Jewish Law Association Studies XXV – the Netanya Conference Volume, Yuval Sinai ed.].
Op-Eds
"A Student Remembers Justice Menachem Elon," The Jewish Press, February 20, 2013
"Žižek, 'Zero Dark Thirty' and Torture," Huffington Post, February 5, 2013. (Co-author: Prof. Jacob L. Wright of Emory/Candler)
"Learning Law Young: What Happens When Schools Teach (Jewish) Law," HaYidion: The RAVSAK Journal (Winter 2012), 56–58. (Co-author: Ira Bedzow) [This article is an expansion of an ELI talk I gave entitled "Learning Law Young: What Happens When Elementary Schools Teach (Jewish) Law."]
"Religious Freedom Has Limits, For Good Reason," The Jewish Week, August 21, 2012
"A One-Man Supreme Court: Why a Quarter of a Million People Turned Out to Mourn Rabbi Yosef Shalom Elyashiv," Tablet Magazine, July 31, 2012. (co-author: Mark Goldfeder)
"Jerusalem, in Love and War," in 10 Inspiring Articles Celebrating Yom Yerushalayim, Naphtali Weisz & Moshe Rothchild eds., Teach for Israel 2012, 20–22 (Co-author: Mark Goldfeder)
"Three Cheers For IRF's Mandating Prenuptial Agreements", The Jewish Press, May 23, 2012
Rabbinic Blog Posts
"My Nom de Plume Exposed," Hirhurim – Torah Musings, April 13, 2013
"President Carter, Yeshiva University and Our Community: Having a Yeshiva which is a University," Hirhurim – Torah Musings, April 9, 2013
"Shaving on Chol HaMoed," Hirhurim – Torah Musings, March 27, 2013
"Justice Menachem Elon, of blessed memory," Hirhurim – Torah Musings, February 20, 2013
"Mishnah Berurah Methodology," Hirhurim – Torah Musings, January 29, 2013
"Report Abuse to Police, Not Rabbis," Hirhurim – Torah Musings, January 16, 2013.
Presentations
Keynote lecture, "Suggestions for Shari'a Courts Based on the Precedent of the Beth Din of America," Shari'a and Halakha in America, IIT Chicago-Kent Law School & University of Illinois at Chicago, April 15, 2013
Co-presenter, "Organ Donation and Transplant Issues," and panelist, "Responding to Suffering at the End of Life: Lessons from Medicine, Law, and the Jewish Tradition," Judaism, Health and Healing Community Resource Conference, Spertus Institute for Jewish Learning and Leadership, Chicago, April 14, 2013
"Jewish Tradition and American Civil Rights: An Explanation of the Theory," Ben J. Altheimer Lecture on Judaism and Civil Rights, Hendrix College, Conway, Arkansas, April 3, 2013.