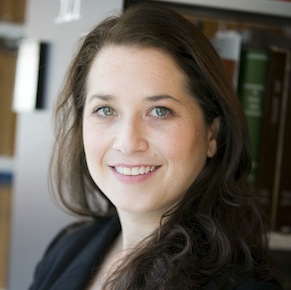 Mindy Goldstein
Clinical Professor and Interim Director, Environmental and Natural Resources Law Program
Areas of Expertise
Environmental Law
Clinical Professor Mindy Goldstein is director of the Turner Environmental Law Clinic and interim director of the Environmental and Natural Resources Law Program.  She has represented clients in complex environmental litigation before judicial and administrative tribunals; in legislative and policy matters at the local, state, and federal levels; and in land use and real estate transactions.  Her work focuses on matters related to sustainable energy and climate change, land use and conservation, sustainable agriculture, protection of water resources, access to information, and protection of endangered species.  She has successfully litigated cases before the D.C. Circuit Court of Appeals and various district courts, and she has testified before several federal agencies. 
Her representations have been covered extensively by the media, including National Public Radio, The Economist, and The New York Times.
Professor Goldstein graduated with honors from the University of North Carolina, earning a BS in biology with a minor in chemistry.  She received her JD from the University of Maryland, where she graduated magna cum laude with a concentration in environmental law.  After law school, Professor Goldstein was an associate in the law firm of Kilpatrick Stockton (now Kilpatrick Townsend & Stockton), where she represented clients in commercial real estate and land use transactions. Her work often concerned environmental liability arising from the purchase and development of land.
At Emory, Professor Goldstein has represented clients in investigating and challenging violations of the Administrative Procedure Act, Atomic Energy Act, Clean Water Act, Endangered Species Act, Food Safety Modernization Act, Freedom of Information Act, National Environmental Policy Act, and National Wildlife Refuge System Administration Act.  She has also prepared comments on proposed regulations, environmental impact statements, and permits before state and federal agencies, including the Army Corps of Engineers, Department of Energy, Environmental Protection Agency, Food and Drug Administration, Georgia Environmental Protection Division, and Nuclear Regulatory Commission. 
In addition to this work, Professor Goldstein has given lectures and presentations on a wide variety of environmental issues around the country.  She sits on the board of several environmental nonprofit organizations, including Wholesome Wave Georgia.  She is the co-chair of the Georgia Public Interest Environmental Law Coalition.
Professor Goldstein teaches classes in Environmental Advocacy and the Turner Environmental Law Clinic.
Education: JD, University of Maryland; BS, University of North Carolina, Chapel Hill
Articles and Presentations
"Environmental Justice," at Global Development and Social Justice Workshop, Humphrey Fellowship Program, Emory University ( March 19, 2015).
"Key Environmental Issues in U.S. EPA Region 4— Enforcement," panel discussion at ABA Section of Environment, Energy, and Resources Spring Conference, Atlanta (March 3, 2015).
"Nuclear Power Generation and Water Resources: Balancing the Need for Future Power Generation and Environmental Protection," panel discussion, 21st Annual Public Interest Environmental Conference, University of Florida College of Law (February 13, 2015).
"Commenting on FDA's Regulation That Will Change Farming Forever," ABA Section of Administrative Law Magazine (forthcoming).
"The Practice of Environmental Law," Environmental Law Seminar at Spelman College (April 2014), ABA Section of the Environment, Energy, and Resources, panel discussion at Emory Law School (March 2014).
"Urban Agriculture Practices Across the Country," teleconference for the Urban Agriculture Committee of the Community Food Security Coalition (April 2012).
"Sustainable Food Production in Metro-Atlanta," Psychology Seminar at Morehouse College (February 2012).
"Understanding and Using the Freedom of Information Act," continuing legal education presentation before the Georgia Public Interest Environmental Law Coalition (February 2012).
"Urban Agriculture: A Sixteen City Survey of Urban Agriculture Practices Across the Country," Georgia Organics (August 2011).
Panel Discussions
"Agricultural Policy – Legal Implications," panel discussion at the University of Georgia School of Law, 26th annual Red Clay Conference (February 2014).
"Waste Confidence – What Is It and Why Does It Matter?," panel discussion at the Institute for Energy and Environmental Research (IEER) Annual Workshop (July 2012).
"Farm to Truck & Table," panel discussion at Southface Energy Institute's Annual Greenprints Conference (March 2012).
"Zoning for Zucchini: Land Use Advocacy to Support Urban Agriculture," panel discussion at the 15th Annual Georgia Organics Plow Forward Conference (February 2012).
Op-Eds
"Confirm Allison Macfarlane to the NRC," The Hill (May 2012) (with Curran).