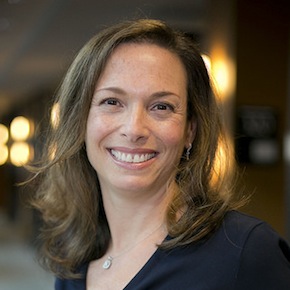 Kay L. Levine
Associate Dean of Faculty, Professor of Law
Areas of Expertise
Criminal Procedure, Criminal Law, Regulation of Sexuality
Kay Levine is an empirical scholar who examines how criminal law works in the real world, with an emphasis on state courts in the United States. Her research focuses in particular on how prosecutors make decisions in their cases; interpret ethical rules; structure relationships with victims, judges, and defense attorneys; and think about their careers, all across a wide range of specialties (such as drug crimes and sex crimes). Her courses and curricular interests include Criminal Law, Criminal Procedure (both Police Investigations and Adjudication), Victimless Crimes, and the Colloquium Series Workshop.
Levine is writing a book titled The Inside World of Prosecution, in conjunction with Professor Ron Wright of Wake Forest University Law School. This work stems from their years of empirical research with approximately 270 prosecutors in state courts in the American Southeast and Southwest. The project offers a highly nuanced perspective on the job of prosecution in the 21st century – it examines the influences of office structure, leadership, and culture on prosecutorial decision-making, morale, and career mindsets. Levine also is researching drug enforcement patterns in Fulton County, Georgia, as part of a multidisciplinary project funded by the National Science Foundation. In that project, titled Race, Place and Discretion, the authors are exploring various legal actors' understanding of, and willingness to use, drug-free zone laws to impact drug selling activity in the county. The project includes review of thousands of court cases, as well as interviews with prosecutors, defense attorneys, police officers, judges, and active offenders in the criminal court community.
Levine's prior research about prosecutorial behavior has appeared in numerous law reviews and peer-reviewed journals, including the Emory Law Journal, the Wake Forest University Law Review, Law and Social Inquiry, the Fordham Urban Law Journal, the Arizona Law Review, and Studies in Law, Politics and Society. It has also appeared in specialty criminal law journals such as The Stanford Journal of Criminal Law and Policy, the Journal of Criminal Law and Criminology, The American Criminal Law Review, the Ohio State Journal of Criminal Law, and the Virginia Journal of Criminal Law. 
Levine joined the Emory faculty in 2003. She graduated Phi Beta Kappa from Duke University and received her JD from the University of California-Berkeley, Boalt Hall School of Law, where she served as an editor on the Berkeley Women's Law Journal. She later earned both a master's degree and a PhD in jurisprudence and social policy from UC Berkeley. Before joining Emory, Levine served as a law clerk for the Honorable David Alan Ezra, US District Court, District of Hawaii; as a deputy district attorney in Riverside County, California; as a criminal defense consultant; and as an adjunct faculty member of Boalt Hall. Since joining Emory, she has earned both the Most Outstanding Professor Award and the Emory Williams Teaching Award.
Education: JD, 1993, MA, 1999, PhD, 2003, UC-Berkeley; AB, Duke University, 1990
Books
International Encyclopedia of the Social and Behavioral Sciences (Law Section) (2nd ed., Elsevier 2015). Co-editor of the Law School section.
Journal Articles
"The Cure for Young Prosecutor's Syndrome," Arizona Law Review (forthcoming) (with Ronald F. Wright).
"Prosecution in 3D," 102(4) Journal of Criminal Law and Criminology 1119 (2012).
"When Gender Meets Sex: An Exploratory Study of Women Who Seduce Adolescent Boys," 15(2) William & Mary Journal of Women and the Law 361 (2009).
"The External Evolution of Criminal Law," 45(3) American Criminal law Review 1039-1100 (2008).
"Can Prosecutors be Social Workers?" Emory Public Law Research Paper No. 05-41, The Changing Role of the Prosecutor, John Worrall, ed., SUNY Press (2007).
"No Penis, No Problem, Emory Public Law Research Paper No. 05-37, Fordham Urban Law Journal (2006).
"The Law is not the Case: Incorporating Empirical Methods into the Culture of Case Analysis," Emory Public Law Research Paper No. 05-39, Journal of Law and Public Policy (2006).
"The New Prosecution," Emory Public Law Research Paper No. 05-38, 40 Wake Forest Law Review 1125 (2005).
Book Chapters
"The State's Role in Prosecutorial Politics," in The Changing Role of the American Prosecutor (John L. Worrall and M. Elaine Nugent-Borakave eds., SUNY Press, 2008).
"The Role of Imaging in US Courtrooms," in 17(4) Neuroimaging Clinics of North America: Imaging of the Mind (2007) (with P.A. Patel, C.C. Meltzer, and H.S. Mayberg).
Book Reviews and Encyclopedia Entries
"Prosecution," in International Encyclopedia of the Social and Behavioral Sciences, 2nd Edition (Elsevier, forthcoming) (with Malcolm M. Feeley).
"Prosecutorial Discretion," in Encyclopedia of Criminology and Criminal Justice (Springer, forthcoming).
Review of Michelle L. Meloy and Susan L. Miller, "The Victimization of Women: Law, Policies, and Politics," Journal of Women, Politics, and Policy. 
"Jailhouse Informants," in Encyclopedia of American Civil Liberties 838 ( (Paul Finkelman ed., Routledge, 2007).
Selected Presentations
"Prosecution in 3-D", Arizona State University, Sandra Day O'Connor College of Law (2012).
"Architecture as Destiny in Criminal Prosecution," UC Irvine School of Law (2011).
"Becoming a Prosecutor: How Prosecutors Grow into Their Professional Roles," Annual Meeting of the Law and Society Association, San Francisco, CA (2011).
"Hot Teachers and Hoochie Mamas: Media Portrayals of Women Who Have Sex with Boys" William and Mary College of Law, Journal of Women and the Law Annual Symposium (2008).