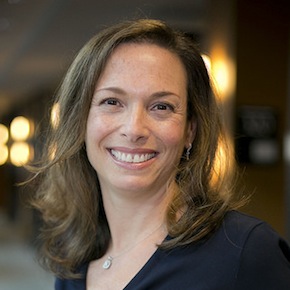 Kay L. Levine
Associate Professor of Law
Areas of Expertise
Criminal Procedure, Criminal Law, Regulation of Sexuality
Kay Levine teaches Constitutional Criminal Procedure: Investigations, Criminal Procedure, Adjudication, Criminal Law, Colloquium Series Workshop, and Victimless Crimes. Her research focuses on issues of prosecutorial behavior, sex crimes, statutory rape, and the use of culture as a defense to crime. Professor Levine's articles appear in numerous law reviews and peer-reviewed journals, including the Emory Law Journal, the Wake Forest University Law Review, the American Criminal Law Review, Law and Social Inquiry, the Fordham Urban Law Journal, the Arizona Law Review, and Studies in Law, Politics and Society.
Professor Levine graduated Phi Beta Kappa from Duke University and received her JD from the University of California-Berkeley, Boalt Hall School of Law, where she served as an editor on the Berkeley Women's Law Journal. She later earned both a masters and a PhD in Jurisprudence and Social Policy from UC Berkeley. Before joining Emory, Professor Levine served as a law clerk for the Honorable David Alan Ezra, US District Court, District of Hawaii; as a deputy district attorney in Riverside County, California; as a criminal defense consultant; and as an adjunct faculty member of Boalt Hall.  
Education: JD, 1993, MA, 1999, PhD, 2003, UC-Berkeley; AB, Duke University, 1990
Journal Articles
"The Cure for Young Prosecutor's Syndrome," Arizona Law Review (forthcoming) (with Ronald F. Wright).
"Prosecution in 3D," 102(4) Journal of Criminal Law and Criminology 1119 (2012).
"When Gender Meets Sex: An Exploratory Study of Women Who Seduce Adolescent Boys," 15(2) William & Mary Journal of Women and the Law 361 (2009).
"The External Evolution of Criminal Law," 45(3) American Criminal law Review 1039-1100 (2008).
"Can Prosecutors be Social Workers?" Emory Public Law Research Paper No. 05-41, The Changing Role of the Prosecutor, John Worrall, ed., SUNY Press (2007).
"No Penis, No Problem, Emory Public Law Research Paper No. 05-37, Fordham Urban Law Journal (2006).
"The Law is not the Case: Incorporating Empirical Methods into the Culture of Case Analysis," Emory Public Law Research Paper No. 05-39, Journal of Law and Public Policy (2006).
"The New Prosecution," Emory Public Law Research Paper No. 05-38, 40 Wake Forest Law Review 1125 (2005).
Book Chapters
"The State's Role in Prosecutorial Politics," in The Changing Role of the American Prosecutor (John L. Worrall and M. Elaine Nugent-Borakave eds., SUNY Press, 2008).
"The Role of Imaging in US Courtrooms," in 17(4) Neuroimaging Clinics of North America: Imaging of the Mind (2007) (with P.A. Patel, C.C. Meltzer, and H.S. Mayberg).
Book Reviews and Encyclopedia Entries
"Prosecution," in International Encyclopedia of the Social and Behavioral Sciences, 2nd Edition (Elsevier, forthcoming) (with Malcolm M. Feeley).
"Prosecutorial Discretion," in Encyclopedia of Criminology and Criminal Justice (Springer, forthcoming).
Review of Michelle L. Meloy and Susan L. Miller, "The Victimization of Women: Law, Policies, and Politics," Journal of Women, Politics, and Policy. 
"Jailhouse Informants," in Encyclopedia of American Civil Liberties 838 ( (Paul Finkelman ed., Routledge, 2007).
Selected Presentations
"Prosecution in 3-D", Arizona State University, Sandra Day O'Connor College of Law (2012).
"Architecture as Destiny in Criminal Prosecution," UC Irvine School of Law (2011).
"Becoming a Prosecutor: How Prosecutors Grow into Their Professional Roles," Annual Meeting of the Law and Society Association, San Francisco, CA (2011).
"Hot Teachers and Hoochie Mamas: Media Portrayals of Women Who Have Sex with Boys" William and Mary College of Law, Journal of Women and the Law Annual Symposium (2008).