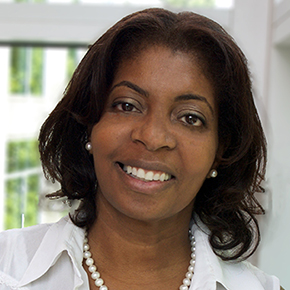 Kamina A. Pinder
Assistant Professor of Practice
Kamina Pinder joined the Emory faculty in 2016. She teaches Introduction to Legal Analysis, Introduction to Legal Advocacy, Contracts, Introduction to the Law, Legal Profession, and Law and Legal Professionals. She has taught in several law and business schools in the areas of legal writing, contracts, professional ethics, ethical issues in healthcare, remedies, case settlement negotiation, bar prep, and externship. Pinder is also a bar review lecturer in the subject of professional responsibility. Her scholarship has been published in the University of Louisville Law Review, Stanford Journal of Civil Rights and Civil Liberties, Amsterdam Law Forum, Journal of Law and Education, and the Georgetown Journal of Law and Education. Pinder practiced in the Office of the General Counsel for the United States Department of Education where she served as legal counsel to a number of federal grant programs.
Since coming to Emory Law, Pinder has been awarded the Inaugural Provost's Distinguished Teaching Award for Excellence in Graduate and Professional Education and the Professor of the Year, awarded by Emory Black Law Students' Association.
Education: LLM, Georgetown University Law Center; JD, New York University School of Law; BA, Smith College
"Do as I Teach Not as I Do: For Whom Are Law Schools Trustees?", 55 U. Louisville L. Rev. 323 (2017).
"Reconciling Race-Neutral Strategies and Race-Conscious Objectives: The Potential Resurgence of the Structural Injunction in Education Litigation", 9 Stan. J.C.R. & C.L. 247 (2013).
"360 Degrees of Segregation: A Historical Perspective of Segregation-era School Equalization Programs in the Southern United States", (co-authored with Evan R. Hanson) vol. 2 no. 3 Amsterdam L.F. 49 (2010).