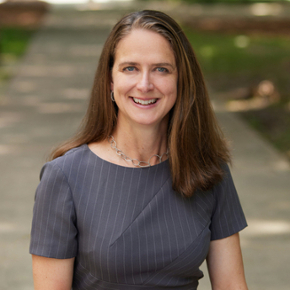 Jennifer Murphy Romig
Instructor
Areas of Expertise
Legal Writing, Research, Advocacy, LWRAP
Jennifer Murphy Romig teaches in the Legal Writing, Research, and Advocacy Program (LWRAP). Romig graduated summa cum laude from the University of Missouri with degrees in print journalism and English in 1995. She attended the University of Virginia School of Law as a Hardy Cross Dillard Scholar. During her third year at the University of Virginia School of Law, she tutored 1Ls as a fellow in the legal writing program, wrote for the Virginia Law Weekly, and was a quarter-finalist in the William Minor Lile Moot Court Competition. After receiving her JD in 1998, she practiced law for three years at Powell, Goldstein, Frazer & Murphy LLP in Atlanta, where she litigated patent, trademark, and trade secret cases and other commercial matters. Since leaving practice, she continues to consult with law firm associates and summer associates on legal writing. Romig completed Emory's Master Teacher Program in 2004.
Education: JD, University of Virginia School of Law; AB, BJ, University of Missouri–Columbia
Founder of the blog Listen Like a Lawyer at www.listenlikealawyer.com (August 2013 - present)
"Social Gaming Apps: Teaching Law Students What Communication with an Audience Is—and Isn't," 22 Perspectives: Teaching Legal Research and Writing 38 (Fall 2013).
Common Ground: Five Essential Writing Skills for Litigators and Contract Drafters, Ga. Bar J., October 2013, at 52 (with Sue Payne).
Series on Checklists for Legal Writing, Think Like a Lawyer Blog, www.thinklikealawyer.wordpress.com
"Improving Legal Writing—Quantifiably," Georgia Bar Journal 64 (August 2012).
"Checklists for Powerful, Efficient Legal Writing," Georgia Bar Journal 50 (December 2011).
"The Legal Writer's Checklist Manifesto," 8 Legal Communication & Rhetoric: JALWD 93 (2011). (book review of Atul Gawande, The Checklist Manifesto: How to Get Things Right (Metropolitan 2009)
"Teaching Effective Legal Writing Through Annotated PDFs," 23 The Second Draft 28 (Spring 2009).
Submission to Q&A: "How Do Others Teach Difficult LRW Topics?," Association of American Law Schools Section Newsletter for Section on Legal Writing, Research, and Reasoning 6 (Fall 2007).
"'Hooking' Them on Books: Introducing Print Research to First-year Law Students in an Interesting, Stimulating Way," 13 Perspectives: Teaching Legal Research and Writing 1 (Winter 2005).