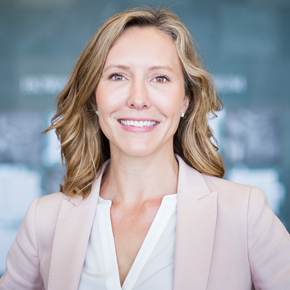 Joanna M. Shepherd
Thomas Simmons Professor of Law
Areas of Expertise
Analytical Methods, Law and Economics, Judicial Behavior, Torts, Health Policy
Joanna Shepherd teaches Analytical Methods for Lawyers, Law and Economics, torts, judicial behavior, and legal and economic issues in health policy. Before joining Emory, Shepherd was an assistant professor of Economics at Clemson University and worked at the Federal Reserve Bank of Atlanta. In addition to her position at the law school, she currently serves as an adjunct professor in the Emory Department of Economics.
Much of Shepherd's research focuses on topics in law and economics, especially on empirical analyses of legal changes and legal institutions. Her recent research has empirically examined issues related to the healthcare industry, tort reform, employment law, litigation practice, and judicial behavior. She has published broadly in law reviews, legal journals and economics journals. Recent publications have appeared in the Stanford Law Review, Michigan Law Review,Vanderbilt Law Review, Southern California Law Review, New York University Law Review, Duke Law Journal, UCLA Law Review, The Journal of Legal Studies, The Journal of Law & Economics, The American Law & Economics Review, The Review of Law & Economics, The Journal of Law, Economics, & Policy, The Antitrust Bulletin, Health Matrix, The American Journal of Law & Medicine,and many others. In addition to publishing dozens of academic articles, Professor Shepherd is the author of two textbooks: The Economic Analysis of Law and The Economics of Industrial Organization.
Shepherd has been featured on several TV and radio programs and has been interviewed about her research in numerous newspapers including The Wall Street Journal and The New York Times. Shepherd's research has been cited by numerous courts, including the Supreme Court of the U.S. in Glossip v. Gross (2015) and Williams-Yulee v. Florida Bar (2015). In addition, she has testified about her empirical work before the U.S. House of Representatives Judiciary Committee, before the Committee on Law and Justice of the National Academy of Sciences, and before several state legislative committees. Shepherd has also been invited to present her scholarly work by faculties at leading universities around the country including Stanford Law School, The University of Chicago Law School, NYU School of Law, The University of Michigan School of Law, Northwestern University School of Law, Duke Law School, Georgetown School of Law, Vanderbilt Law School, and The University of Southern California School of Law. She also frequently teaches economics courses to law professors and federal and state judges.
Shepherd has considerable experience as an economic and statistical expert. She has authored numerous expert reports, testified at deposition and at trial in both federal and administrative courts, and provided public policy research and white papers for many clients.  Her expert work has examined issues relating to market power and competition, economic impact analyses of proposed regulations, enforcement actions by federal agencies, and damage computations.  
Education: PhD, Emory University (Law and Economics and Econometrics), 2002; BBA, Baylor University, 1997 
Books
Economic Analysis for Lawyers (2014) (with Henry N. Butler and Christopher Drahozal).
The Economics of Industrial Organization (2003) (with William G. Shepherd).
Journal Articles
Judicial Decisionmaking
"Judging Law in Election Cases," with Michael Kang, 70 Vanderbilt Law Review 1755 (2017).
"The Long Shadow of Bush v. Gore: An Empirical Analysis of Judicial Partisanship in Election Cases," with Michael Kang, 68 Stanford Law Review 1411 (2016).
"Attacking Judicial Elections: How Campaign Advertising Influences State Supreme Court Elections," with Michael Kang, 114 Michigan Law Review 929 (2016).
"Partisanship in State Supreme Courts: The Empirical Relationship between Party Campaign Contributions and Judicial Decisionmaking," with Michael Kang, 44 Journal of Legal Studies 161 (2015).
"The Partisan Foundations of Judicial Campaign Finance, with Michael Kang," 86 Southern California Law Review 1239 (2014).
Health and Drug Policy
"Pharmacy Benefit Managers, Rebates, and Drug Prices: Conflicts of Interest in the Market for Prescription Drugs," 
Yale Law & Policy Review
(forthcoming, 2019)
"Regulatory Gaps in Drug Compounding: Implications for Patient Safety, Innovation, and Fraud," 68 DePaul Law Review 385 (2019)
"The Prescription for Rising Drug Prices: Competition or Price Controls?," 27 Health Matrix: Journal of Law and Medicine 315 (2017).
"Disrupting the Balance: The Conflict between Hatch-Waxman and Inter Partes Review," 6 NYU Journal of Intellectual Property and Entertainment Law (2016).
"Deterring Innovation: NY v. Actavis and the Duty to Subsidize Competitors' Market Entry," 17 Minnesota Journal of Law, Science, and Technology 663 (2016).
"Biologic Drugs, Biosimilars, and Barriers to Entry," 25 Health Matrix: Journal of Law and Medicine139 (2015).
Civil Justice
"Discovery Cost Allocation, Incentives, and Signaling," with Jonathan Nash, 71 Vanderbilt Law Review 2015 (2018).
"State Consumer Protection Acts: An Economic and Empirical Analysis," with James Cooper, 81 Antitrust Law Journal 947 (2017).
"Economic Conundrums in Search of a Solution: The Functions of Third-Party Litigation Finance," with Judd Stone, 47 Arizona State Law Journal 919 (2015).
"Uncovering the Silent Victims of the American Medical Liability System," 67 Vanderbilt Law Review 151 (2014)
"Products Liability and Economic Activity: An Empirical Analysis of Tort Reform's Impact on Businesses, Employment, and Production," 66 Vanderbilt Law Review 257 (2013)
Other Publications
"Partisan Justice: How Campaign Money Politicizes Judicial Decisionmaking in Election Cases," with Michael Kang, American Constitution Society for Law and Policy (2016)
"Skewed Justice: Citizens United, Television Advertising and State Supreme Court Justices' Decisions in Criminal Cases," with Michael Kang, American Constitution Society for Law and Policy (2014)
"Justice at Risk: An Empirical Analysis of Campaign Contributions and Judicial Decisions," American Constitution Society for Law and Policy (2013)
Congressional Testimony
Testimony in Profits over Consumers: Exposing how Pharmaceutical Companies Game the System. Before the House Energy and Commerce Committee; Subcommittee on Consumer Protection and Commerce, 116th Cong. (2019)
Testimony in Hearing Exploring Federal Diversity Jurisdiction. Before the House Judiciary Committee; Subcommittee on the Constitution and Civil Justice, 114th Cong. (2016)
Testimony in Hearing on H.R. 2934, The Terrorist Penalties Enhancement Act of 2003. Before the House Judiciary Committee; Subcommittee on Crime, Terrorism, and Homeland Security, 108th Cong. (2004).
Supreme Court Citations
Research cited in Glossip et al. v. Gross et al. (2015)
Research cited in Williams-Yulee v. Florida Bar (2015)
Select Presentations
University of Texas School of Law, Faculty Colloquium (2020)
University of Toronto Faculty of Law, Faculty Colloquium (2019)
University of Florida College of Law, Faculty Colloquium (2019)
George Mason Law School, Law & Economics Colloquium (2019)
Johns Hopkins Business School, Drug Accessibility and Pricing Symposium (2018)
DePaul Law Review, Law Review Symposium (2018)
Vanderbilt Law School, Law Review Symposium (2017)
Northwestern University School of Law, Law and Political Economy Conference (2016)
Washington University at St. Louis, Faculty Colloquium (2016)
University of Kansas, Faculty Colloquium (2016)