Emory@Work
Emory University School of Law's Emory @ Work program seeks to strengthen relationships with our alumni by connecting with them through workplaces and law firms. We believe that partnerships with participating law firms help the law school remain relevant for alumni, keep pace with economic trends, and stay abreast of contemporary legal practice.
To further this mission, Emory@Work stives to
Connect Emory Law with participating law firms to raise funds for the Law School Fund for Excellence and other Law school scholarships through the Emory@Work campaign;
Keep you informed of developments at Emory Law through Faculty Lectures @firms and
Provide legal education through CLEs@Work.
This friendly competition among firms across the nation promotes support of the Law School Fund for Excellence, raising annual unrestricted resources that allow the law school to fund its most pressing needs. Donations to the Law School Fund for Excellence are the foundation that supports all of the initiatives of Emory Law, including, but not limited to scholarships, academic programs and initiatives, faculty support and research, student organizations and activities, professional development and career services, and public interest programs.
How It Works
Alumni volunteers serve as firm agents for each of the participating firms, contacting their colleagues to offer the opportunity to support this annual giving campaign. We encourage attorneys to consider giving at least the equivalent of one billable hour to the Law School Fund for Excellence.
Firms are divided into groups based on the number of Emory alumni at that firm. At the end of the fiscal year, firms in each group are recognized for achieving the highest percentage of alumni participation as well as for the largest average gift.
Campaign Schedule: April 1 to June 30. All gifts made to Emory Law by an alumnus/a at a participating firm during the fiscal year (September 1 – August 31) count toward the Emory@Work Campaign challenge.
2017 Emory @ Work Results
Thirty five firms participated in the 20170Emory @Work campaign, reaching out to over 550 Emory Law alumni.

Emory @ Work participants raised more than $280,000 for Emory Law school during the 2016-2017 year.

The following firms received special recognition for their campaign performance in 2016.
Highest Alumni Participation: 
Condon & Forsyth; Jones Day; Schulte Roth & Zabel; Smith, Gambrell & Russell 
Firms Achieving Highest Average Gifts
Alston & Bird; Dentons US; Schulte, Roth & Zabel
Thank you again to all our firms that participated in our 2016-17 Campaign!


Your Lectures@Work
Faculty visit participating firms to support the Emory@Work initiative, updating alumni about current developments and the "state of the school" of Emory Law.
These events continue the connection between alumni and their law school while reinforcing the importance of supporting the Law School Fund for Excellence through participation in the Emory@Work Campaign.
Your Lectures@Work events further emphasize our belief that Emory Law remains relevant for our alumni after graduation and throughout their careers.
Thank you to the firms who hosted events in 2017 and served as table sponsors for our 2017 Centennial Gala: 
King & Spalding, LLP
Arnall, Golden & Gregory, LLP
Smith, Gambrell & Russell, LLP
Alston Bird, LLP
Eversheds Sutherland, LLP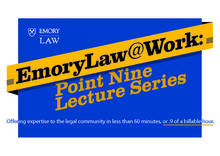 Emory Law partners with our Emory@Work firms to provide Continuing Legal Education (CLE) opportunities for alumni.
This year we are focusing on offering expertise to the legal community in less than 60 minutes, or .9 of a billable hour, in our Emory Law@Work: Point Nine Lecture Series. 
Upcoming Events
Please check back soon for upcoming events