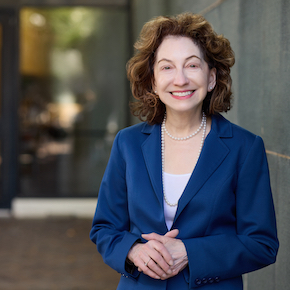 Martha Grace Duncan
Professor of Law
Areas of Expertise
Criminal Law, Juvenile Law, Law and Literature, Law and Psychoanalysis
Assistant: Marianne D'Souza
Martha Grace Duncan brings a rich array of experiences and credentials to her work at Emory Law. As an undergraduate, she lived for six months in Bogotá, Colombia, where she interviewed and traveled with members of the Alianza Nacional Popular, which was then Colombia's major opposition party. In graduate school, on a fellowship from the Latin American Institute of Columbia University, she journeyed to remote regions of Brazil to interview leaders of sugar worker unions and peasant movements.
For her doctoral thesis in political science, Martha Grace Duncan conducted in-depth interviews with lifelong American activists to explore the genesis and meaning of radicalism in their lives. On the strength of this work, she was admitted as a post-doctoral candidate to the NYU Psychoanalytic Institute at New York University Medical Center.
She earned her law degree at Yale Law School, where she was elected an article and book review editor of the Yale Law Journal. Following graduation, she clerked for Judge Robert Bork on the United States Court of Appeals for the DC Circuit.
Professor Duncan's research interests focus on the symbolism and meanings of prison, the functions of the criminal for the law-abiding citizen, Spanish language and literature, and law and psychoanalysis.
Honors
Ben F. Johnson Faculty Excellence Award, 2019
Emory Williams Distinguished Teaching Award, 2012–2013
Professor of the Year, awarded by Black Law Students Association at Emory, 2012
Education: JD, Yale Law School; PhD, MPhil, and MA, Columbia University; BA, Occidental College (summa cum laude)
Books
Romantic Outlaws, Beloved Prisons: The Unconscious Meanings of Crime and Punishment (New York University Press, 1996) (reissued in paperback, 1999).
Journal Articles
What Not to Do When Your Roommate is Murdered in Italy: Amanda Knox, Her "Strange" Behavior, and the Italian Legal System, 41 Harvard Journal of Law and Gender 1‒78 (2017).
"Beauty in the Dark of Night: The Pleasures of Form in Criminal Law," 59 Emory Law Journal 1203-1244 (2010).
"'So Young and So Untender:' Remorseless Children and the Expectations of the Law," 102 Columbia Law Review 1469-1526 (2002).
Quoted in The New Yorker:   Rachel Aviv, No Remorse.  Should a Teenager be given a Life Sentence? (Jan. 3, 2012), 54, 60.
Cited by Judge Richard Posner in U.S. v. Mikos, 539 F.3d 706, 723 (7th Cir 2008) (concurring in part and dissenting in part).
Quoted in the Brief for the Respondent in the 2005 United States Supreme Court case of Roper v. Simmons (successfully arguing that the death penalty for minors is unconstitutional).
Essays
"What Not to Do When Your Roommate is Murdered in Italy," recipient of the 2014 Judith Siegel Pearson Nonfiction Award for the best creative or scholarly writing on a subject pertaining to women. Awarded by Wayne State University in honor of the late Judith Siegel Pearson.
"My Father and the Hair Grafter," 47 Tampa Review 123 (2014).
"So Have I Been A Good Stepmother?," 19 The Gettysburg Review 449-456 (2006). Selected as a "Notable Essay" in The Best American Essays 2007. Series edited by Robert Atwan.
"A Perfect Start," 71 North Dakota Quarterly 156-161 (2004). Selected as a "Notable Essay" in The Best American Essays 2005. Series edited by Robert Atwan.
Presentations
"What Not to Do When your Roommate is Murdered in Italy"
Harvard Law School, Author's Talk, forthcoming in 2017.
Universita degli Studi di Firenze, Scuola di giurisprudenza, Florence, Italy, March 10, 2016. 
Università degli Studi di Torino, Public speech, Turin, Italy, Dec. 12, 2014. 
Psychoanalytic Studies Program, Emory University, March 20, 2014. 
Feminism and Legal Theory Workshop, Emory University, January 25, 2014. 
"Morbid Laughter, Proper Tears: The Demand for "Appropriate" Emotions in Criminal Law," 
Law and Society Annual Meeting, Panel on Remorse, Mexico City, June 22, 2017
Richardson History of Psychiatry Research Seminar, Cornell University Medical School. New York City, September 3, 2014.
"'Spitting against the Wind': A Feminist Interpretation of the Amanda Knox Case," Working Group on Gender, Race, and Sexuality, European University Institute. Fiesole, Italy, May 29, 2014.
"The Strange Nature of Happiness: Paradoxical Meanings of Imprisonment," Universita degli Studi di Firenze, Scuola di giurisprudenza (University of Florence Department of Law). Florence, Italy, May 20, 2014.