Main content
Symposia, Colloquia, and Special Events
Emory Law co-presents civil rights exhibit: And The Struggle Continues
Emory University School of Law |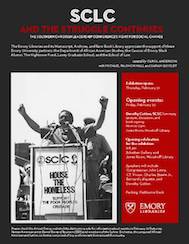 Emory University is home to the archives of the Southern Christian Leadership Conference, the civil rights organization first led by the Rev. Dr. Martin Luther King Jr. An exhibition that opens Thursday, Feb. 21, at the Robert W. Woodruff Library will display letters, photographs and fliers which provide a visual chronicle of the SCLC's work for equality under the law.
The exhibit, "And the Struggle Continues: The Southern Christian Leadership Conference's Fight for Social Change," will focus on the Atlanta-based organization's work since King's 1968 assassination.
An opening reception to be held at 6 p.m. Friday, Feb. 22, includes remarks from SCLC and Student Nonviolent Coordinating Committee leaders U.S. Rep. John Lewis, SCLC President C.T. Vivian; SCLC CEO Charles Steele Jr., the Rev. Dr. Bernard Lafayette Jr.; and Dorothy Cotton, SCLC's education director from 1960-1968. At noon Friday, Cotton will discuss and sign her book If Your Back's Not Bent: The Role of the Citizenship Education Program in the Civil Rights Movement.
In addition to its antidiscrimination and voting rights work, SCLC also led national and international movements such as the Poor People's Campaign and rallied against South Africa's Apartheid movement. In 2012, the SCLC held its annual convention in Sanford, Fla., and marched to highlight the Trayvon Martin case.
"SCLC is still an active organization. It never closed its doors," said Sarah Quigley, one of the exhibit's curators. "It continues to raise awareness. They're still holding demonstrations; they're still talking about nonviolence."
The exhibit is divided into four sections: economic justice; global human rights; health of the mind, body and spirit; and the legacy of the SCLC. It runs through Dec. 1 in the library's Schatten Gallery (located on the third floor). Both the exhibit and the events are free and open to the public.
The exhibit is supported by Emory's Department of African American Studies, the Caucus of Emory Black Alumni, the Hightower Fund, the Laney Graduate School and Emory Law. Curators are Carol Anderson, associate professor of African American studies and human rights historian; Quigley, manuscript archivist and former SCLC project archivist; and Michael Ra-Shon Hall, a doctoral candidate in Emory's Institute for the Liberal Arts.
---
Tags