Main content
Honors and Awards
Emory Law bests 36 teams to win national baseball arbitration competition
Emory University School of Law |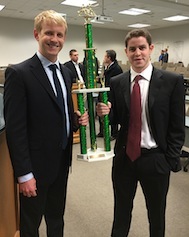 About a week before Major League Baseball's salary arbitration hearings officially opened on Feb. 1, Emory Law students Matt Wilson 15L and Greg McMillin 15L were in a New Orleans classroom, strenuously arguing that Kansas City Royals first baseman Eric Hosmer deserved a raise.
Had Hosmer really been their client, he would have left happy with a $4 million salary.
Wilson and McMillin beat out 36 law school teams to win the 7th Annual National Baseball Arbitration Competition »  They posted a perfect 6-0 record during the Jan. 22-24 mock trials at Tulane University Law School.
While their victory was moot, the arbitrators were real. Final round judges were Zack Rosenthal, director of baseball operations for the Colorado Rockies; Nick Krall, director of baseball operations for the Cincinnati Reds; and Alex Winsberg, director of legal affairs and risk management for the Los Angeles Angels.
During the tourney, Emory Law's team represented Hosmer, Oakland A's right fielder Josh Reddick, and Chicago Cubs pitcher Jeff Samardzija. To prepare, they wrote three briefs and prepared four oral arguments. Each of the six rounds allowed a 15-minute direct presentation, followed by a 7.5-minute rebuttal.
"Salary arbitration hearings in baseball revolve around the midpoint between the player's requested salary and the team's offer," McMillin said. "If the arbitration panel finds that the player is worth even $1 above the midpoint, then they will rule in the player's favor. And vice versa—if they find the player is worth even $1 below the midpoint, the team's offer stands."
Last year, Hosmer earned $528,500. To prepare for hearings, Wilson and McMillin compared his performance against other players of similar age, experience and ability.
Hosmer was drafted out of high school and was an MLB starter by age 21. Wilson and McMillin ranked him high against his peers because of his batting average, clutch performance and Gold Glove defense. He also has a tendency to stay healthy—with zero appearances on the disabled list since his major league debut in 2011. Thus, they argued, he deserved more than the Royals' offer of $3.3 million.
In the real world, Hosmer is represented by Scott Boras. On Jan. 17, Hosmer agreed to a one-year, $3.6 million contract with the Royals, $400,000 less than Wilson and McMillin won for him in their mock hearing.
Earlier this month, in an effort to avoid actual arbitration, the Atlanta Braves offered another first baseman—Freddie Freeman—an eight-year, $135 million contract, which he accepted.
It was a record-breaking salary for the Braves, but a win for all involved, McMillin says.
"It was a smart, forward-thinking move by the Braves with minimal risk," he said. "The great thing about the extension is that Freeman is only 24 now and should only get better over the course of the contract." The deal made financial sense for the Braves because it locked in costs going forward. "If the team had waited another season or two to extend Freeman, it probably would have cost them several million dollars more to buy out Freeman's first five seasons of free agency," McMillin added.
Both Wilson and McMillin plan to work in sports after graduation next year. The six teams they competed against were from Tulane, Thomas Jefferson School of Law, New York Law School, University of Ottawa Law School, Indiana University Maurer School of Law and Chicago-Kent College of Law.
We also applaud other recent wins at national competitions by Emory Law students, including:
MaryGrace Bell 14L, Hunter Robinson 14L and Kyle Winchester 14L (coach: Gabe Gladstone 14L) placed second in the National Moot Court Competition in New York. Robinson was awarded runner-up best oralist.
Dana Schulman 15L and David Stewart 15L (coaches: Alyssa Baskam 14L and Michael Wiseman 14L) finished second at the Southeast Regional of the Saul Lefkowitz Moot Court Competition in Atlanta.
Kaylee Niemasik 14L and Michael Wiseman 14L (coach: Maria Piva 14L) finished as a top eight team at the Burton D. Wechsler First Amendment Moot Court Competition. Wiseman was awarded seventh best oralist.
Emory Law Mock Trial Society members Emily Adams 15L, Josh Combs 15L and Mike Evans15L (coaches:Lisa Wolff 11L and Trevor Newberry 13L) finished as a top four prosecution team among a field of 32 at the Seventh Annual John L. Costello Criminal Law Trial Advocacy Competition in Fairfax, Va.
Related Links
National Baseball Arbitration Competition »
---
Tags