Main content
Symposia, Colloquia, and Special Events
SEC Commissioner Aguilar 85L speaks on corporate governance April 21
Emory University School of Law |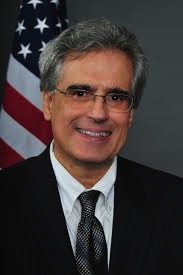 Securities and Exchange Commissioner Luis A. Aguilar 85L will speak at Emory University School of Law at 12:15 p.m. Monday, April 21, in an address titled, "Perspectives on Corporate Governance." The public event will be held in Gambrell Hall, but registration is required.
Aguilar was appointed to the Commission in 2008 by President George W. Bush, and reappointed in 2011 by President Barack Obama. As commissioner, he serves as liaison to both the North American Securities Administrators Association and to the Council of Securities Regulators of the Americas. He has also served as the primary sponsor of the SEC's Investor Advisory Committee.
Prior to his appointment, Aguilar was a partner at McKenna Long & Aldridge, LLP, specializing in securities law. Previously, he served as general counsel, executive vice president, and corporate secretary of Invesco, with responsibility for all legal and compliance matters regarding Invesco Institutional. He was also Invesco's managing director for Latin America. Aguilar earned a master of laws in taxation from Emory Law, and his JD from the University of Georgia School of Law.
Aguilar serves as sponsor of the SEC's Hispanic and Latino Opportunity, Leadership, and Advocacy Committee, the African American Council, and the Caribbean American Heritage Committee. His recognitions for public service and professionalism include:
· The Chief Justice's Commission on Professionalism of the Supreme Court of Georgia "Justice Robert Benham Award for Community Service" (2007)
· Hispanic Business Magazine, "100 Influential Hispanics in the United States," (2006) 
· The "Excellence in Leadership Award" from the MALDEF (Mexican American Legal Defense and Educational Fund (2005)
· "Latino Attorney of the Year" (Hispanic National Bar Association, 2005)
---
Tags