Main content
Another victory for Transactional Law Negotiation Team
Emory University School of Law |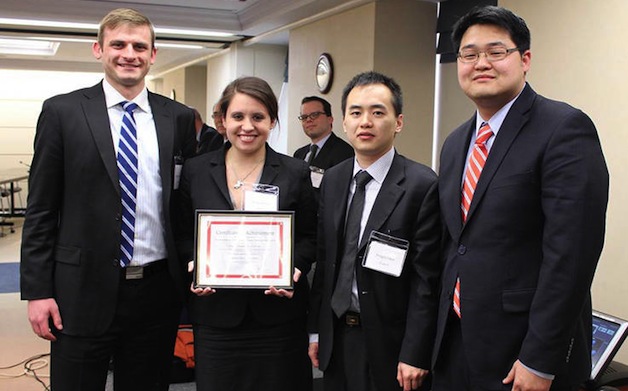 Emory Law's Transactional Law Program Negotiation Team won "best draft" and placed third at the National LawMeets® Competition hosted by Sullivan & Cromwell, held in New York City April 3-4. Of the 84 teams from schools all across the country that competed in regional meets, 14 teams, including Emory, advanced to the national meet. Emory Law's team placed third on the buyer's side.
Trevor Anderson 14L, Gillian Bialer 14L, Matthew Pi 14L and Pengyu Chen 14L wrote the best buyer's draft. Anderson and Bialer negotiated at nationals, supported by Pi and Chen. Professors Sue Payne, Susan Wilson, Tom Dare and Lynn Scott were coaches.
The LawMeets® Transactional Law Meet negotiation competition requires students to meet a client via video, draft an agreement, interview the client via conference calls, mark up an agreement from opposing counsel, and negotiate with the other side's counsel during the meet. Judges are drawn from the local bar in each region. Students are evaluated on their drafts and mark-ups as well as their negotiation skills. Judges rate negotiators on professional demeanor, understanding the issues and effectiveness in achieving the client's objectives.
Related links
---
Tags