Main content
Students
Juris master program adds global health specialty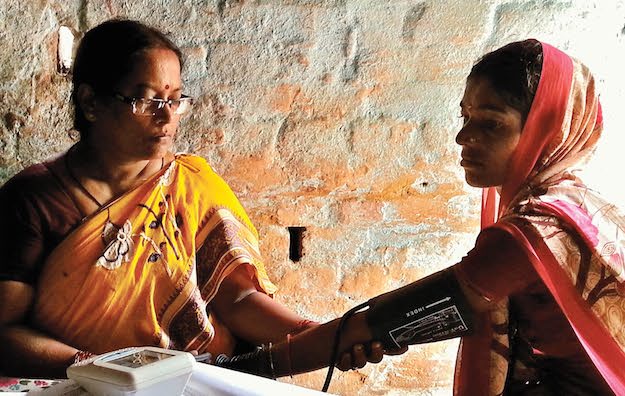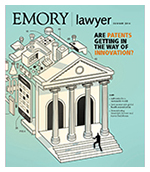 To what country does a Kenyan national —with an Indian heritage, holding a Canadian passport, living in the US on an h-1b visa (which allows US employers to temporarily employ foreign workers in specialty occupations) — pay taxes?
Sandra Smith, who supervises and coordinates Emory's global maternal nutrition and child health projects, needed an answer. She was recruiting a research coordinator to work in India when she was told that her ideal candidate would be difficult to hire because of tax implications. Smith was not deterred.
She worked closely with Emory's legal counsel to solve the riddle — a rewarding process that not only found the answer (taxes payable to the US) but also confirmed her interest in resolving legal issues and establishing precedents.
The experience was one of many work-related puzzles that prompted Smith to seek a juris master (JM) in global health at Emory Law. The global health concentration joins 11 other tracks now available to mid-level professionals who want a working knowledge of the laws that govern their specialty.
Emory Law offers the new concentration through a partnership with the Emory Global Health Institute (EGHI) and draws upon the university's strengths in multidisciplinary research, as well as health, legal, and medical education.
"With growing regulation, intensifying risk and liability concerns, and increasingly complex decision environments, today's global health professionals will benefit from a grounding in the law," says Robert Schapiro, dean and Asa Griggs Candler Professor of Law. "The global health concentration is designed for a range of professionals — from physicians and clinicians, to researchers and administrators who regulate the industry."
Developed in consultation with eghi, care, The Carter Center, the Centers for Disease Control and Prevention (CDC), and several Emory schools and organizations, the new specialty is intended to provide practical, in-depth understanding of legal issues that affect health programs and processes such as contracts, international negotiations, human resource management, intellectual property, human rights, import/export regulations, public health policy, and international law and treaties.
Emory Law offers the only JM in global health in  the country, according to Lynn Labuda 09B, director of graduate programs. It's also unique in that global health jm students are eligible to participate in eghi's summer field scholar program, which sends multidisciplinary teams of students to countries around the world to address particular problems. "Our experience shows that it is extremely helpful to have someone on the team with a legal background," says Roseanne Waters, eghi administrator. This past year field teams tackled such diverse topics as policy perceptions and implementation of hpv interventions in São Paulo, Brazil; sex worker advocacy in Capetown, South Africa; and medical education in Ethiopia.
"Knowledge of the law and global health are naturally complementary," says Sir George Alleyne, chair emeritus of the Emory Global Health Institute's Advisory Board. "Solutions to many global health problems can come only through understanding and applying some basic tenets of law."
Smith agrees. She helps oversee budgetary requirements of the maternal nutrition grants and assists with the administration of project coordinators who super-vise field workers across the globe  from Central America to Vietnam. "Understanding law and contracts will help me recruit the best and brightest," she says. "Our department has so many people coming in with different visas and international backgrounds that don't quite  fit the mold. The jm program will  help me get through the red tape and know the options."
Her class in negotiations has helped her navigate her own job. Legal analysis and writing for non-lawyers "has helped me think like a lawyer and look at situations from different perspectives. I've learned to question everything and that everything isn't black or white," she says. "And to top it all, the professors are phenomenal and so supportive."
The structure of the program integrates well with Smith's schedule. She has been able to continue working full time while taking courses — some are offered in the evening or on Saturdays. As a part-time student, she expects to complete the program in two or three years.
While Emory Law's JM program, first established in 2012, continues to evolve and expand with demand, its premise remains constant: Typical JM students are already established in their careers and seeking to become more knowledgeable and conversant on the legal principles that influence their fields. Early cohorts in the program have represented a range of fields such as business, environment, finance, health care, human resources, journalism, nonprofit, public health, and research.
One unintended benefit, says Labuda, is that jm students attend some of the same classes as juris doctor (jd) candidates. "The typical JD is in his or her early to mid 20s while the jm students are usually mid-career professionals who bring all their great work experience into the classroom and provide whole new dimensions to discussions."
Inger Baker 99PH 05PH 14L, for example, has a clinical background as a medical technologist and a strong background in public health — including stints in public health emergency preparedness at the CDC during the 2010 influenza pandemic and the Haiti earthquake. In the private sector, she sold biotechnology and pharmaceutical equipment and reagents to both researchers and clinicians.
In every job, "the law and health care were intertwined," says Baker, who has dealt with issues ranging from contracts to patents to patient confidentiality. As a full-time student, she completed the coursework in one year and is seeking a quality-based, regulatory or compliance job. "Whether it's in the public or private sector, I know my JM will apply. I'm a stronger candidate for a job now and will be a stronger employee, because the health care industry is rapidly changing."
For Smith—who did hire that perfect candidate for the maternal nutrition and child health project in India — the juris master coursework has whetted her appetite to learn more. While the JM will not qualify her to practice law, she knows it will help in her career. Her negotiations professor, in fact, has encouraged her to continue her studies past the juris master to earn a JD. Says Smith, "Maybe I will."
About Emory Lawyer
Emory Lawyer is produced by the Office of Marketing and Communications, published twice annually by Emory Law, and is distributed free to all alumni and friends.
Send letters to the editor to communications@law.emory.edu »
---
Tags