Main content
Alumni
Are patents getting in the way of innovation?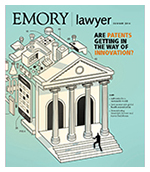 We interact with technology every day, if not every hour. Our computers, medicines, smart phones, cars, GPS systems —we can forget how pervasive technology has become. Such innovation is an essential driver in the modern US economy, which means developing new products is crucial to maintaining our role as the world's engine of scientific discovery. As President Obama noted in his 2014 State of the Union Address, technological innovation is "absolutely essential to our future." 
Patents are thought to be an essential component to that system of innovation. But, what if patents are actually getting in the way, impeding innovation instead of facilitating it? Concerns with the patent system have led many to believe we are in a patent crisis. This issue has become so crucial that the smart phone wars and patent trolls have made the front pages of popular media.  Indeed, all three branches of the federal government are currently scrutinizing our patent system.
Whether this activity will end up fostering or curtailing innovation likely depends on your perspective—what's good for a global pharmaceutical company may not be good for a start-up dot-com. But one thing seems clear: the confusion created by the frenetic activity could put the brakes on innovation in the short term.
"The fact that all three branches of government are engaged in extensive patent reform could end up being a good thing, but there is a cost," says Tim Holbrook, associate dean of faculty and professor of law at Emory University School of Law. "It is creating a lot of uncertainty, and uncertainty could chill innovation."
Here's a look at some of the recent activity in the three branches of government.
Judiciary takes unprecedented interest
Since 2000, the Supreme Court has developed a keen interest in patent and intellectual property issues, taking on 30 cases alone through the term that ended in June 2014. In its most recent session, the court heard six patent cases. "That number is unprecedented," says Sharon Israel 90B 90L, president-elect of the American Intellectual Property Law Association (AIPLA) and a partner at Mayer Brown in Houston.
To appreciate how unusual this is, consider that the Supreme Court generally takes cases for one of two reasons: either it is a huge constitutional issue of national importance or it is an issue about which the lower courts disagree. As to the former, patent cases infrequently raise constitutional issues. As to the latter, such splits usually are not relevant since all patent appeals are heard by one specialized appellate court, the United States Court of Appeals for the Federal Circuit. Lately, however, those judges often have been divided in their rulings, prompting the higher court to step in.
While some Supreme Court cases relate to procedural issues, many deal with core, substantive patent law issues, including what types of things are eligible to be patented. For example, the court ruled that naturally occurring genes couldn't be patented. In another case heard in late March it considered when software is patentable. "These types of rulings that deal with patentability could have a big impact on innovation," says Israel. Many fear a categorical exclusion of software would be detrimental to innovation. Others contend that patents on software often are fairly vague as to what they cover, leaving firms and people vulnerable to questionable accusations of infringement.
Executive targets trolls
In February 2013, President Obama issued a "call to action" on patent reform and has since proposed initiatives for the US Patent and Trademark Office aimed at strengthening the patent system, fostering innovation, and combating so-called patent trolls. Also known a "patent assertion entities," patent trolls are companies that don't manufacture anything. Instead, they acquire patents in order to sue operating companies for infringing that patent and extract payments. Firms often settle to avoid the time and expense of going to court.
"Trolls certainly impact innovation," says Terri Durham 89L, senior vice president and general counsel for Activision Blizzard, maker of interactive entertainment software, including Call of Duty. "Dollars that could have been spent on research and development and innovation are being spent on trying or settling patent cases." 
On the flip side, says Liza Vertinsky, associate professor of law, "the reforms might make things difficult for more than just patent assertion entities, impacting other intermediaries that might be serving legitimate functions such as providing inventors with needed liquidity. We need to worry more about the unintended consequences that proposed reforms could have."
Among the White House initiatives to curb trolls, three have garnered the most attention. The first is an effort to make the ownership of patents more transparent. "A lot of patent trolls create these corporate shells, so you never really know who owns the patent," says Holbrook. "Knowing the true owner can help combat abusive and frivolous assertions of patent infringement."
Another effort aims to make patents clearer. Indeed, many problems stem from patents that are vague or overly broad. The president has instructed the patent office to tighten the definiteness requirement and offer new training for examiners to make them more proficient in patent reviews. "Efforts to improve patent quality at the outset should help the whole system," says Israel. "The better quality the patent, the harder it is to challenge."
Finally, the White House has allowed third-party participation in patent application reviews. "Patent examiners are overworked, so their ability to find all the information needed to determine if a patent is warranted is limited," says Holbrook. "Allowing examiners to bring in additional help means they'll have more information and be able to make a more informed decision."
Legislative branch overhauls patent system
The patent system got its biggest overhaul in more than 60 years with the 2011 America Invents Act (AIA). Perhaps the most significant change in the AIA was the shift from a "first-to-invent" to a "first-to-file" system. On the plus side, the move brings the US in line with the rest of the world, which has long used the first-to-file system. On the negative side, some argue that the new system will favor large corporations over the inventor working out of his basement because the latter might lack the necessary funds to file immediately.
The new law also created new procedures to allow patent challenges within the US Patent and Trademark Office that hopefully will provide a less expensive alter-native to litigation.
"The newly created Patent Trial and Appeal Board deals with validity issues, not infringement issues," says Israel. "It's already become a very popular forum for challenging patents. While these proceedings provide a less expensive avenue to challenge the validity of patents, they hopefully will be carried out in a way that does not impact the decision and incentives to seek patents in the first instance. The Patent Office conducted public round-tables on these proceedings in April and May to improve their administration of these popular proceedings."   
The long-term impact of the AIA on innovation remains to be seen. "The new system just went into effect in March 2013," says Holbrook. "Given that it takes an average of about two years to get a patent out of the patent office, we have yet to see the first utility patent under the new system, let alone any litigation resulting from new patents. There are so many unknowns in the America Invents Act that I call it the 'America Invents Work for Patent Attorneys Act.' "
Even though the fallout from the AIA is still uncertain, Congress has been criticized for not going far enough to curb patent trolls, and a dozen bills are pending in Congress that deal with some aspect of the patent troll issue. "To me, it's overkill," says Holbrook. "The patent system just needs to catch its breath."
The fallout
Lawyers have their hands full staying abreast of patent issues. "I struggle to keep up, and it's my job as an academic to do so," says Holbrook. "I can't imagine practitioners are actually able to keep up with everything that is going on."
Tina W. McKeon 96L, a partner with Kilpatrick Townsend, acknowledges the challenge. "We've had the first major changes in patent law in a long time, and we're still trying to figure out what some of it means," she says. "We certainly have to do things differently than we did a year ago in terms of identifying inventions to the patent office. And we have to educate clients as to why we are making different recommendations.
"For example, with the adoption of the first-to-file system, clients might feel rushed to file before they have really fleshed out the idea," she continues. "We have to help them navigate the change and explain that being first-to-file may not be good enough if you don't have the full invention."
Activision Blizzard's Durham is watching the Supreme Court's decisions dealing with software patents intently. "For a company like ours, we'd like to see less activity around patents that should not have been issued in the first place," she says. "We see that as a way to reduce frivolous lawsuits. And certainly a clear decision delineating what innovations are patentable and protected will help us make decisions. At this point, though, the court is largely divided. That means there is a tremendous amount of uncertainty, and uncertainty breeds inefficiencies."
In the face of such unpredictability, corporations could start looking toward trade secrets as a more attractive option to protect their innovations, according to Holbrook. But while that option would offer protection, it would come at a cost. "The patent system gets more information out into the public domain," says Holbrook. "And that can foster further innovation."
To prepare law students to enter such a challenging and volatile environment, Emory offers TI:GER, an innovative, two-year program operated in partnership with Georgia Institute of Technology. In addition, the law school boasts robust course offerings with leading scholars in the field. The courses mix class work with experiential, hands-on learning. For example, students argue summary judgment hearings or so-called Markman hearings, where they debate the meaning of a patent's terms.
We look at how you practice law in a time where there is a lot of uncertainty," says Vertinsky. "We talk about ways you can hedge your IP strategy. We emphasize the need to think about economics and ways companies can use alternative transaction models. These are new areas for lawyers to think about, but they are critical in today's environment."
And with all of the Supreme Court activity in patent law, Emory students have a unique opportunity to impact patent law through the Emory Law School Supreme Court Advocacy Project. Students have already worked on both merits and amicus briefs on cutting edge patent issues before the court, providing exceptional opportunities for appellate brief writing.
"Our students are given a myriad of opportunities to explore both the theory and practice of patent law and related areas," says Holbrook. "We give them the tools to be successful in an ever-changing area of the law."
About Emory Lawyer
Emory Lawyer is produced by the Office of Marketing and Communications, published twice annually by Emory Law, and is distributed free to all alumni and friends.
Send letters to the editor to communications@law.emory.edu »
---
Tags