Main content
Honors and Awards
Mock Trial team advances in regional competitions
Emory University School of Law |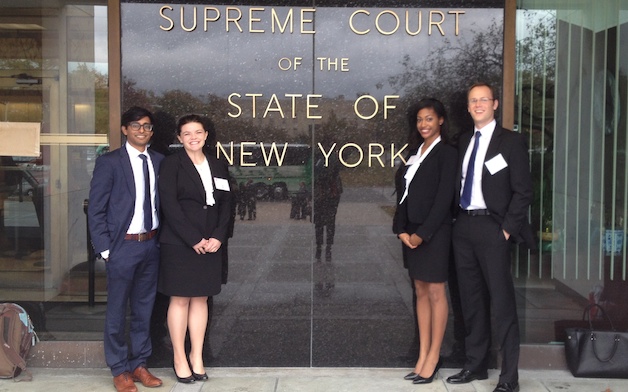 Emily Adams 15L, Taylor Vance 15L, Natasha Cooper 16L, and Aditya Shrivastava 16L coached by Lisa Wolff 11L, and Trevor Newberry 13L competed at the
2014 Peter James Johnson National Civil Rights Trial Competition
in New York City. The team advanced from the preliminaries and faced Georgetown in quarterfinals. Emory overcame Georgetown in the quarterfinals moving on to the semifinal round. Emory finished as a Top 4 team facing South Texas, the overall winner of the competition, in the semifinal round.
The only national civil rights trial competition in the country, the four-day Peter James Johnson Competition offers law students from up to 16 law schools throughout the country an opportunity to try a civil rights case in an actual courtroom setting before prominent jurists and trial attorneys.
Previously, Josh Combs, 15L Allyson Lumpkin, 15L Melody Hall, 16L and Sion New, 16L competed at the National Lonestar Classic Mock Trial Competition this past weekend in San Antonio Texas. Lindsay Gardner, Cobb County Assistant District Attorney and Chris Quinn, Sr. Assistant District Attorney for the Gwinnett Judicial Circuit coached the team. The Emory University School of Law team received the "Most Professional Team" award. The recipient of this award is selected by fellow competitors throughout the course of the competition.
The Classic was held Oct. 16-18, is an annual invitational mock trial competition for ABA-accredited law schools. St. Mary's has hosted it for 14 years.
The event's organizers selected 16 teams from a national applicant pool of 38 teams based on the overall strength and dedication of their programs, their school's success at regional and national competitions and other factors. St. Mary's doesn't compete in the Lone Star Classic. "Many of the schools participating are considered top-ranked schools for their advocacy programs and success at national competitions," said Dave Schlueter, JD, Director of Advocacy Programs. More information 
---
Tags