Main content
Honors and Awards
John Witte Jr. named Woodruff Professor
Emory University School of Law |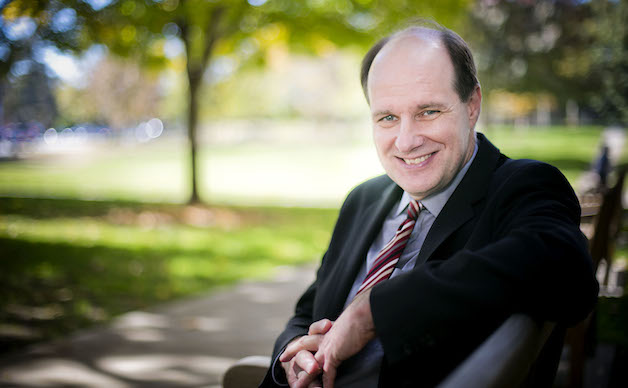 John Witte Jr.—acclaimed teacher, prolific scholar and director of the Center for the Study of Law and Religion—has been named Robert W. Woodruff Professor of Law at Emory University School of Law.
Witte, an internationally recognized legal historian and expert on Christian jurisprudence, marriage and family law, religious liberty and human rights, came to Emory in 1985. He has spent the past 29 years breaking ground in the field of law and religion, while remaining committed to his first calling as a teacher. 
"The Woodruff professors are more than teachers and scholars of distinction; they serve a broad constituency that transcends individual departments and programs," says Provost Claire Sterk. "As a leading authority on law and religion with an impressive body of scholarship, Professor Witte has earned a place among Emory's most distinguished faculty."
Witte has taught more than 5,500 students in courses such as criminal law, constitutional law, legal history, marriage and family law, religious liberty, human rights, and law and religion. Emory Law students have elected him Most Outstanding Professor 12 times. The Black Law Students Association has also elected him Most Outstanding Professor. More than 100 students have published books and articles under his supervision.
Emory University has recognized his teaching with two Crystal Apple Awards, the Emory Williams Distinguished Teaching Award, the Distinguished Faculty Lecture Award and the University Scholar Teacher Award, which was matched by a national award from the United Methodist Church Board of Higher Education.
Witte has delivered more than 350 public lectures around the world and is a regular keynote speaker at academic conferences. He has published 220 articles, 15 journal symposia and 27 monographs and anthologies, with five monographs under contract.
"Professor Witte's writings and lectures have put him at the forefront of law and religion scholars around the world," says Dean Robert A. Schapiro. "His work is known and praised by scholars of law, theology, philosophy, ethics, politics and history alike."
He writes on diverse and complex topics in an authoritative, readable style. His writings have been translated into 15 languages and have drawn praise from scholars around the world. Notable titles include "Law and Protestantism: The Legal Teachings of the Lutheran Reformation" (Cambridge University Press, 2002); "The Reformation of Rights: Law, Religion, and Human Rights in Early Modern Calvinism" (Cambridge University Press, 2007); "The Sins of the Fathers: The Law and Theology of Illegitimacy Reconsidered" (Cambridge University Press, 2009); "Religion and the American Constitutional Experiment" (3d ed., Westview Press, 2011); "From Sacrament to Contract: Marriage, Religion and Law in the Western Tradition" (2d ed., Westminster John Knox Press, 2012); and "Religion and Human Rights: An Introduction" (Oxford University Press, 2012).
Cambridge University Press will publish "The Western Case for Monogamy over Polygamy," early next year. Cambridge is also publishing a new book series on law and Christianity, with Witte as series editor. Witte has edited the Emory University Studies in Law and Religion series, an imprint of William B. Eerdmans Publishing Company since 1994.
Under Witte's direction since 1987, the Center for the Study of Law and Religion has served as a model of strong multidisciplinary scholarship as well as a model for law and religion initiatives at universities around the world.
With major funding from the McDonald, Pew, Lilly, Luce, Templeton and Ford foundations, Witte has directed a dozen multi-year international research projects on issues of democracy, religious freedom and human rights; marriage, family, sexuality, and children; and Christian theories of law, politics and society. These projects have yielded more than 100 public forums and more than 150 volumes. Speakers at international conferences hosted by the Center for the Study of Law and Religion have included Archbishop Desmond Tutu, President Jimmy Carter, His Holiness the XIVth Dalai Lama and Chief Rabbi Lord Jonathan Sacks. 
"It has been my great fortune to spend my entire career at a university that provided the freedom, encouragement, colleagues and resources to blaze trails in the field of law and religion," Witte said.  "We are really just getting started in this field. There are so many deep questions and hard issues to explore. I am immensely honored and blessed to do this work here with my wonderful colleagues and students – and with the support of a university professorship."
Witte becomes the law school's fourth Woodruff professor, which is the highest honor Emory can bestow on a faculty member. The first, Harold J. Berman, came to Emory from Harvard in 1985, bringing Witte with him. In 2003, Emory brought Michael J. Perry and Martha Albertson Fineman to the law school as Woodruff professors.
Witte will continue to serve as Alonzo L. McDonald Distinguished Professor.  He will give up the Jonas Robitscher Professorship in Law and Ethics he has held since 1994.
Witte received his bachelor of arts from Calvin College and his juris doctor from Harvard University in 1985.  
---
Tags