Main content
Clinics
Schlictmann, Kuykendall draw students, prominent attorneys for environmental law lectures
Emory University School of Law |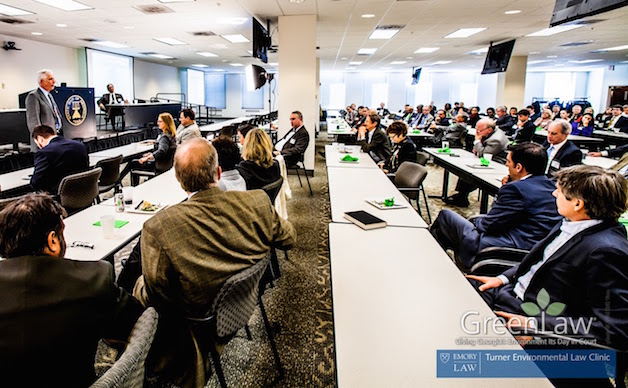 The Turner Environmental Law Clinic, together with GreenLaw, hosted a series of events for noted toxic tort attorney Jan Schlictmann and environmental attorney Rick Kuykendall on February 10, 2015. 
Schlictmann, who was portrayed by John Travolta in 1998's A Civil Action, visited the State Bar of Georgia to lecture to approximately 150 prominent attorneys on environmental protection and toxic tort, specifically his two most celebrated cases: Anderson v. Cryovac, on which A Civil Action was based, and the Toms River cancer cluster lawsuit. Kuykendall, lead litigator in the Deepwater Horizon proceedings, lectured to students at Emory Law. He has represented individuals and entities seeking damages in connection with the oil spill in the Gulf of Mexico.
After the day's events, Rutherford Seydel (Turner Environmental Law Clinic board member) and his wife, international environmental advocate Laura Turner Seydel, hosted a reception for Schlictmann and Kuykendall at their home.
---
Tags