Main content
Honors and Awards
Emory Law teams win "best negotiator" at LawMeets competitions
Emory University School of Law |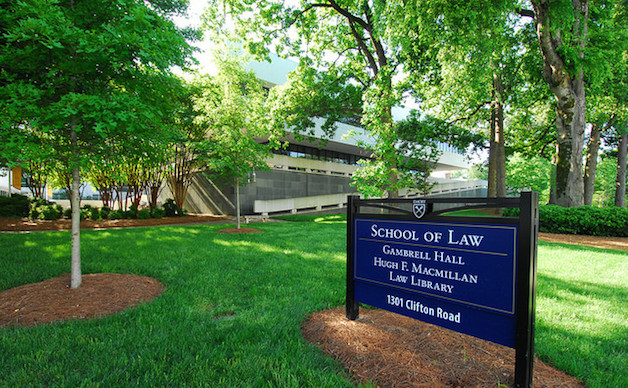 On Friday, February 27, 2015, Emory's Transactional Law Program Negotiation Teams won Best Negotiator (Seller's side) titles in both the Southeastern and the Midwestern Regional LawMeets® competitions.  Both Emory teams will now advance to the National LawMeets® competition to be held in April at Sullivan & Cromwell in New York City.
Sue Payne, executive director of the Center for Transactional Law and Practice, said, "These two regional LawMeets victories – accomplished by a cohesive group of intelligent, creative, hard-working students – confirm our Transactional Law Program's rightful place as a national leader in transactional law and skills education."
The students on Emory's Atlanta team are Jennifer Greene 2L, Sarika Mathur 2L, Jingjing Gao 3L (alternate), and Jili Xue 3L (alternate). Emory's Kansas City team includes Liu Chen 2L, Zhiqian Chen 2L, Jasmine Johnson 2L, Mengqian Wang 2L, and Yoojin Kim 2L (alternate).  Payne and Katherine Koops, an Emory Law adjunct professor and attorney at Taylor English Duma, coached the teams.  
Eighty-four teams competed in seven regional rounds.  Fourteen teams, seven for the Buyer and seven for the Seller, will compete at the national competition.  The teams that competed in the Southeast Regional and Mid-West Regional meets are listed below. 
Southeast Regional
American University Washington College of Law
Duke University School of Law
Emory University School of Law
Georgetown University Law Center
John Marshall Law School
Marquette University Law School
Northern Kentucky University Salmon P. Chase College of Law
Nova Southeastern University Sheppard Broad Law Center
University of Georgia Law
University of Mississippi School of Law
University of Tennessee College of Law
Washington and Lee University School of Law  
Mid-West Regional
Baylor Law School
Emory University School of Law
Indiana University Maurer School of Law
Indiana University Robert H. McKinney School of Law
Michigan State University College of Law
Mississippi College School of Law
Notre Dame Law School
UCLA School of Law
University of Kansas School of Law
University of Missouri-Kansas City School of Law
Wayne State University Law School
William Mitchell College of Law
Center for Transactional Law and Practice
Emory Law is acclaimed for combining doctrine and practice in its rigorous curricular program, serving as the model for transactional education programs across the country. Through the Center's Transactional Law Program, students have the opportunity to become financially literate, acquire a strong foundation in business law doctrine, and practice contract drafting and other critical deal skills. The Center provides a roadmap for every student interested in studying transactional law—from those who want to learn only the basics to those who want to go further and earn the Transactional Law and Skills Certificate.
---
Tags