Main content
Honors and Awards
Emory Law is international law and religion moot court champ
Emory University School of Law |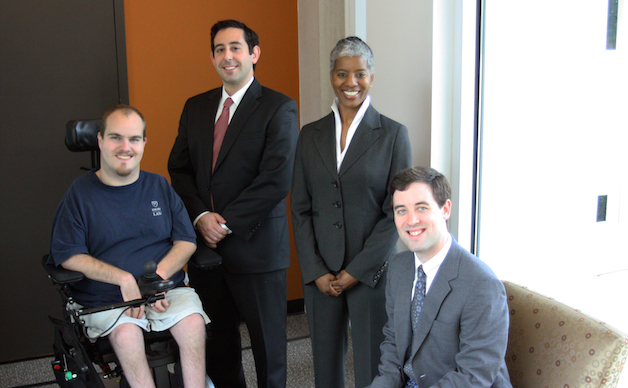 Emory University School of Law won an international law and religion moot court competition in Venice, Italy, prevailing over 14 teams from four continents.
Students presented arguments on a problem inspired by Hobby Lobby, RFRA, Title VII and other major cases, as well as free speech and privacy. At the International Moot Court – Law & Religion, teams addressed the same case from two different standpoints, the U.S. Supreme Court and the European Court of Human Rights.
The final showdown was between Emory and Notre Dame. 
Emory's team included three students who have previously demonstrated a deep interest in law and religion: Chris Manzer 15L is working toward a dual Juris Master and Master of Theological Studies degree and led Emory's national-title-winning team in 2014; Matt Cavedon 15L, who is also working toward a dual JM/MTS degree, was an oralist at an earlier law and religion moot court competition at George Washington; and Audra Savage 15L, an LLM student, won a national religious liberty student writing competition.
Dr. Mark Goldfeder, senior lecturer at Emory Law and Spruill Family Senior Fellow at the Center for the Study of Law and Religion, coaches the national and international teams. "Our strategy was to use the team's deep knowledge of law and religion issues to go outside of what the judges were expecting and what other teams had prepared," Goldfeder said. "We were comfortable and able to discuss the broader field, far beyond just the case we were assigned."
Fondazione Marcianum, a Venice-based organization, sponsored the March competition. The organization supports research projects on human rights, religious freedom and other issues, with a goal of emphasizing Venice's role as a center of communication among different cultures.
The cross-cultural exchange made the experience different from typical moot court competitions, Manzer said. "The American competitions are more competitive," he said. "This competition had more of a learning component, and through that cross-cultural exchange, we saw that the values underlying the U.S. Constitution are similar to the ideals they're striving for across the Atlantic."
During preparation for the competition, Cavedon honed his rebuttal skills, and that experience was put use during a recent hearing in a murder appeal in Muscogee County for his externship. He got involved in moot court when his supervisor at a summer job advised him to gain argument experience. "Preparing for the competition taught me how to effectively litigate in the courtroom, and by the time we were arguing before the judges, I was confident," he said. 
---
Tags