Main content
Honors and Awards
Emory Law to establish John Lewis Chair in civil rights, social justice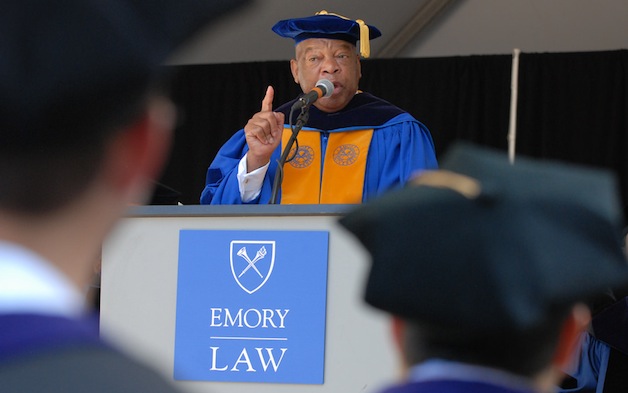 Emory University School of Law has received a $1.5 million donation to help establish a John Lewis Chair in Civil Rights and Social Justice.
The gift, given anonymously, funds a professorship which will enable Emory Law to conduct a national search for a scholar with an established academic profile of distinction and a demonstrated desire to promote the rule of law through the study of civil rights. The law school has committed to raise an additional $500,000 to fund the chair fully.
"This gift will allow us to perform a nationwide search and name a professor who will further scholarship on the issues of civil rights and social justice," says Robert Schapiro, dean of Emory Law and Asa Griggs Candler Professor of Law. "Through this chair, we are honored to recognize Congressman Lewis's historic achievements in these vital areas."
Lewis has dedicated his life to protecting human rights and securing civil liberties. In 1963, at the age of 23, he was a keynote speaker at the historic March on Washington. During the height of the Civil Rights Movement, from 1963 to 1966, Lewis was named chairman of the Student Nonviolent Coordinating Committee (SNCC), which he helped form. In 1965, he was beaten as he led protesters trying to cross the Edmund Pettus Bridge for a voting rights march from Selma to Montgomery, Alabama. He has served in Congress as representative of Georgia's Fifth Congressional District since 1987.
The recent anniversaries of civil rights milestones such as the Selma march, the March on Washington and the enactment of the Voting and Civil Rights Acts inspired the donor to honor Lewis, a living icon of the civil rights movement.
According to the donor, "John Lewis exemplifies the values of courage, commitment, dignity, humanity, fairness and equal opportunity that were and are the hallmarks of the movement. Congressman Lewis is an inspiration to us as he continues to speak out against injustice and to fight for equality and civil rights. Atlanta holds an important place in the history of civil rights in the U.S. and John Lewis is a central figure in that history; we hope that a professorship at Emory Law School in his name will in some small way help to continue the good and great work that he has done these last 50 years."
Schapiro adds, "Honoring John Lewis – someone who is so important to the conversation on civil rights – is a wonderful way to inspire the Emory community with our ongoing commitment to social justice and academic excellence. The gift builds on Emory's history as a leader in civil rights and social justice, dating as far back as the 1962 lawsuit that helped integrate private colleges and universities in Georgia."
In a conversation with Emory University President James Wagner, Congressman Lewis said that he is honored to have this professorship in his name and looks forward to the opportunity to strengthen his relationship with the university.
"Congressman John Lewis has exemplified profound understanding of the moral imperative of justice and has demonstrated the courage it often takes for a society to abide by the rule of law. Emory University is deeply honored that the congressman has allowed us to recognize his contributions to American social justice through the naming of this professorship," says Wagner. "The John Lewis Professorship will both honor a great American and remind future Emory-educated attorneys of the responsibility bequeathed to them as servants of the law."
The law school hopes to meet its $500,000 commitment soon, and seeks gifts from individual donors, law firms and corporations. Those interested in supporting this effort should contact Robert Jackson at 404.727.5773.
Emory awarded Lewis an honorary doctor of laws degree at the university's 2014 commencement exercises, where he also served as keynote speaker.
In remarks at the Emory Law commencement ceremony the same day, Lewis reminded graduates of the role that law has played in the evolution of civil rights in America. "Under the rule of law, we have witnessed what I like to call a nonviolent revolution in America — a revolution of values, a revolution of ideas," he said.
"Our country is a better country and our people are a better people because of the law," he added. "So go out there and do your best to seek justice. And never, ever turn back; never, ever give up; but keep the faith and continue to work for what is right, for what is fair, and for what is just."
---
Tags