Main content
Dowd 65L gives historic "Dowd Report" collection to Emory Law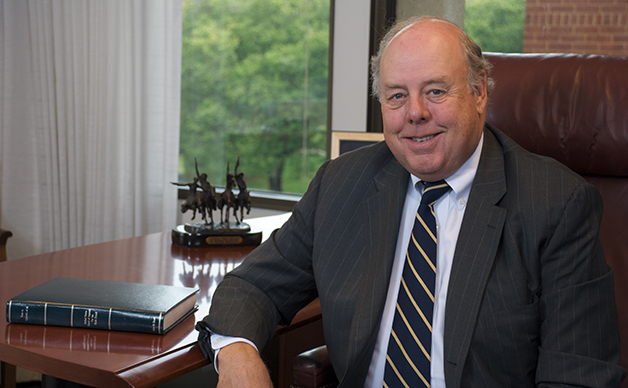 As baseball springs eternal, so do some fans' hopes that Pete Rose might finally make it into Cooperstown. 
The reason he's never been on the Hall of Fame ballot is the 1989 Dowd Report by John Dowd 65L—225 pages of proof that as manager of the Cincinnati Reds, Rose gambled large sums daily on baseball, including on his own team.
Dowd gave his record of one of baseball's biggest scandals to Emory Law earlier this year. His signed copy of the report is accompanied by nine volumes of supporting exhibits and another four volumes of court filings from Rose's lawsuit against Commissioner A. Bartlett Giamatti, the former president of Yale University. It is one of a few copies that were bound for those close to the Rose investigation, including the investigators and the late commissioner. It will be housed in Emory's Hugh F. MacMillan Law Library, and a related exhibit will run from July 1-30.
"I have a great affection for the law school," Dowd said. "This day and age, you could go online and look at it— which hundreds of thousands of people have done—but I just thought it'd be a nice place to lodge it. People could look at it if they want to."
Dowd's gift entered the law library's rare books collection about the same time news broke that Rose was again appealing his lifetime ban.
Rose would likely be a first-round Hall of Famer if judged solely on performance. "Charlie Hustle," a switch hitter, is the all-time MLB leader in hits, games played and at bats. He won three World Series rings.
In a recent interview, Dowd remained adamant that the Reds player doesn't belong in any clubhouse or the Hall. He also pointed out new MLB Commissioner Rob Manfred recently reaffirmed how important the no-gambling rule is. In April, Manfred promised a "full and fresh look" at Rose's request.
Fans who think Rose should be reinstated, Dowd says, likely haven't read the report, which contains Rose's phone and bank records, betting slips which an FBI expert testified were in Rose's handwriting, and transcripts of tape recordings of "conversations made by witnesses where they talk very openly about betting on the Reds and betting on baseball," Dowd said.
Dowd recently told the Cincinnati Enquirer that he believes Rose's gambling debts may have been as high as $500,000 at the time of the investigation.
Over the course of three months in 1989, Dowd and two investigators interviewed about 110 witnesses. The deposition Dowd took from Rose himself runs more than 350 pages.
Giamatti made the unusual decision up front that Dowd would share all evidence with Rose's lawyers once a week.
"I thought Bart's approach was very smart," Dowd said. "He just wanted Pete in the position where he could never deny knowing all the evidence. He could never say, 'They never told me that. They never showed me that.'"
Because of the furor surrounding the case, Dowd and Rose set up on April 20, 1989, in the basement of a parochial school in Dayton, Ohio. The nearly eight-hour deposition was taken over two days.
They developed a rhythm—Dowd would tell Rose an allegation, Rose would deny it, and Dowd would present evidence it was true.
"I just marched him chronologically through all of the events, evidence, testimony, et cetera, and gave him an opportunity to respond," Dowd said.
Through a lawsuit filed against Giamatti, MLB and the Reds, Rose tried to have the report and deposition sealed, and the trial judge agreed. Dowd thought Rose was trying to conceal the truth about his conduct from the public, so they appealed and the report and deposition were made public.
For nearly 15 years following the ban, Rose continued to deny he gambled on baseball. Then in his 2004 autobiography, Rose did an about-face and said he bet on the Reds, but never against them. Soon after the book's release, he appealed for reinstatement again. Dowd says beyond the passage of 26 years, nothing's changed to warrant Rose being welcomed back to baseball.
"Pete has done nothing to redeem himself. He's done nothing to reconfigure his life," Dowd says.
"The issue is the integrity of the game. When someone places their financial interests ahead of the team,  they compromise the game," Dowd said. "To me, it's a very simple, smart, wise rule."
Rule 21 (d)(2) "Any player, umpire, or club or league official or employee, who shall bet any sum whatsoever upon any baseball game in connection with which the bettor has a duty to perform shall be declared permanently ineligible."
The rule is posted is in every MLB clubhouse. It's the result of The 1919 Chicago "Black Sox" cheating scandal where the Sox threw the World Series, which led team owners to appoint the game's first commissioner in 1920.
Giamatti tried hard to resolve the matter, Dowd says.  They had an agreement with federal prosecutors not to try Rose for tax evasion. There were also informal inquiries through FBI agents "with a loan shark in New York, to see if he would take a one-time payment," Dowd said. "Bart also had all kinds of doctors lined up at Yale to work on the addiction," he adds. But Rose's lawyer refused, Dowd said. (Rose was found guilty of tax evasion in federal court the next year, and served five months in prison. 
The final sentence in Giamatti's Aug. 24, 1989, statement to the press was: "Let it also be clear that no individual is superior to the game." 
Reuven Katz's [Rose's attorney] position was "that Pete was a legend." That hubris was Rose's eventual downfall, Dowd says. "Bart reminded him that the game was a legend, not Pete."
---
Tags