Main content
Honors and Awards
Emory Law grads charged to uphold "the justice America is founded on"
Emory University School of Law |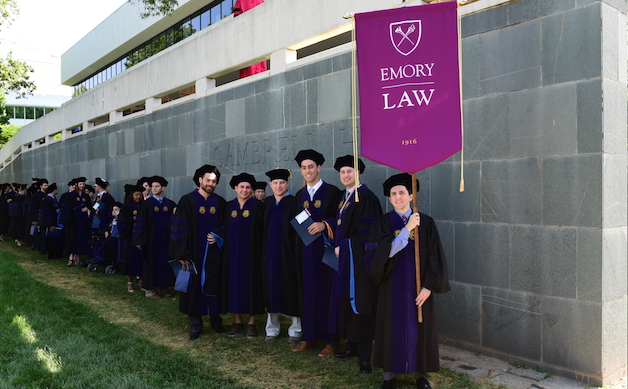 As 391 students received diplomas in Emory Law's commencement ceremony today, Robert A. Schapiro, dean and Asa Griggs Candler Professor of Law, reminded the students of the ritual graduation: "Occasions like this are separated from the routine of everyday life. We engage in ritual rooted in the middle ages. Thereby we are connected to our universities in their great social role of enlightening public life and advancing learning, and in their personalized function of enriching our individual lives. Our time here allows us to grow, permitting us a fuller capacity to live fully considered lives."
There were more than 2,400 attendees at the late-morning ceremony, where the following degrees were conferred: Doctor of Law and Master of Business Administration, Doctor of Law and Master of Public Health, Doctor of Law and Master of Theological Studies, Doctor of Law and TI:GER Program Certificate in Intellectual Property, Doctor of Law and Certificate in Transactional Law and Skills, Doctor of Law, Doctor of Juridical Science, Master of Laws and Juris Master.
Shirley Franklin, former two-term mayor of Atlanta and chair of the board of directors for the Center for Civil and Human Rights, addressed the law school Class of 2015. During the university's commencement ceremony earlier in the morning, she also received an honorary doctor of laws degree in recognition of "a lifetime of service to our city and to our nation." Schapiro called her an "extraordinary civic leader," lauding Franklin's 40 years of community service.
Franklin explained that when she was born, when she graduated from high school and when she graduated from college, it was impossible for her to be mayor of Atlanta. However over the years, she said, courageous lawyers fought to challenge the system to make it possible. "I challenge you to do the same," she said. "I challenge you to make this a better world not just for your family, friends and neighbors, but also for those who are unborn – those who need to see the kind of justice America is founded on.
Special student honors awarded included the Minister Gloria Jean Fowler Angel Award, which the graduating class awarded to Student Bar Association President Monna Lea Bryant. Gerard Bifulco, executive symposium editor of the Emory Law Journal, was selected by the graduating class as Most Outstanding 3L student. In his address, he told his classmates, "Standing before me are some of the finest minds and finest people I have ever known. We have been tasked with the awesome responsibility of shaping the law. The only way we will do that is by being ourselves. We have to allow our individual idiosyncrasies and unique personalities to lead us to a better society."
Faculty were also honored during the ceremony. Robert T. Thompson Professor of Law Rafael Pardo received the Emory Williams Teaching Award, which recognizes faculty who foster participation, inquiry and creative expression in the classroom; provide a model for teaching and scholarship; and serve as a friend and counselor to students.
For the second consecutive year, students voted Sam Nunn Professor of Law Frank Alexander the most outstanding professor. In his remarks, he reminded the graduates of their professional duty: "The legal profession is first and foremost a service profession. It's up to you to decide who and what you will serve. Service is not a duty. Service is a privilege." Alexander, who is the also founding director for the Center for the Study of Law and Religion, left graduates with a much more idealistic challenge, as well: "Hold tightly to the quest of the Man of La Mancha; reach the unreachable star."
---
Tags