Main content
Students
Students from Beijing Normal become Emory lawyers for summer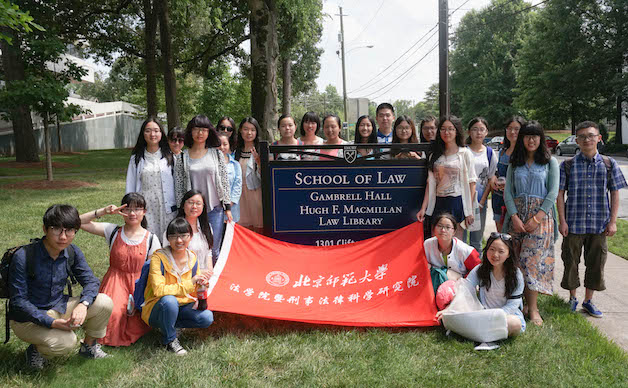 Between July 5 and 25, 25 students from Beijing Normal University are attending a series of lectures at Emory Law as part of a partnership between the Chinese law school and Emory Law. During their visit, the students attend lectures that introduce them to some of the concepts that Emory Law's clinics and programs emphasize, learn about pro bono work and immerse themselves in the Atlanta culture.  
Over the course of the summer program, the students have the opportunity to attend lectures on Advocacy, International Human Rights Law, and Business Law. They also meet U.S. lawyers, law students, and judges, such as DeKalb County Deputy Chief Assistant District Attorney Jeanne Cannavan, Deputy Chief Assistant District Attorney Donna Stribling and Overtis (O.V.) Brantley, chief legal officer for DeKalb County. As part of their cultural immersion, the students will visit key historical and cultural sites in the Atlanta area, including the Martin Luther King, Jr. National Historic Site and the Jimmy Carter museum. 
William H. Needle, partner with the law firm of Ballard Spahr, LLP, hosted a dinner for the students, and Lawrence J. Bracken II, partner with the law firm of Hunton & Williams, LLP, hosted a presentation on pro bono service.
Zhang Miao and Li Jianan are students in the program – and first-time visitors to the United States. Citing the city's sightseeing and the campus' green space as a major draw, they explained that they chose Emory over another law school for this program because they wanted to experience a school that was removed from the urban activity with which they are familiar, but that still offered a top-rated educational opportunity. Miao said that she was excited to learn about Torts Law and Criminal Law while here, while Jianan was most looking forward to Property Law, Constitutional Law and Human Rights Law. 
Rhani Lott, program coordinator, said that the Beijing Normal University exchange program is a great opportunity for the exchange of ideas. "I am always amazed by the insightful questions students ask about our criminal justice and civil law systems that, if you grow up as a part of it, you may not question. These students challenge methods we accept as the only way." Lott also said the program creates positive associations with Emory Law while allowing the law community to encounter the young minds that will one day shape the Chinese legal system. 
The visiting students recently completed their first year of legal studies at Maxdo College – Beijing Normal University. Their escort teacher is Professor Jing Zhou.
---
Tags