Main content
Clinics
Turner Environmental Law Clinic pushes sustainable agriculture agenda locally, regionally, and nationally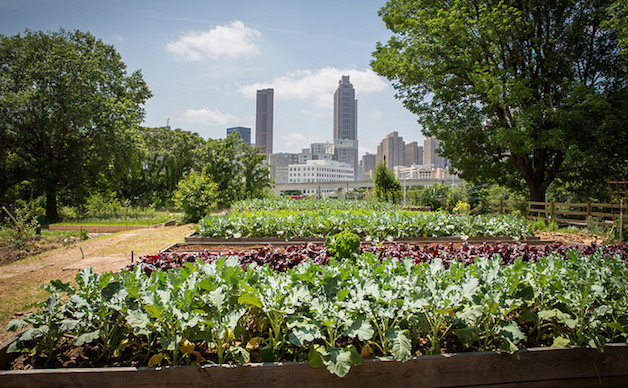 This summer includes a full docket of sustainable agriculture work for the Turner Environmental Law Clinic. Among many other matters, the clinic is helping Atlantic Public Schools with their farm-to-school program, Friends of the Earth with their pollinator protection project, and the National Sustainable Agriculture Coalition with comments on proposed produce safety regulations.
Better food for students
The clinic is working with the Captain Planet Foundation and Georgia Organics to develop a comprehensive farm-to-school program for Atlanta Public Schools (APS). Clinic faculty, staff, and students are proposing amendments to the school system's food procurement contract and revisions to its Wellness Policy.  They are also drafting a model lease to be used for school farms.  Ultimately, the clinic hopes to help develop a robust policy that ensures APS students have access to fresh food, an understanding of where their food comes from, and an appreciation for the importance of environmentally sustainable farming.  
Protecting the pollinators
This summer, the clinic is also working with Friends of the Earth to protect pollinators (e.g., bees and butterflies).  Pollinators – responsible for bringing us one out of every three bites of food – are experiencing a rapid population decline, and many believe neonicotinoids are partly responsible. Neonicotinoids are a widely used class of pesticide, and they work by attacking an insect's central nervous system. The clinic is looking at how these neonicotinoids are regulated and researching the steps businesses, cities, and institutions can take to avoid using them. In the fall of 2014, the clinic worked with Emory to become neonicotinoid free. The clinic is now using Emory's program as a model of how to effectively eliminate neonicotinoid use in all public spaces.  
Regulations that work
The National Sustainable Agriculture Coalition (NSAC) is an alliance of grassroots organizations that work together to advocate for policy reform to advance the sustainability of agriculture. Over the last few years, the clinic has worked closely with NSAC to provide comments on the Food and Drug Administration's proposed regulations regarding produce safety. Recently, the clinic filed its final round of comments on the FDA's proposed Produce Rule, designed to protect against food-borne illnesses. While the Rule serves an important purpose, NSAC is concerned it may do more harm than good – encouraging farmers to dump harmful chemicals into irrigation water, confine animals in concentrated feeding operations, and use chemical fertilizers instead of natural compost. The FDA has listened closely to NSAC's concerns in the past, and the clinic hopes its most recent round of comments will encourage the agency to again revise its proposal. A final rule is expected in October.
The Turner Environmental Law Clinic focuses on fighting for clean and sustainable energy; promoting sustainable agriculture and urban farming; and protecting our water, natural resources, and coastal communities. Through its work, the clinic offers students an intense, hands-on introduction to environmental law and trains the next generation of environmental attorneys.
---
Tags